From now until the 2019 NFL Draft takes place, we hope to showcase as many prospects as possible and examine both their strengths and weaknesses. Most of these profiles will feature individuals that the Pittsburgh Steelers are likely to have an interest in, while a few others will be top-ranked players. If there is a player you would like us to analyze, let us know in the comments below.
#17 Andrew Van Ginkel/OLB Wisconsin – 6'3/4 241
The Good
– Long frame with room to grow into it
– High motor/effort player with good closing speed and the ability to finish
– Played a variety of roles and wore lots of hats in college, no role will be new to him
– Desire to be a playmaker and produced at a good level, looks to rip the football out, wants and is capable of making big plays
– Football IQ, identifies receivers in zone and where routes are coming, good feel for where the QB is going with the ball
– Dropped into coverage plenty, mostly zone drops as overhang defender, but routinely asked to go backwards
– Flows well versus the run, will flash and shoot down into gaps if linemen is slow to reach/wall him off
– Powerful hitter and reliable tackler
– Productive player despite limited time/starting experience with Badgers
– High energy player, tone setter
– Experience being used on blitzes and stunts
The Bad
– Leggy player, thin frame who needs to add muscle, especially to upper body
– Woefully underpowered and often stunned/overwhelmed by offensive linemen
– Struggles to work off blocks, lacks hand use and the power to shed
– Weak initial punch and poor placement, too easily controlled by blocks and prone to getting sealed and washed out of the play, leans on blockers too often
– Fails to stay square to the line of scrimmage, causes him to lose sight of the ball and not use his hands to defeat blocks
– Experience dropping in zone but looks clunky and a stiff-hipped when getting depth, tall and a bit awkward in his pedal and turn, lacks experience in man coverage
– Lacks starting experience at FBS level
Bio
– 10 career starts for the Badgers (all in 2018)
– Career: 98 tackles, 19.5 TFL, 12 sacks, 4 FFs, 2 INTs
– Jumped 38 inches in the vert, 6.89 three cone at NFL Combine
– Spent final two years at Wisconsin
– Began career at South Dakota as a DE, redshirted in 2014, started 11 games in 2015, recorded 9 sacks
– Transferred to a JUCO in 2016 (so he wouldn't have to sit out a year to play at the FBS level) logged 3.5 sacks for Iowa Western
– Had offers from Cal, Colorado, Iowa, and Nebraska before choosing Wisconsin
– Played both sides (LB/QB) in high school, picked off 10 passes
– Threw and ran for over 1400 yards
– State qualifier in track
– Two brothers played football at small colleges
Tape Breakdown
Van Ginkel was literally the last prospect brought in for a pre-draft visit by the Steelers. There's no question he's an interesting dude. Anyone who has played at three colleges since high school, a former QB, defensive end, and now outside linebacker who finally cracked the starting lineup in 2018 is worth talking about.
His combination of athleticism and effort is worth the interest alone. Van Ginkel runs hard to the ball and cleans up the mistakes he makes. Like here, missing the tackle initially, getting up, and finishing what he started.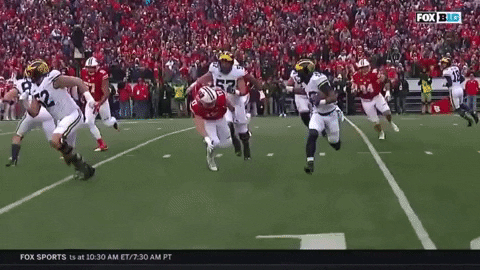 Like so many of the players brought in late in the process, he's awfully versatile too. Just like T.J. Watt, he lined up all over the scheme, played both OLB spots, and routinely asked to drop into coverage. Made plays there too, like this breakup as the hook/curl defender.
And this pick six against Ohio State in 2017.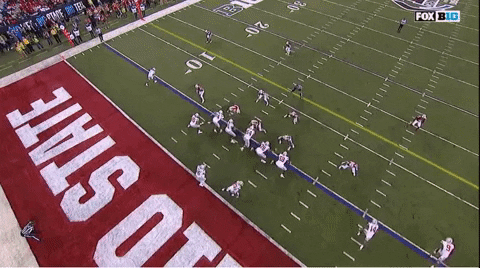 The dude looks to make plays. He'll rip the football out. Two examples of that though the later was a fraction of a second too late, the RB ruled down before the ball came out. But there's a playmaking mentality this defense really needs.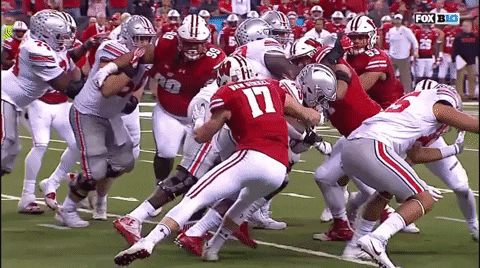 But as Dave Bryan pointed out in Friday's podcast, Van Ginkel needs to add a lot of strength before he sniffs the field defensively to make those plays. Terribly underpowered, he's too often controlled by linemen and makes matters worse by not staying square to the line of scrimmage. Just posting one of the many clips I could showing it.
LOLB here. Look how weak that punch is and how easily jolted back he's moved. And that's by a tight end, not the right tackle.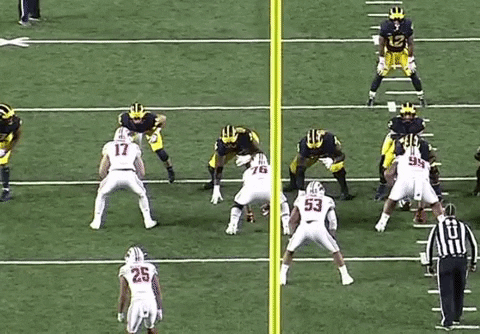 He'll make for an interesting special teams player for his athleticism, effort, and ability to rip the ball out. If the Steelers want to take him late on Day Three, I certainly wouldn't be mad. He'll make the room better and can carve out a niche almost right away. But his projection as anything beyond that might be two years away while he gets bigger and learns the game, only two years removed from the JUCO level and the OLB position. Maybe a poor man's Kyle Van Noy, someone you gotta work hard to figure out where you want to play him.
Projection: Late Day Three
Games Watched: vs Michigan (2017), vs Ohio State (2017), at Michigan, at Penn State