From now until the 2019 NFL Draft takes place, we hope to showcase as many prospects as possible and examine both their strengths and weaknesses. Most of these profiles will feature individuals that the Pittsburgh Steelers are likely to have an interest in, while a few others will be top-ranked players. If there is a player you would like us to analyze, let us know in the comments below.
#7 Ugo Amadi/S Oregon – 5'9/3 199
The Good
– Best when the ball is in the air, good tracking, timing, and overall ball skills
– Smart gambler who takes calculated risks, reads the QB and route combinations well and drives on the football with the proper angle
– Versatile player who lined up all over the defense, wore lots of hats and no idea will be new to him
– Good athlete who can run with receivers in man coverage
– Fluid player who doesn't show stiffness when asked to flip his hips, has a speed turn that helps him recover and get back in-phase quicker
– Shows a desire to be physical and come up and support the run
– Tries to get himself under control as a tackler, breaks down and shows good tackling posture
– Used as a blitzer with moderate production there
– Sparkplug, high energy player
– Productive player against good competition who created plenty of turnovers
– Asset as a punt returner with experience and success
– Tons of starting experience and considered one of the leaders of the defense
The Bad
– Undersized, small frame, lacks bulk and length
– Frame and lack of strength causes him to miss far more tackles than he should
– Will break down too early and let ball carrier have time to react, needs to drive through his tackles more as opposed to lunging
– Drag down tackler who doesn't show much pop or power
– Shows issues in man coverage; will guess on routes and open his hips the wrong way or open too early in off man, letting receivers win underneath
– Not the quickest processor and can be fooled by window dressing in run and pass game
– Unclear where his best spot will be in the NFL
Bio
– 34 career starts for the Ducks
– Career: 165 tackles (8.5 TFL) 9 INTs, 3 sacks, 3 FFs, 2 TDs
– 2018: 55 tackles (4 TFL) 3 INTs, 1.5 sacks
– Returned punts senior year, averaged 15.5 on 14 attempts with one touchdown, a 56 yard score versus UCLA
– Had two punt returns of 50+ yards in 2018
– Named team captain for five games of 2018
– Four star prospect out of HS, chose Oregon over LSU, Ole Miss, Tennessee (where he's from) and Penn State among many others
– Full first name is: Ugochukwu
Tape Breakdown
We're profiling Amadi largely because of the Steelers' supposed interest, bringing him in for a pre-draft visit. In looking for playmakers, they found one in him. At his best, Amadi is a guy who makes plays on the ball, both breakups and interceptions.
Nine career INTs is an excellent number for a guy who moved around the defense and didn't always get to patrol center field. I like his ball skills and ability to finish and when he breaks on the ball, more often than not, he's making the play.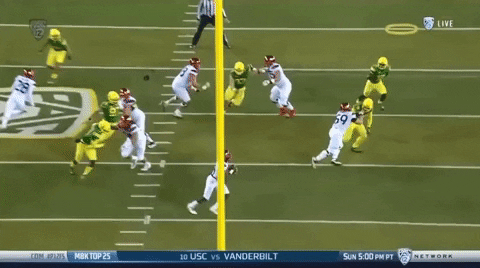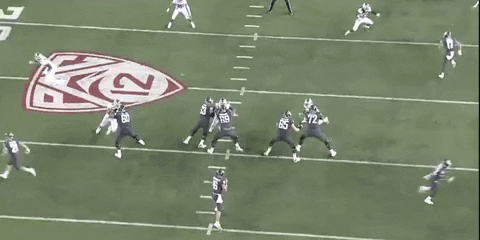 Versatility is another calling card. Amadi lined up in the box, over slot, as the free safety, and saw work as a blitzer. Wore a lot of hats, a testament to his overall football IQ. For a likely later round pick, that's important. More you can do, more value you have. One example of him on back-to-back plays vs Washington State. Free safety the one play, kicks down to slot the next.
My biggest issue is his tackling. Unfair to classify it as a "want to" issue, he doesn't shy away from the opportunity, but there are size and technique issues. Obviously, at 5'9 and less than 200 pounds, there's a length/strength problem that hurts him. Drag down tackler who doesn't show a ton of pop on the whole. And while I admire his willingness to break down for tackles, he actually does so too early, letting the runner adjust and change directions, leaving Amadi flailing and falling off too often.
Three examples with the final one best showing what I'm talking about.
Like I wrote, I get the allure if you want him with one of those three 6th round picks. Lack of ball skills is one of the most glaring issues for this defense, arguably the issue, and Amadi excels in that area. But I'm not sure where you play him at the next level – I assume most will see him kick to the slot. A good flier to take but that's as far as I'll go especially for a team that doesn't let defenders get anywhere near the return game.
Report sounds pretty similar to the Dolphins' Bobby McCain and I think that's about where his ceiling is, a cross between him and former NFL nickel Trumaine McBride.
Projection: Late Day Three
Games Watched: vs Arizona (2017), vs Stanford, at Washington State, vs Michigan State