From now until the 2019 NFL Draft takes place, we hope to showcase as many prospects as possible and examine both their strengths and weaknesses. Most of these profiles will feature individuals that the Pittsburgh Steelers are likely to have an interest in, while a few others will be top-ranked players. If there is a player you would like us to analyze, let us know in the comments below.
#81 Jace Sternberger/TE/Texas A&M/6'4" 251 Lbs
The Good
-Nuanced route runner that gets in and out of cuts smoothly and creates ample separation
-Smart weapon in scramble drill, gets vertical and finds holes in coverage to show QB his numbers
-Soft, consistent hands to snag the ball out of the air with ease
-Versatile piece that is comfortable moving all over the formation
-Really good after the catch, not explosive, but rips off chunk plays and has great contact balance
The Bad
-Soft blocker that doesn't appear to like contact in the run game
-Sluggish feet when setting up blocks
-Zero hit power as a blocker playing in-line
-Takes poor angles to second level defenders and often whiffs
-Doesn't have the play strength to hold up consistently as a blocking tight end in certain formations
-Needs to add some strength for pros, has the room to add bulk without sacrificing athleticism
-Played at three different schools in three years
Bio
-Named a first team All-American by the Associated Press, Football Writers Association of America, The Sporting News, and Walter Camp
-All-SEC first team TE
-Appeared in all 12 games in junior year, hauling in 47 passes for 804 yards and 10 touchdowns in first year of SEC action
-Played at Northeastern Oklahoma A&M in 2017, hauling in 21 passes for 336 yards and six touchdowns
-Originally started at Kansas under former TAMU WR coach David Beaty. Transferred to Northeastern Ok. A&M after redshirt freshman season
-Made a lasting impression at Texas A&M, earning the Offensive Top Newcomer Award, Offensive MVP Award and Strength and Conditioning Offensive Aggie Award at the annual team banquet
-Clocked a 4.75 40-yard dash at the 2019 NFL Scouting Combine, and added 17 bench reps, a 4.31 20-yard shuttle, and a 31.5-inch vertical jump
Tape Breakdown
If you need a prototypical move tight end that has a big frame, huge catch radius, and is surprisingly good picking up yards after the catch despite not testing like an elite athlete, well, Texas A&M's Jace Sternberger is the man for you.
Just don't ask him to block much.
Sternberger burst onto the scene at Texas A&M in his lone season with the Aggies. The former Kansas product hooked on with TAMU after transferring from Northeastern Oklahoma A&M following the 2017 season. What the Aggies got in return was the best tight end in the SEC not named Irv Smith Jr., and one of the top tight ends in the 2019 NFL Draft class.
Let's get the negatives out of the way quickly though.
As a blocker, Sternberger doesn't even appear to be a collegiate prospect, let alone and NFL one. Fortunately for him, the game has changed so much that he can make a huge impact as a move tight end without having to worry much about blocking.
He has heavy feet and is really uncomfortable trying to strike in space. He's a disaster in pass protection.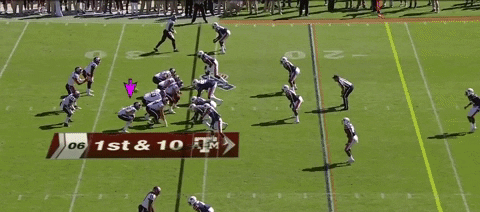 Here against Auburn, Sternberger completely whiffs on the blitzing defensive back, leading to a sack of Kellen Mond. Not great!
You can see the heavy feet right away, and he even drops his eyes before contact, leading to the whiff in pass protection.
I mentioned in his weaknesses that he has very little play strength as a blocker. Look at this attempted chip block.
That is…I don't even know how to describe that. He doesn't even faze the defensive linemen. That's not going to cut it. Now, this exact block doesn't fully state how Sternberger is as a blocker, but what it does show is his hit power and relative lack of explosion.
But, back to the positives for the TAMU product, please.
As a pass catcher, Sternberger uses every inch of his 6-foot-4-inch frame. His catch radius is big, and he has good hands for the position.
This is a typical over route, and Mond throws it up to him out of desperation. Sternberger bails out his quarterback with a terrific catch through contact, high pointing the football near the sidelines with no problem at all.
He has great concentration over the middle of the field as well, often hauling in hospital balls and tipped passes, like this one that he ended up taking in for a touchdown.
It's rare to see these types of plays, but Sternberger makes it look routine, hauling in the tipped ball and turning on the jets immediately without breaking stride, racing in for the touchdown.
He might not look like it, but he's a tough receiver that plays really well through contact and absorbs big shots easily without dropping the football.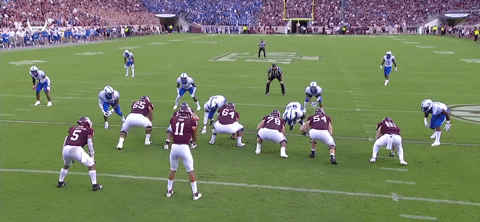 I love the way he creates separation here and sits into the zone before hanging on through the blindside shot for the first down. That's what you want in a tight end and Sternberger showed it right here.
Overall, he's an ideal No. 2 tight end that can move all over the offense as a pass catching threat. Ideally, he'd be paired with a solid blocking tight end, allowing him to focus on the pass catching part of being a tight end while he builds up strength.
Games Watched: South Carolina (2018), Kentucky (2018), Auburn (2018), Ole Miss (2018)
Projection: Mid Day 2