From now until the 2019 NFL Draft takes place, we hope to showcase as many prospects as possible and examine both their strengths and weaknesses. Most of these profiles will feature individuals that the Pittsburgh Steelers are likely to have an interest in, while a few others will be top-ranked players. If there is a player you would like us to analyze, let us know in the comments below.
#15 Ben Banogu/EDGE/TCU/6'3", 250 Lbs
The Good
– Quick first step/burst off the ball and has flashed the ability to shoot gaps and cross tackle's face
– Gets good extension against the run and finds the ball quickly
– Really explosive out of a 3-point stance
– Good pad level defending the run despite size
– Ideal size and length for the position and makes a number of plays outside of his frame
– High motor guy that brings it on every snap
The Bad
– Doesn't have much of a pass rush plan
– Tends to get stalled out if initial rush is stunted
– Gets pushed up the pocket too easily
– Really struggles to make plays in space due to struggles with lower half athleticism
– Slow mover laterally and have very little bend off of the edge
Bio
– First-team All-Big 12 for the second straight season in 2018
– Started in 27 career games at TCU after transferring to TCU from Louisiana-Monroe in 2016 -topped the Horned Frogs with 18.0 tackles for loss, 8.5 sacks, two forced fumbles and two fumble recoveries in 2018
-17.0 career sacks rank ninth in TCU history
– Earned invite to Reese's Senior Bowl, and participated at NFL Scouting Combine
– Clocked a 4.62 40-yard dash and a 4.27 20-yard shuttle; added 23 bench reps and a 40-inch vertical jump
Tape Breakdown
As we draw closer and closer to the 2019 NFL Draft in late April, we're starting to hear more and more names that are "rising" up boards. Texas Christian University edge defender Ben Banogu is one of those names.
He's a physical freak at 6-foot-3 and 250 pounds, especially once you consider what he did at the Scouting Combine, running a 4.62 and jumping 40 inches. However, one you pop on the tape you'll come away very disappointed.
As an edge defender, at least in my criteria, you have to be able to rush the passer with consistency, show flashes of bend and counters, and look a bit twitched up, or at least have one dominate trait.
Banogu has none of those for me. To be quite frank early on in this piece, I came away questioning what everyone else was seeing when it comes to him.
I say that mostly from a pass-rushing perspective. As a run defender, I really liked Banogu, whether he was standing up or had a hand in the dirt.
As a run defender, Banogu gets good extension on the blocker in front and is able to use his reach and height to find the football and make a play.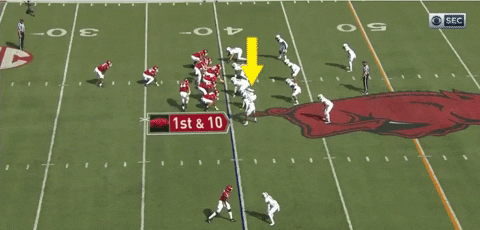 Here against Arkansas in 2017, Banogu is in-line against Arkansas's right tackle. Watch the way he locks out on the tackle and sheds in traffic to make the stick in the hole.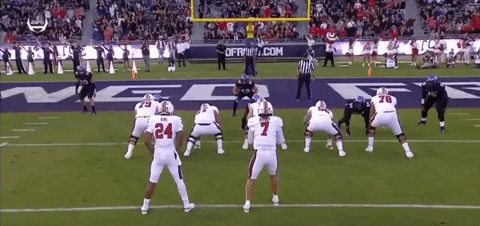 He's not great in space, but this play against Texas Tech last season on the read-option was one I really liked from Banogu. He showed the ability to shift his weight multiple times and still stay in phase to make the stop on the Red Raiders' quarterback, keeping him from the end zone. You'll see a lot of edge defenders get fooled on plays like this and end of being unable to recover. That wasn't an issue for Banogu.
However, Banogu can get bodied at time as a run defender. He's not as good as he should be at stacking and shedding on the boundary.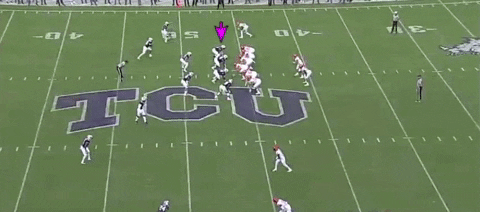 Iowa State's tight end locked him up and pushed him around all game long. That's got to be a major concern for any team looking at him as a true edge defender that can play standing up or with a hand in the dirt.
As a pass rusher, Banogu flashed a ton in 2017, but in the 2018 season I didn't see a ton from the TCU edge.
The following two clips are his two best rushes on film that I saw over 9 games that I watched.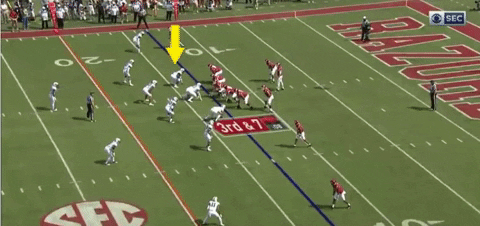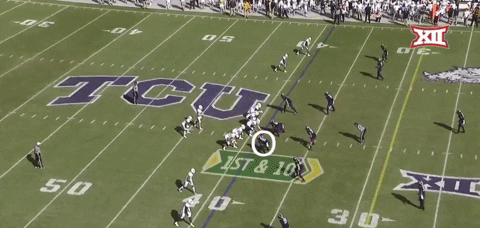 The first one against Arkansas in 2017 was the flash I was looking for. He showed the ability to bend the edge with power and speed, and showed off his long reach, knocking the football out for the strip sack. Unfortunately, that type of rush from Banogu was too few and far between.
The second clip is against Baylor in 2017 and showed off his power. Look at the push-pull and the finish to throw the Baylor tackle to the side, allowing Banogu to finish off the sack. That ability is in there; it's on the next coaching staff to truly unlock it.
Overall, I think Banogu can be a serviceable defender, preferably in a 4-3 system because he's a solid run defender right away. He's going to need a ton of work as a pass rusher, and he was never really asked to drop into coverage while at TCU. Yes, he tested really well as an athlete, but that rarely showed up on tape.
Games Watched: Oklahoma ('17), Baylor ('17), Arkansas ('17), Texas ('18), West Virginia ('18), Texas Tech ('18), Iowa State ('18), California ('18)
Projection: Day 3