From now until the 2019 NFL Draft takes place, we hope to showcase as many prospects as possible and examine both their strengths and weaknesses. Most of these profiles will feature individuals that the Pittsburgh Steelers are likely to have an interest in, while a few others will be top-ranked players. If there is a player you would like us to analyze, let us know in the comments below.
#29 Greedy Williams/CB LSU – 6'3 184
The Good
– NFL frame to grow into, height that teams covet
– Excellent athlete, shows surprising fluidity for a man of his height, almost no stiffness when asked to flip his hips or transition out of his pedal
– Changes of direction with ease
– Shows great straight line speed and the ability to cover vertical routes
– Recovers well when beat, gets back in-phase quickly
– Good eye discipline, not fooled by double-moves
– Proved to be a lockdown corner comfortable taking on opponent's best receiver and playing on an island
– Capable of finding the football and playing it in the air or the pocket of the receiver, very good ball skills
– Willing tackler and shows want-to in the run game, will sacrifice his body taking on blocks
– Comfortable and thrives playing press man
– Experience playing man and zone (more man coverage though)
– Works hard to stick to receivers in scramble drills, rallies to the ball and closes space quickly
– Productive against the best competition
– Young with room for improvement physically and mentally
– Good starting experience despite his youth
– Has played both corner spots, left and right
The Bad
– Will need to add weight and bulk up a bit
– Tends to aim too low as a tackler and causes him to miss or drag down more often than it should
– Can be too physical in man coverage and at the top of the route, tendency to get flagged
– Occasionally misses with his jam off the line or punches with the wrong arm, failing to get his hips open
Bio
– 23 career starts over two years for the Tigers, declared as a redshirt sophomore
– Career: 71 tackles, 19 pass deflections, 8 INTs
– Career: 40.7% completion against, 58.6 passer rating (per LSU bio)
– Picked off six passes as a freshman
– Birth name is "Andraez"
– Older brother Rodarius plays corner for Oklahoma State
– Skipped Fiesta Bowl this year in decision to go pro
Tape Breakdown
Williams is considered the top cornerback prospect in this year's draft and it's easy to see why. He's legit even as a redshirt sophomore. Cracking the LSU starting lineup as a redshirt freshman is a testament to that and his experience has accelerated quickly facing top competition.
It's rare to find a 6'3 corner – I imagine he weighs in a little shorter but still, plenty tall – with the fluidity and change of direction he has. His man coverage is excellent, able to change directions, jam off the line, and run step-for-step with receivers downfield. Tape is littered with examples of that.
First clip, bottom of the screen, mirroring the Ole Miss receiver the whole way.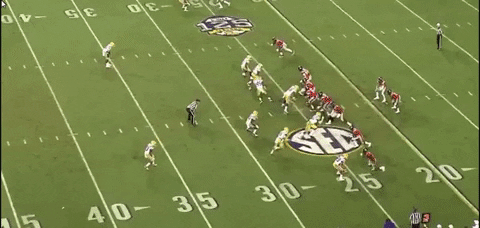 He's capable of finishing the play, too, picking off six passes in 2017 with plenty more breakups. Breakups on a dig and then post in these next two GIFs.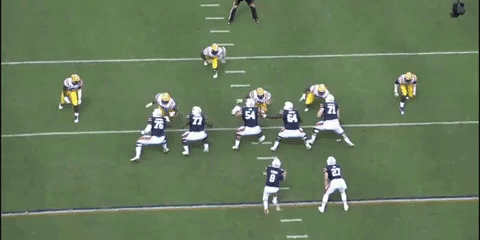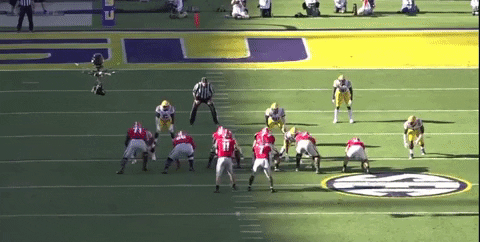 I like his attitude in the run game too. Technique needs a little work but there's a desire to be physical. Watch him take on the fullback in space. Doesn't make the play but if a corner is willing to fling himself into a dude 50 pounds heavier, there's a "want to" you can work with.
Check him take on the lead blocker in space versus Auburn.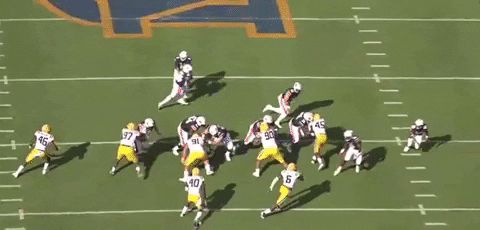 Negatives are difficult to find. He can aim too low as a tackler and that causes him to drag down or here, miss guys in the open field. And he's a little too grabby at the top of routes, drawing one too many flags. So that'll have to be cleaned up but not something i see as a big concern. He's young and still honing his technique. Example of the latter against Georgia.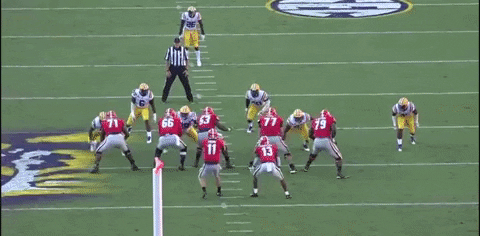 Really exciting player to watch. Steelers won't have any chance to get him unless they make an uber-aggressive trade up. Should be the first player in the secondary drafted, at least in my mind, and I'll keep my fingers crossed Pittsburgh doesn't have to face him. Would compare him to Marshon Lattimore with a ceiling of Darrelle Revis.
Projection: Top 15
Games Watched: at Alabama (2017),at Auburn, vs Ole Miss, at Florida, vs Georgia