From now until the 2019 NFL Draft takes place, we hope to showcase as many prospects as possible and examine both their strengths and weaknesses. Most of these profiles will feature individuals that the Pittsburgh Steelers are likely to have an interest in, while a few others will be top-ranked players. If there is a player you would like us to analyze, let us know in the comments below.
# 10 Stephen Denmark/CB Valdosta State – 6'4", 220 lbs
The Good
Unreal athleticism and physical attributes

Great press man corner, uses length extremely well

Extremely fluid for his size, click and close is efficient

Plays well to his leverage and assignments

Flashes ball skills, can high point the ball and has natural hands

Disrupts the catch point with ferociousness

Tenacious run defender who will stick his nose in the run game and do it well

Lays the wood and plays with physicality

Sound tackler, wraps up well
The Bad
Raw processor in zone, can get caught looking into the backfield at times

Has athleticism to use trail technique, but does not effectively use angles well enough

Can have mirroring trouble, doesn't keep hips disciplined

Needs to improve recognition and anticipation of routes

Has to learn to work through trash better, can get sifted out through mesh concepts

Lack of versatility, never worked out of slot

Low level of competition
Bio
2018: 55 tackles, 3 INTs, 9 PBUs

Career: 107 tackles, 7 INTs, 17 PBUs

Converted WR, has been a CB for only 2 years

4.46 40 yard dash, 43" vertical at pro day

Track and field star at Valdosta State and in High School

First Team All-Gulf South Conference 2x
As a converted WR, Stephen Denmark is a cornerback that already has the natural instincts of a wide receiver. He knows the thought process of how they plan to run their routes and knows how to track the ball as naturally as anyone. Denmark, at 6'4" and with a 79" wingspan, has incredible tools at his disposal. The size and testing stats are eye-popping, and they show up on film all the time. It is not that Denmark is another one of those raw, project-type CBs, because he is, but that he has just extra special tools that show up on the tape and actually enhance his ability to technically succeed even more than you would think.
Denmark's ability to jump out of the house and have incredible explosiveness for his size is exactly what makes him such an intriguing prospect. He should not be able to move as fluidly as he does, but his click and close are as good as anyone's in the draft and he uses his athleticism all on his tape, much like he does below.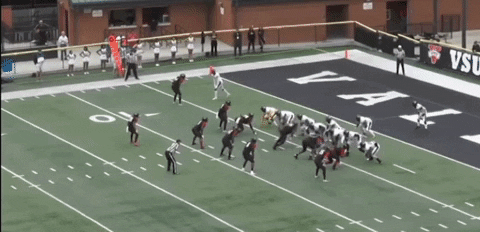 This play as all types of good things going for Denmark. First off, straight off the line, his hands get the jam right on his man's inside shoulder and allow Denmark to get the inside track on what looks to be a go. Denmark thus is in complete position off the line because of his physicality and length showing up right off the snap. He then flips his hips and just runs with his guy. That is all perks of him being as athletically gifted as he is for his size, especially in foot speed. Then, of course, he flashes the ball skills. He jumps up, high points this thing, and makes a really nice return to take it to the house. This is about as well as you can play as a CB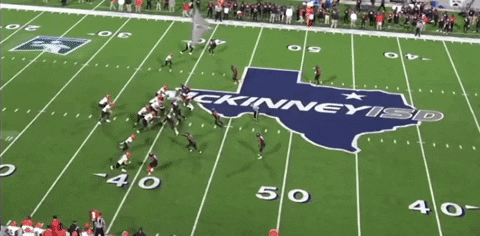 Even more so, Denmark's physicality comes over into how he hits. This is more than just the big hit that shows off the mentality that Denmark plays with, but even more so, the ability to come off of his go route and lay out the receiver on this simple seven-out route. He has a lot of raw qualities above the neck, but he really does come off of his routes well to impact throwing lanes and limit YAC for receivers. It is one of his most impressive qualities.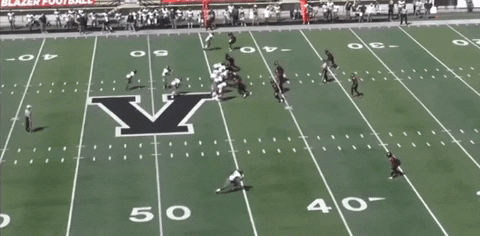 Other than his clear strength in man coverage, I love Denmark's eagerness to get involved in the running game. He was used in blitzes, recognized screens easily, and just flew off of his blocks and made plays out on the boundary. Plays like the one above, where he keeps the outside discipline and flies up to make a tackle for a loss is nothing different from what was on his entire tape. The guy can fly but loves to get dirty in the run game.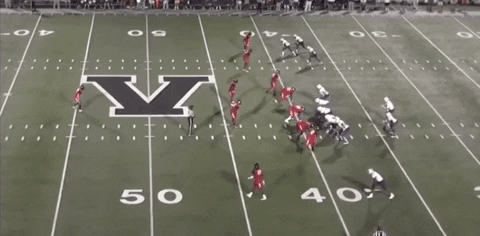 Denmark's off-man coverage is just about as impressive as his press man coverage. While he has some mirroring issues that plague him in off-man, he has the fluidity and footwork to cover just about anyone on any route. On this dig route, Denmark has this played the whole way because he is prepared to either flip his hips outside or come running downhill. It is playing to your leverage and ability to understand a receiver's strategy. Thus, he uses all that explosiveness and closing speed to make a play on the ball at the catch point.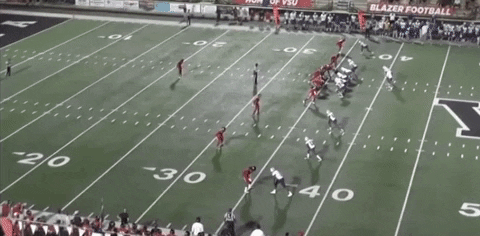 Even still, the overarching theme is that he has the big traits that a press-man corner should have. Ball skills, fluidity, and physicality. At the bottom left of the screen, you will seem him just powerfully jam his receiver, take him off his route, and control him all the way up the sideline. It is plays like this that scream that he could have an NFL future.
Denmark is nowhere near a finished product. As he has only been playing the position for 2 years, he has a lot of nuances and subtleties to learn at the position. Denmark's athleticism and physicality are going to be draws to teams that will look for a guy who has a huge ceiling, and while he may need time, Denmark can contribute on special teams right away and could possibly even play some offense given the team's needs. As a late round flier option, Denmark is the exact type of cornerback you are looking for, even if he is from a small school.
Projection: Late Day Three
Games Watched: vs Ferris State, vs West Georgia, vs Albany State, vs Bowie State, vs North Greenville