From now until the 2019 NFL Draft takes place, we hope to showcase as many prospects as possible and examine both their strengths and weaknesses. Most of these profiles will feature individuals that the Pittsburgh Steelers are likely to have an interest in, while a few others will be top-ranked players. If there is a player you would like us to analyze, let us know in the comments below.
#81 Miles Boykin/WR Notre Dame – 6'3/6 220
The Good
– Great size with length (33 1/2 inch arms), physically imposing threat
– Knows how to beat press coverage, good release off the line, uses hands effectively and has length/strength to defeat jams
– Vertical threat, able to stack corners and box them out at the catch point
– Excellent body control and tracking of the football downfield
– Able to adjust to poorly thrown balls and make catches outside his frame
– Speed to win over the top, long strider who covers plenty of ground
– Late with his hands at the catch point and makes it tough for DBs to make a play on the ball
– Playmaker who came up large in clutch situations
– Shows strength as a route runner, able to stay on course and run through attempted reroutes by underneath, zone defenders
– Willing and capable of making tough catches in traffic
– Capable blocker, size helps, and willing/asked to crack safeties on tosses
The Bad
– Only one year of production and limited playing time, concerns if he's just a one-year wonder and why he couldn't get on the field
– Doesn't quite play to his timed speed (4.42)
– Not the crispest route runner, fair to question how much separation he'll create on intermediate breaking routes, relies on his size/strength to bump smaller corners out of the way and has tendency to push off
– Arguably still raw as a player/processor and will need as many reps as he can get
Bio
– One-year starter for the Fighting Irish, left school as senior despite possible 5th year of eligibility
– Career: 77 receptions, 1206 yards (15.7 YPC) 11 touchdowns
– 2018: 59 receptions, 872 yards, 8 TDs
– Ran 4.42 at the Combine, jumped 43.5 inches in the vert, had an 11'8″ broad, and 4.07 short shuttle
– Experience at the X and logged some snaps in the slot
– Four star recruit out of HS who chose ND over Michigan, Missouri, and Ohio State (had 17 offers)
– Caught 65 passes for 1035 yards and 19 TDs as a high school senior
– Suffered torn ligament in elbow and dislocated pinky finger senior year but played through it and helped team win state title
– Also played basketball (here he is with a one-handed slam)
Tape Breakdown
Boykin was already on my list of prospects to watch before it was discovered he's coming to Pittsburgh for a pre-draft visit but hearing that news made me all the excited to learn about him. Perhaps no player has helped his draft status as dramatically as Boykin has in the process so it's obvious why the Steelers would want to learn more about him.
Often, the idea of a player's stock "rising" is BS. A product of the media being slower than the scouts in getting accurate evaluations and projections on a prospect. But Boykin may be an exception. He wasn't on the radar until 2018, finally securing a starting spot, and then surprised many by declaring when he could've returned for a final season.
And you can see why scouts are scrambling. There's a ton of "good" on his tape and for the Steelers, a type of player they've always liked.
Of course, what team doesn't like height, weight, and playmaking? Boykin burst onto the scene with this game-winning, one-handed grab against LSU in the 2017-2018 Citrus Bowl.
But he isn't just the big dude making catches downfield. He wins with his release off the line, the ability to beat press, shed and stack corners over the top. Bottom of the screen. Love that outside/inside stem and the adjust to a terribly thrown football. TD was negated by penalty but still, love the rep from a scouting standpoint.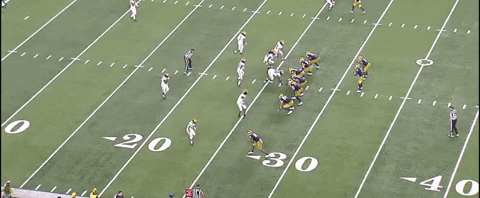 And here, beating David Long, a Day Two prospect. Top of the screen.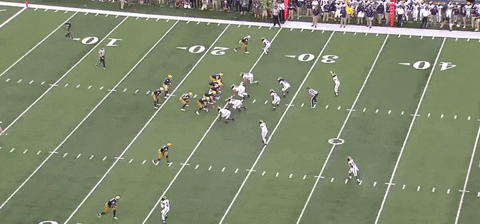 Watch him literally run through press coverage against LSU.
And he's able to adjust to poorly thrown passes. Watch the late hands so the corner can't make any play on the ball. Big third down conversion.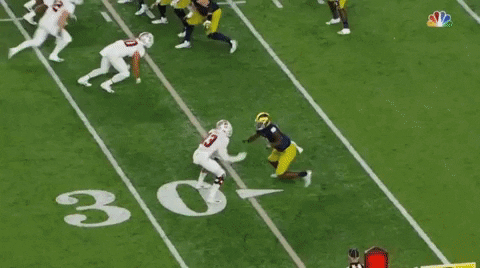 Which is good because sub-par QB play really hurt him. Brandon Wimbush struggled to begin the year but when he was finally benched, Boykin really took off. He caught a touchdown in six of the next seven games with a pair of hundred yard performances over that span.
The negatives aren't the most obvious thing on tape. A lot of it is profile. Does he run like a 4.42 guy? Not really but sometimes with those guys, they glide along so smoothly, they look "slow." And the lack of experience, wondering why this guy couldn't see the field until late in his career, is a question teams must answer. For me, an outsider, I can't offer much perspective.
He does move fairly well but there's fair concern about his ability to separate over the middle. Bigger guys aren't always the best at sinking their hips and bursting away. I've seen a lot worse and wouldn't consider Boykin stiff, but it's an area of definite improvement. Tends to shove off to create space, and that could be called at the next level. Plus, corners are just going to be stronger and more physical.
But it's hard not to see where Boykin is at and where it can go. His ability to beat press makes me believe he can be an X receiver, not just a Martavis Bryant like Z type. With Donte Moncrief, if Boykin faces an extra steep learning curve, something possible, you have an insurance policy. But the ceiling, like his vertical, is very high.
Trying to find an accurate comp to such a unique profile is tough but I'm thinking a much better version of Kenny Britt. What he was supposed to be when the Titans made him a 1st round pick.
Projection: Mid Day Two
Games Watched: vs LSU (2017), vs Michigan, vs Stanford,vs Clemson