From now until the 2019 NFL Draft takes place, we hope to showcase as many prospects as possible and examine both their strengths and weaknesses. Most of these profiles will feature individuals that the Pittsburgh Steelers are likely to have an interest in, while a few others will be top-ranked players. If there is a player you would like us to analyze, let us know in the comments below.
# 6 Evan Worthington/SAF Colorado – 6'2", 200 lbs
The Good
Plays athletic and fast on tape, despite just an okay combine

Possesses elite range and can cover sideline-to-sideline

Has ball skills than any DB would envy, can win jump balls easily

Length allows him to man up guys in the slot or carry tight ends

Can play in the box, slot, or single-high, will fit into any schematic package

Runs fantastic angles both to the ball and ball carrier

Great long speed, trail technique is notable

Can process off the QBs eyes with ease and make a play
The Bad
Despite great tackle radius and length, nips too much at player's ankles and misses too many tackles

Needs to fill out his frame badly to be able to shed blocks consistently

Lack of aggressiveness in the rough game, seems timid to take on blocks at times

Mind-numbing run fills that leave gaps wide open when he plays down at the line

Tight-hipped and can get caught napping which will get beat deep

Inefficient footwork on backpedal, seems clunky and slow

Has some processing issues when switching off of routes in zones
Bio
2018: 41 tackles, 1 INT, 11 PBU

Career: 128 tackles, 4 INT, 23 PBU

Two year starter, switched from strong safety to single-high Senior Year

Second Team All Pac-12

Suspended for 2016 for not abiding by Team Rules

Had multiple scholarship offers in High School for Track but chose football
Evan Worthington is a truly polarizing prospect. As a guy with nearly a 77" wingspan, Worthington is incredibly long for a safety, and even has the ability to play some cornerback because of that length and his size. He can man guys up in press because of it and he has the largest tackling radius of any Safety in the class by a rather large margin. His physical and athletic tools cannot be questioned, they fly off the film on tape. He was a former track star, so it is not exactly a surprise that he is athletically gifted, but Worthington has to learn to grow into being a true football player. The lack of aggressiveness in the box mitigates his size and what would be a perfect box safety profile, but he is instead is primarily relegated to single-high and slot duties. That is why a position change come in his senior season. Worthington's lack of ability to shed blocks and his raw frame was even more of a deterrent.
Those are obvious issues down in the box, but Worthington also has issues in coverage. His clunky backpedal and stiff hips are a deadly combination that cause him to get beaten if he does not play his leverage like he should.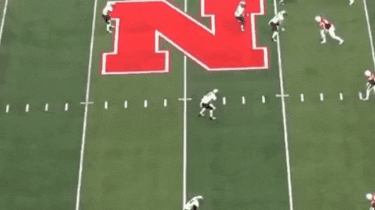 On this play, Worthington's issues show up in abundance. Not only do his hips get him off-balance once he overplays outside leverage with safety help inside, but his timing to flip his hips and tightness show up badly. It takes him too much time to transition and he gets stacked as the receiver and QB simply work away from the overhang safety help. Worthington has to keep his hips disciplined and avoid getting beat inside like this at all costs. If anything, if he does get beat inside, he needs to at least funnel the receiver up to his safety help, but none of that happens on this play.
Still, even with that tightness, he can make plays after letting guys get behind him. A big component of that is his long speed. While he ran a 4.63 at the combine, Worthington plays way faster than his time on tape. His long strides eat ground easily and efficiently and make for dang good recovery speed. Worthington gets beat out of the slot due to his footwork not keeping pace with the WR and thus, he cannot mirror the go. But his ability to recover using the trail technique from the receiver's outside hips and then laying out with his length to disrupt the catch point is hallmark to what he can do if he gets his hips flipped quick enough.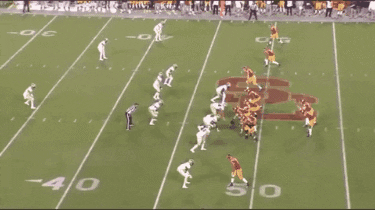 The aggressiveness issue shows up again. This time, Worthington does everything right up until the catch point. He has the fluid backpedal and reads the QBs eyes to get over to the go route with more than enough time. It shows off his range, processing, and actually some nice fluidity here, but even as he tracks this well, he seems oddly timid to go up and get the ball, and as result, this pass is completed when it should have been an interception for Worthington.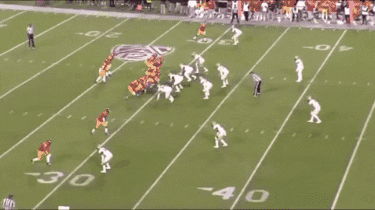 One thing that impressed me about Worthington was his angles and ball skills. He knows how to angle correctly towards the catch point and ball carrier so he can go either make a play on the ball or make a tackle. Here, he takes just a perfect angle to make this play. This is not only fantastic range, but Worthington reads this play like a book. It is an NFL single-high play that he should make, and the ball skills are flashed like this a ton all over his tape. When he is not timid to go up and get it at the catch point, Worthington makes an impact in a big way.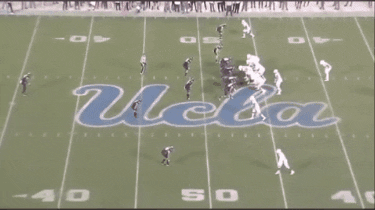 Range, range, range. I love to see range. Worthington has that and more. If there was a play to point to that would make me pound the table for him to be a single-high in the NFL, it would be this. He comes from the other side of the field to the far sideline to make this interception. His length allows him to make this catch much easier, but he shows off those instincts again.
Evan Worthington has a lot of technical concerns, especially in his attitude towards the line. He misses run fills, lacks the frame to man up in the box, and the aggressiveness needed to be a box safety is not there. Still, he can play there because of his physical tools and room to grow into his frame. His instincts, range, and ball skills project him to be a pretty good single-high safety in the NFL regardless, even if he is a bit of the raw side. His physical tools should allure a team in to take him, as he is a solid single-high safety that can make splash plays.
Projection: Early Day Three
Games Watched: vs USC, vs UCLA, vs Nebraska, vs Arizona State, vs Colorado State