From now until the 2019 NFL Draft takes place, we hope to showcase as many prospects as possible and examine both their strengths and weaknesses. Most of these profiles will feature individuals that the Pittsburgh Steelers are likely to have an interest in, while a few others will be top-ranked players. If there is a player you would like us to analyze, let us know in the comments below.
#21 Lukas Denis/FS Boston College – 5'11/4 190
The Good
– Willing tackler who puts his frame in the fan and wants to be physical
– Showed ability to be a playmaker, makes plays on the ball and create a ton of splash, threat for big yardage off INTs
– Opportunistic and capitalizes on poor throws, good ball skills and hands
– Versatile player with experience as single high safety, in the slot, and outside corner
– Ok athlete who makes up for it with good angles to the football to put himself in position to make the play
– Best in zone coverage where he's able to read and react to the play
– Experience in man and zone, wore a lot of hats in school
– Adequate starting experience and good production
The Bad
– Undersized, underpowered, and didn't test well (4.64 40 time, 33.5 vert, 9'8″ broad)
– Lack of strength causes him to fall off too many tacklers despite showing effort and desire
– Struggles in man coverage and too often bodied at the top of the route
– Misses too many tackles and tackling angle can be poor, will go too low and get shoved out of the way, drag down tackler hurt by his small frame
– Not a particularly explosive player whose change of direction ability is just average
– Straight line speed is average to below
– Makes minimal impact in the run game
– Production fell off from junior to senior season, though perhaps explained by some position movement
Bio
– Two-year full-time starter (made one start as a sophomore), 25 in total
– Career: 139 tackles, 9 INTs (averaged 27 yards per return, 1 TD), 3 FFs
– Picked off seven passes as a junior in 2017 (tied second at FBS level)
– Moved between corner and free safety throughout career, played FS in 2017, saw more time at corner last year
– Picked off eight passes as a senior in high school
Tape Breakdown
Denis is one of roughly two thousand secondary prospects the Golden Eagles are rolling out this draft. Unfortunately, I haven't been particularly fond of the two I've studied so far. Meh on corner Hamp Cheevers and feel the same, perhaps even lower, on Denis. But as always, let's start with the good.
On paper, you could see why the Steelers might want to take a long look at him. Nine career picks including a whopping seven of them as a junior in 2017. That came after BC moved him from corner to free safety and I think his numbers dipped last year (one pick) because he was playing more corner again. But his ability to take good angles in centerfield, track the ball, finish, and capitalize on his chances are pretty impressive.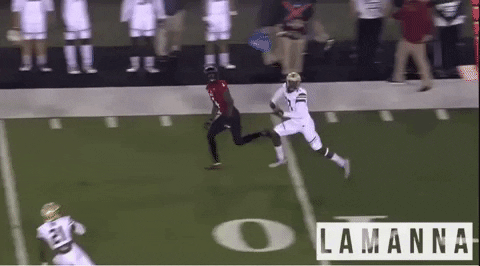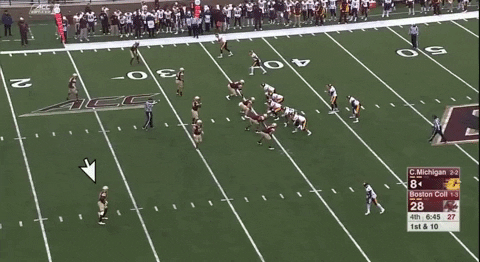 And the dude wants to hit. He wants to be physical and finish. His frame and size just really hurts him do so. Watch him come downhill, full-speed to try and tag this runner on the jet sweep. Ends up taking the worst of it. And the dude he hit isn't a big guy either.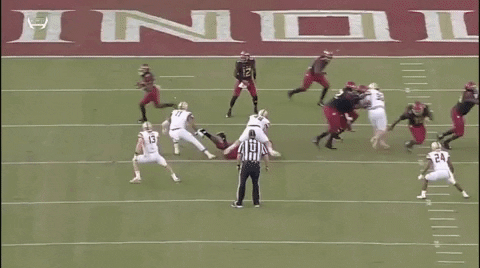 Denis misses far more tackles than you'd be comfortable with too.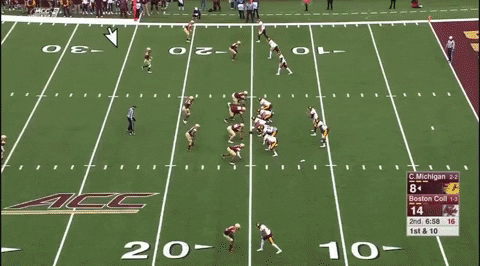 And he's not a great athlete. Taking good angles helps but testing in the 4.6's at his size? It's not great. Even with some plus centerfield ability, it's going to be hard for him to get on the field with all his limitations.
He is a definite, true free safety though. I'll give him that. And those guys aren't always easy to find in a draft class. At best, you're looking at a dime defender, the man who comes in to play centerfield while another safety rotates down. Very good college career but one that'll be tough to replicate in the pros.
Projection: Late Day Three
Games Watched: vs Notre Dame (2017), at Central Michigan (2017), at NC State, vs Florida State, Junior season INT cutup