From now until the 2019 NFL Draft takes place, we hope to showcase as many prospects as possible and examine both their strengths and weaknesses. Most of these profiles will feature individuals that the Pittsburgh Steelers are likely to have an interest in, while a few others will be top-ranked players. If there is a player you would like us to analyze, let us know in the comments below.
#12 Gary Jennings Jr./WR West Virginia – 6'1 214
The Good
– Good size and tested well at Combine
– Vertical threat with serious speed
– Knows where soft spot in zone coverage is, does nice job settling underneath, and able to split safeties against two high looks
– Finds and tracks the ball well overall downfield, adjusts to its path well, good hands when ball is placed within his frame
– Good burst and acceleration, gets up to speed quickly and quick to the tuck on underneath routes, secures the ball and gets upfield
– Sets defenders up well and uses stem of route to create separation
– Used in screen game and ok YAC threat
– Playmaker who made ton of splash in college
– Effort as a blocker and will mix it up
– Minor return capability/usage
The Bad
– Most damage came out of the slot, afforded free releases and easy "wins" versus zone coverage, will have to show he can beat press/tighter coverage consistently at next level
– Not a dangerous player after the catch, leaves a little to be desired in his run after, not particularly shifty with the ball in his hands
– Doesn't have a huge catch radius and won't often play bigger than his size
– Lacked success as a return man
– Didn't have the strongest production and took until his senior year to find the end zone
Bio
– Two-year starter for the Mountaineers
– Career: 168 receptions, 2294 yards (13.7 YPC), 17 TDs
– 2018: 54 receptions, 917 yards (17 YPC), 13 TDs
– 34 career punt returns but averaged only 3.9 yards per attempt
– Combine results: 4.42 40, 37 inch vert, 10'7″ broad, 4.15 short shuttle
– Played QB, receiver, safety, returner in high school
– Also played basketball in HS
Tape Breakdown
Jennings appears to be one of several receivers the Steelers have flirted with throughout this pre-draft process. And like so many of the others, they're focusing on speed and vertical threats. Jennings definitely can be that guy. The difference is while guys like Miles Boykin are outside threats, Jennings did most of his damage from the slot.
He plays how he tested, in the low 4.4's. Get him vertical in the slot, especially on slot fades the Steelers will run, and he can be a weapon.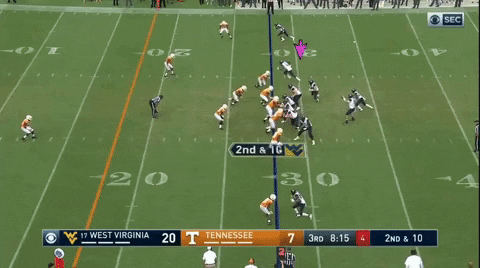 Here he is adjusting to the ball over Terrell Edmunds in 2017, plucking it off his shoulder en route to the end zone. I bet scouts noted that play when they were scouting Edmunds this time last year.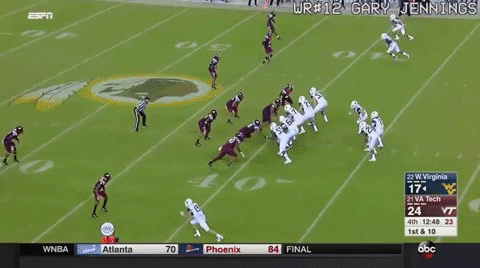 Like how he's able to set up his routes from the slot too. Watch the stem of his route here. Beings outside, gets the defender to flip his hips with him, and then presses back inside to cross his face and win the route. This is really well done. Manipulating the defender to create space.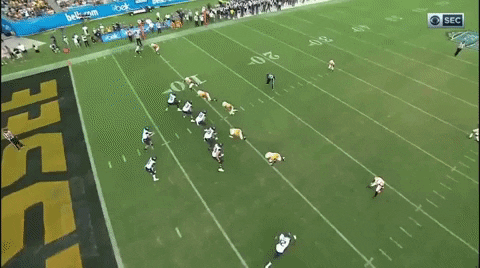 I do wish he was a bigger YAC threat. He's got good acceleration, used underneath, but not as dangerous as you'd like out of the slot. Not powerful and able to break tackles, not quite elusive enough to make defenders miss.
And while little fault of his own, some of his production was relatively easy. Exploiting two deep zones, running by linebackers, having a free release off the line. It sure didn't hurt. Not a terrible play, obviously, but how much are you really learning and able to project?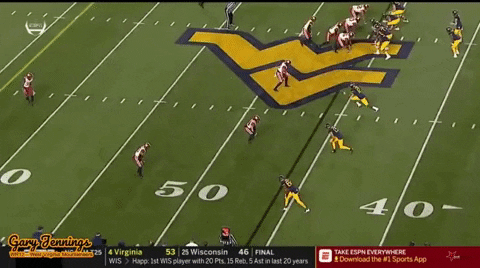 Production didn't spike until 2018 and I think teams will have some level of concern he couldn't find the end zone until this year. Just four of them prior to his senior season, even though he was involved plenty as a junior (just one TD).
If you like Parris Campbell but don't want to spend the premium pick, Jennings is a good consolation prize. You won't get quite the same YAC ability but other than that, very similar good/bad. For Pittsburgh, I'm not in love with the idea of him because there's a bazillion slot receivers on the team and I don't know how he fits. Then again, talent always finds a way to get on the field.
Projection: Mid Day Three
Games Watched: vs Virginia Tech (2017), vs Tennessee, at Iowa State, vs Oklahoma