From now until the 2019 NFL Draft takes place, we hope to showcase as many prospects as possible and examine both their strengths and weaknesses. Most of these profiles will feature individuals that the Pittsburgh Steelers are likely to have an interest in, while a few others will be top-ranked players. If there is a player you would like us to analyze, let us know in the comments below.
#20 Drew Lewis/ILB Colorado – 6'2/2 225
The Good
– Smooth, fluid athlete with good change of direction ability in zone coverage
– Comfortable and works well in space, asked to play over #2, work as overhang defender and middle hole player in Cover 2, gets depth
– Flows well to defend perimeter run game, able to scrape over the top, and does a nice job setting the edge when asked
– Experience in a 3-4 scheme
– Desire to be physical and bump around in the run game
– Times the snap well and shoots gap, able to blow plays up in the backfield with his speed and athleticism
– Plays inside/out in the run game, takes good angles and has range to chase ball across the field
– Good run fits overall, doesn't intentionally lose his gap
– Shows strength and does nice job to reroute receivers as underneath zone defender, doesn't offer free releases through his window
– Tested very well in Pro Day workout
– Strong NFL bloodlines and comes from athletic family
– Decent starting experience
The Bad
– Thin frame and on the small side
– Gets stuck on blocks in the run game, underdeveloped hand use to work off and causes him to be washed and worked out of his gap
– Will go quiet in the run game, doesn't always make an impact
– Struggles as a pass rusher, has no move/plan, and will only win if he's schemed for free rush up the middle
– Can have difficulty reading his keys and get suckered in by playaction, must do better job of reading hat of the OT/OL than the QB/RB
– Lacked production and limited amount of high-impact plays
– Off the field questions that need to be answered
Bio
– Two year starter for the Buffs, 24 total games
– Career: 167 tackles, 12 TFL, five sacks, 1 INT
– 2018: 60 tackles, 5.5 TFL, two sacks
– Initially committed to Washington, intended to play safety before being moved to linebacker
– Dismissed by team in 2014 for "violation of team rules," including poor grades
– Spent 2015 at a JUCO (broke thumb and missed five games) before getting scholarship to Colorado
– Played RB/LB + S in high school, had 10 sacks as a senior, also ran track
– Father played in the NFL and after worked in the Chiefs' front office as their director of scouting
– Older brother played for Colorado
– Has five siblings who played for Pitt, including brother, uncle, and cousin Louis Riddick, currently an ESPN analyst
Tape Breakdown
Lewis popped onto my radar after their interest in him was reported by Tony Pauline. Lewis reportedly performed well at the Shrine Game and then tested at a high level at his Pro Day workout, running as low as a 4.49 40. That athleticism and speed carries over to tape too. He's someone very comfortable and competent in zone coverage and moving backwards. Don't see stiffness in his change of direction or in flipping his hips.
Watch him, the middle hole (effectively the deep third) defender in this Cover 2, run with this 160 pound receiver, read the eyes/hands, and break up this would-be touchdown. Really impressive rep.
Or here, the first play of the game against USC, high pointing and picking this throw off.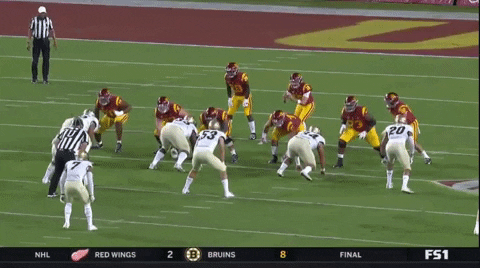 While he lacks strength and can struggle against the run, I like his angles, effort, and overall discipline.
You can see him get stuck on blocks in the run game and his hand use isn't developed enough to work off them. Worse than say, someone like David Long, who does a nice job. Lewis disappears in the run game too often.
And teams will have to look into his background and why Washington basically kicked him out of school, forcing him to go the JUCO route. He seems to have redeemed himself and coaches/players have had nothing but good things to say in the stories I've read but it's obviously going to come up.
With his athletic ability, his versatility and experience in a 3-4 scheme like Colorado ran, and top-notch NFL bloodlines, I can see him in the cards for Pittsburgh later on Day Three. If you're not an athlete, you can't play ILB in this league. Lewis is and that gives him a chance.
Projection: Mid-Late Day Three
Games Watched: at UCLA (2017), at Nebraska, at USC, vs Utah State