From now until the 2019 NFL Draft takes place, we hope to showcase as many prospects as possible and examine both their strengths and weaknesses. Most of these profiles will feature individuals that the Pittsburgh Steelers are likely to have an interest in, while a few others will be top-ranked players. If there is a player you would like us to analyze, let us know in the comments below.
#88 Trevon Wesco/TE/West Virginia/6'3", 267 Lbs
The Good
-Physical striker as a blocker and has a real mean streak to his game, looking to bury defenders
-True throwback tight end that relishes blocking assignments, from lead blocking, pulling and down blocking, to pass protection as an extra tackle
-Strong hands to pluck the ball away from his frame and knows how to shield defenders from the catch point with his frame
-Tenacious mindset after the catch, rarely goes down on first or second contact and has great contact balance despite not being a huge YAC threat
The Bad
-Struggles a bit with hit rate as a blocker when working to the second level
-Needs to work on keeping his head up to see what he's trying to hit when on the move as a blocker
-Limited route tree and was asked to work shallow flat, shallow middle and occasionally up the seam
-Appears limited athletically on tape for new-age position
-Limited production as a pass catcher in spread offense
Bio
-Played in 34 career games at West Virginia, starting final 12 games of his career
-Finished with 28 career receptions, 26 of them coming in 2018, finishing redshirt senior year with 26 catches for 386 yards and 1 touchdown
-Named first-team All-Big 12 tight end
-Played first two years of collegiate career at Lackawanna Community College before transferring to WVU
-Reese's Senior Bowl participant and invited to NFL Scouting Combine
-Clocked a 4.89 40-yard dash at the Scouting Combine, and added 23 reps on the bench, a 4.38 20-yard shuttle, and a 31-inch vertical jump
Tape Breakdown
In a world filled with move tight ends seemingly across the board in the NFL and the collegiate ranks, West Virginia tight end Trevon Wesco is a breath of fresh air for the old-school-tight-end-loving crowd.
Playing in an Air Raid system at West Virginia, Wesco was as throwback as it gets for the tight end position, serving as the sixth offensive linemen and occasional fullback throughout his career under current Houston head coach Dana Holgerson.
In an age where tight ends are seemingly as athletic and flashy as wide receivers, Wesco is a knockdown drag-out brawl type of tight end that lives and thrives in the trenches, making his biggest impact as a blocker.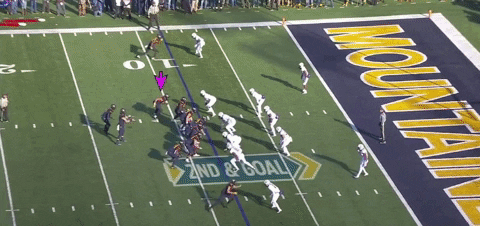 I used this gif earlier in the month in my draft profile on TCU defensive end LJ Collier, but it was too perfect not to use in my profile on Wesco.
He does a great job of moving and latching onto Collier, stalling his pass rush out in the red zone before burying him for the pancake as WVU quarterback Will Grier continues to buy time in the pocket.
I want this type of tight end with this mentality on my team every single day of the week and twice on Sundays.
More often than not, he struggles to hit on the move, especially when working to the second level because he tends to dip his head, or take poor routes to his target. However, he's shown flashes at times – especially in his redshirt senior season – where he could be a real difference maker as a blocker on the move.
Making his first career start against Tennessee, Wesco was a force as a blocker against the SEC program. I love the way he's on the move here, turns his hips upfield and latches onto his target, driving him out of the play.
Later in the season on the road against Texas Tech, Wesco had a similar impact on a similar play.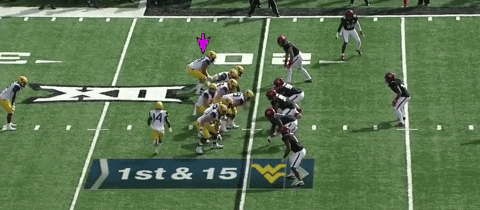 He gets outside quickly and latches onto the double team, moving the defender out of the way before looking for work on the perimeter again, working to a second defender and burying him out of bounds.
You really can't develop this type of mentality in an offensive lineman, let alone a tight end.
As a pass catcher, Wesco is very limited, at least right now. He has the room to grow as a route runner and a receiver, but what I've seen so far as a pass catcher I've been happy with.
He understands how to shield defenders from the catch point, and he runs hard after the catch, forcing multiple defenders to try and swarm to bring him down.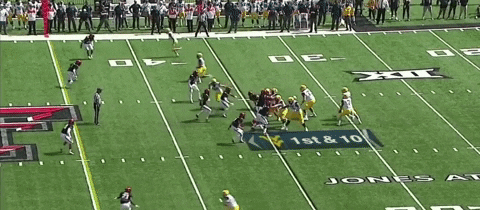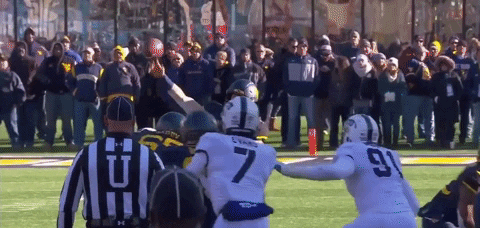 The first clip is from a game on the road against Texas Tech last season. You can see the simplicity in his routes, as this is a simple pop-pass off of the line of scrimmage. Watch after the catch though. He's a Mack truck running free down the highway. No defensive back really truly wants to step in front of him.
The second clip is from a home game against TCU late in the season. That's the ability to shield the defender away from the catch point. He's able to show off his strong hands to pluck the football out of the air and hang on for the catch through contact before then dragging defenders for a few yards.
Overall, I'm really high on Wesco's ability to play a major role in an NFL offense at the next level. He's the perfect in-line blocking tight end that could be a solid No. 2 compliment to a move tight end at the next level. He'll need to develop some as a route runner and an athlete at the next level, but he's an elite-level blocking tight end right away.
Projection: Late Day 2
Games Watched: Iowa State ('18), Texas Tech ('18), Tennessee ('18), Kansas ('18), TCU ('18)