From now until the 2019 NFL Draft takes place, we hope to showcase as many prospects as possible and examine both their strengths and weaknesses. Most of these profiles will feature individuals that the Pittsburgh Steelers are likely to have an interest in, while a few others will be top-ranked players. If there is a player you would like us to analyze, let us know in the comments below.
#90 Armon Watts/DL Arkansas – 6'4/5 300
The Good
– Sturdy frame with good length (33 5/8 inch arms)
– Flashes better athleticism than tested, quick first step when he times the snap, able to defeat reach blocks and fill his gap
– Strong anchor vs base blocks, proper hand placement and shows power on his strike, able to hold the point of attack one-on-one
– Above average hand use and ability to defeat blocks, swipe and rip are best moves as a pass rusher while rip is an effective way he beats blocks in run game when attacking a gap, shows ability to stack and shed when two-gapping
– Does nice job of turning his hips and getting vertical/gaining ground as a pass rusher, especially when splitting two linemen
– Shows gap control and discipline in his run fills, won't overpursue the play or leave his assignment
– Ball awareness and ability to bat down passes at the line
– Potential to play up and down the line
– Experience running games and stunts, felt like a pro style defense
– Productive senior season
The Bad
– On ground too often and must stay on feet
– Seems to tire quickly and struggles when offenses go up-tempo
– Too easily moved and washed by double-teams and combination blocks
– First step is inconsistent and too often the last player to fire off the ball, despite playing majority of snaps along the interior
– Needs to chase the ball harder across the field
– Not a top-level athlete
– Only one year of production and playing time, why couldn't he get into the lineup sooner?
– Sack production often came against lower level teams
Bio
– One-year starter, 11 in career
– 2018: 49 tackles, 8.5 TFL, 7 sacks (only three came against SEC squads), 3 forced fumbles
– Had only seven tackles, no other stats prior to senior season, played just 114 snaps from freshman to junior year total
– Three-star prospect out of high school, chose Arkansas over Missouri, Kentucky, and Wisconsin
Tape Breakdown
Watts wasn't on anyone's radar until he finally secured a starting job for a lowly Razorback team that won just a pair of games in 2018. But he was a bright spot in an otherwise forgettable season with a combination of quickness, hand use, and strength.
Though he didn't test great at the Combine, I like the explosiveness he plays with off the ball when he's focused and times the snap properly. Especially when he's asked to slide down a gap and attack, able to defeat reach blocks and rip through linemen.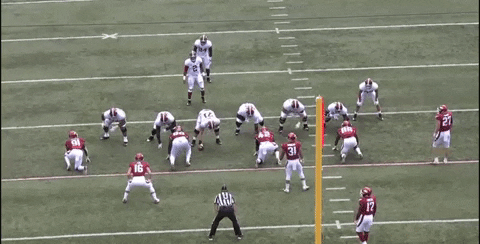 As a pass rusher, he's developed a swipe and rip as his two favorite moves and I think his bull can become effective with his length and power. But I loved this play most of all. Total Karl Dunbar teaching point. Turn your hips, get vertical, split both blockers. One of my favorite reps in the four games I watched on Watts.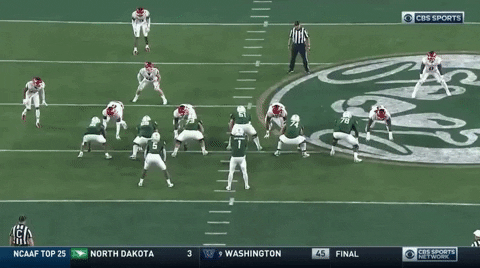 Here's Dunbar in one of his old clinics showing the same type of move.
One-on-one, he's able to anchor and hold the point of attack, using his size and power to overwhelm smaller guards and centers. He's not overpowering and might not create a lot of movement, pushing linemen back, but he's certainly stout. Here he is over center, helping the Razorbacks stuff Bama on 4th and 1.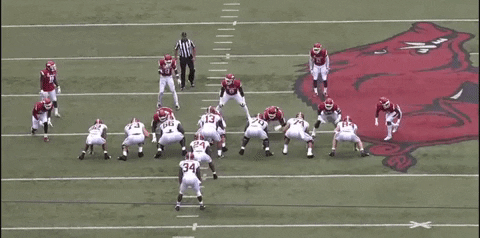 I do see issue when teams kick up the tempo. Seems to struggle, perhaps due to some conditioning, and that causes him to get sent to the ground more often than you'd like.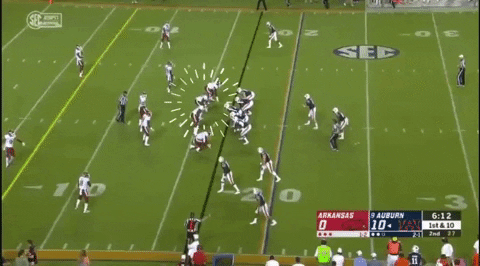 His first step must become more consistent too for him to be a threat as a pass rusher. Watch how late he is off the ball here, despite him lining up along the interior when he should be able to key the ball and fire off the snap.
He didn't play much 4/5 tech in college but then again, neither do the Steelers defensive linemen these days. Some 4i and very very little 5 tech, even in their base 3-4. I can see Watts become a solid rotational piece for a defensive line, though probably never a starter, with a sorta similar career arc as Tyson Alualu or a floor of someone like Al Woods.
Projection: Early-Mid Day Three
Games Watched: at Colorado State, at Auburn, vs Vanderbilt, vs Alabama