From now until the 2019 NFL Draft takes place, we hope to showcase as many prospects as possible and examine both their strengths and weaknesses. Most of these profiles will feature individuals that the Pittsburgh Steelers are likely to have an interest in, while a few others will be top-ranked players. If there is a player you would like us to analyze, let us know in the comments below.
#1 Jazz Ferguson/WR Northwestern State – 6'4/5 227
The Good
– Rare size with length (34 1/4 inch arms)
– "Above the rim" player, comfortable and capable of attacking the ball on fades and nine routes, high points it, and plays like a power forward boxing smaller defenders out
– Shows impressive long speed for his size and long-strider who covers a ton of ground
– More fluidity in his game than expected, able to sink his hips and effective running double-moves and advanced routes
– Willing to be "the guy" and came up clutch in game's biggest moments
– Tough for corners to bring down one-on-one in space, gives him value in RPOs and quick/smoke screens
– Doesn't dance and works hard to get upfield immediately after the catch, didn't get "cute" despite obvious talent advantage
– Effort blocker whose size and length is a real asset
– Productive 2018, dominated lower competition with real nose for end zone
– Highly touted prospect who commanded interest from top Power 5 schools
– Tested like a top athlete at the Combine, elite level triangle player
The Bad
– Hands are smaller than expected relative to his frame (9 1/4 inch hands)
– Obvious competition concerns, declared as a redshirt junior, and didn't have chance to play in pre-draft bowl games, making it hard to answer those questions
– Tends to double-catch the ball, gets his eyes upfield too quickly and creates drops and loses out on YAC chances
– Want to see him run intermediate and breaking routes harder, create more burst at the top
– Agility and change of direction in route tree isn't great, bolstered by poor testing numbers (worst 20 shuttle, third worst three cone)
– Needs to play with some physicality and intensity underneath as he does downfield
– Off field concerns that caused him to leave LSU and play at lower level
– Time missed created limited body of work, just one year of action
Bio
– Only played one full year of football
– 2018: 66 receptions, 1117 yards (16.9 YPC) 13 touchdowns
– Once scored seven touchdowns over three game span
– Had 4 catch, 129 yard, 1 TD (71 yarder) performance against Texas A&M, TD did come late vs backups
– Three to four star prospect out of high school, initially chose LSU over Miami (FL) and UCF
– Spent two years with the Tigers, caught just two passes and used primarily as a blocker
– Suspended by LSU during his sophomore year (2016) due to failed drug test, got into academic trouble, and transferred following the season
– Had to sit out 2017 with NW State to get grades up to par
– Ran 4.45 40, jumped 37 inches, 10'3″ broad at the Combine
– Younger brother of Jaylon Ferguson, draft eligible edge rusher from LA Tech
Tape Breakdown
Height. Weight. Speed. That's Jazz Ferguson. A big recruit who ended up playing at the FCS level, there's only one year of production. But it's impressive. He was "the guy" Northwestern State turned to when they needed a big play. Their win over rival McNeese State, 37-34 in double overtime, showed exactly that.
Ferguson caught: the potential game-tying touchdown in regulation, the tying two-point conversion, and the game-winning touchdown in the second OT. All on red zone fades. He attacks the football, uses his size and length to win, and has that "my ball" mentality, like a center going up for a rebound. All three clipped below.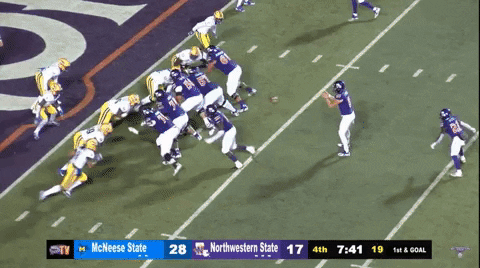 He can get vertical too, putting up his team's only points of the day in an opening loss to Texas A&M, though it should note it came against their backups. Watch the double-move to get the corner to bite, slip and fall, while he runs away from everyone else.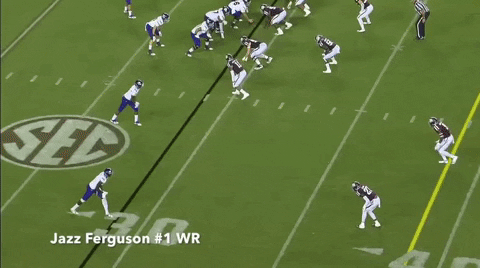 Do like the pride and effort he takes into his blocking, too. Low down on the list of things I want out of my receiver but it helps, especially as a likely "Z" receiver who will be on the strength and run side of most plays.
Ferguson does have a tendency to double-catch the ball. Takes his eyes off it, anxious to see what's upfield, and that can create drops or lost YAC opportunities.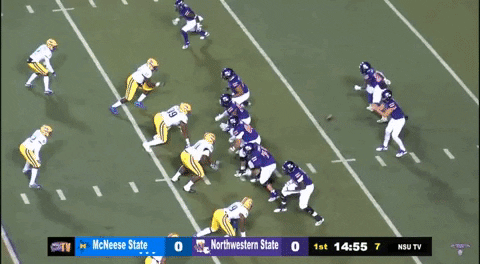 And the obvious issue is his history and rocky career. Questions about that drug suspension, transferring, problems that afforded him just one year of college ball. And because he declared early, he couldn't play in any of the All-Star games. The Combine testing helps you feel more comfortable about how he matches up against Power 5 players but it would've been nice to see him compete. Small schoolers who don't do that are even tougher to project.
Though Ferguson played the X in college, his general stiffness and big-play ability makes him a prototypical Z type at the next level. His ceiling could be a poor man's version of Brandon Marshall though with how murky that projection is, his floor may wind up being Ernest Wilford. And I bet some team thinks he could make a move to tight end if receiver doesn't work out.
Projection: Early Day Three
Games Watched: at Texas A&M, vs McNeese State, vs Grambling