From now until the 2019 NFL Draft takes place, we hope to showcase as many prospects as possible and examine both their strengths and weaknesses. Most of these profiles will feature individuals that the Pittsburgh Steelers are likely to have an interest in, while a few others will be top-ranked players. If there is a player you would like us to analyze, let us know in the comments below.
#25 Tyrel Dodson/LB Texas A&M – 6'0/3 237
The Good
– Above average speed and tested like it at the Combine (4.60 40)
– Flashes speed chasing the ball downfield and chases the ball with effort
– Overall, looks comfortable moving backwards into coverage and getting depth in zone coverage, instinctive and has good feel for where routes are developing at, lets him make big plays in coverage
– Does nice job defending short/intermediate routes in man-to-man, closes quickly with stop/start ability
– Able to beat backs one-on-one when blitzing from the interior
– Versatile and moved around the defense, splitting the #2/slot receiver, off the edge, and his traditional off ball spot
– Good starting experience for his age and solid production with enough splash on his resume
– Durable player who hasn't missed time
– Regarded as a high character player with no off the field concerns
The Bad
– Undersized, lacking length and bulk and will normally be the smallest linebacker on the field, frame is probably maxed out
– Doesn't always play like the athlete he tested, beat to edge more often than you'd expect with good – but not great – range sideline to sideline, not as explosive as you'd like
– Easily swallowed up and run out of the run game, struggles to defeat blocks when he can't play clean, lacks strength at the point of attack
– Attempts to run around blocks as a result and while he shows some success, is prone to getting himself out of his run gap in the process
– Doesn't seem to process quick enough in the run game, not as strong coming downhill as preferred, want to see him attack more often, too hesitant
– Inconsistent tackler, largely due to frame limitations
– Problems in man coverage defending vertical routes and struggles to jam tight ends at the LOS
– Overall, hot and cold player who goes quiet too often (four or fewer tackles in more than half his games in 2018)
– Statistically regressed in 2018
Bio
– Declared for draft as a true junior, started his sophomore and junior years for the Aggies
– Career: 201 tackles (18.5 TFL), 6 sacks, 4 INTs, 2 TDs
– 2018: 70 tackles (7 TFL) 0.5 sacks, 1 INT
– Picked off three passes as a sophomore
– Four-star recruit out of high school, had 21 offers, and chose Texas A&M over Kentucky, Missouri, and Purdue
– Named Class 5A "Mr. Football" senior year of high school, won the award when the other finalist was arrested on domestic violence charges
– Senior in HS: 111 tackles (32 TFL), eight sacks, two interceptions, also rushed for over 500 yards
Tape Breakdown
I turned my attention to Dodson after Tony Pauline reported Kevin Colbert's affinity for him. And I get why. Colbert is looking for guys who can create splash, cover, good athlete who can play going backwards. But looking at the whole picture, it's tough to advocate for his NFL success.
Let's begin with the good. Like I wrote, Dodson can make plays in coverage. All four of his career picks came in zone coverage, often reading the QB and driving on the football. Like reading this curl route and picking it off for a 78 yard score versus NC State this year.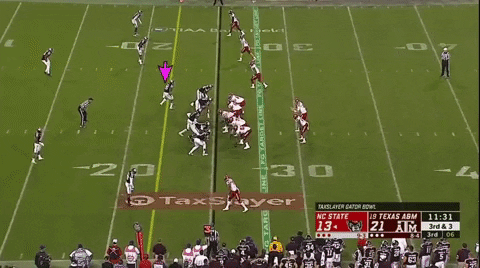 Watch him take Alabama tight end Irv Smith on this curl route. Tight coverage, ready to drive as Smith breaks down. Against vertical routes, I think Dodson struggles but underneath, he's solid. Watch him on #82 here (left side).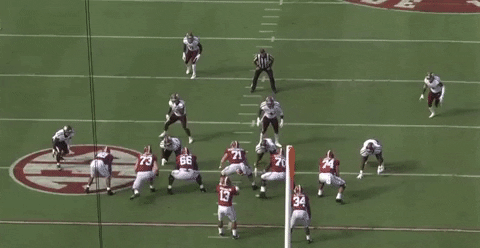 And there are elements with him you can't measure either. His durability, not missing a game the last two years, and his character. Everything I read on him was extremely positive and he went semi-viral with this tweet, finding time after practice to play catch with this boy for a couple minutes.
Definitely not a guy I'm worried about getting that dreaded 2 AM phone call if you're the coach or GM.
But mixed in all those positives are plenty of negatives. Linebackers don't need to look like Levon Kirkland to play in 2019 but Dodson really struggles against the run. Guys like David Long, Devin Bush, they're stronger and play with better technique in punching and taking on blocks. Too often, Dodson is just swallowed up and forced to try to go around, a plan that won't work with consistency in the NFL.
Right guard totally takes him out of this one and the back cuts up where Dodson was. That exact lane may not have been Dodson's gap but you can see him get run out of where he was supposed to be and have no chance to get back in the play or adjust once the back made his decision.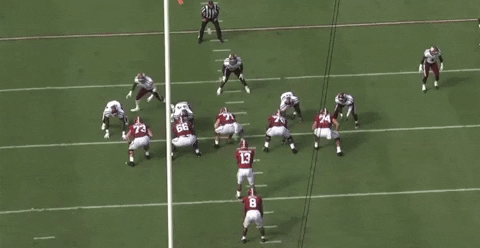 And it leads to issues tackling, too. Too many misses on his tape for me to feel comfortable about his consistency there.
Hearts, smarts, and some of that athleticism, production, I see why Colbert has him on their radar. But there are lots of athletes in this class and Dodson's warts are just a bridge too far for me. Like the potential as a special teamer. Don't see a fit for him as a starter on defense. While I didn't look at them exclusively yet, I got the feeling I'll like teammate Otaro Alaka – and other player Colbert's reportedly interested in – a lot more. Plenty of Aggies I'd be fine the team drafting this year: Daylon Mack, Donovan Wilson, probably Kingsley Keke. For Dodson? Unless we're talking 7th round when you're looking for high effort guys to come in and make that room more competitive, I'll pass.
Projection: Late Day Three
Games Watched: at Alabama, at South Carolina, at Auburn, vs Ole Miss, INT cutups