From now until the 2019 NFL Draft takes place, we hope to showcase as many prospects as possible and examine both their strengths and weaknesses. Most of these profiles will feature individuals that the Pittsburgh Steelers are likely to have an interest in, while a few others will be top-ranked players. If there is a player you would like us to analyze, let us know in the comments below.
#13 Dillon Mitchell/WR Oregon – 6'1/2 197
The Good
– Good release off the line, ability to beat press coverage with hand use and burst
– Creates space and break point, nice job varying speeds to lull corner and run away at the top
– Natural separator on both vertical and underneath routes, speed to stack corners when going deep
– Vertical threat with above average speed
– Tracks and finds the ball well in tight coverage
– Capable of being a YAC threat who can make first defender miss
– Quick to the tuck after the catch, gets upfield immediately
– Adjusts to balls thrown outside his frame
– Versatile enough to play in the slot or on the outside
– High effort blocker who can stalk block and seems to take a lot of pride in it
– Detailed player who does little things well, works hard back to the football on underneath routes
– Minor punt return value
The Bad
– Relatively thin-framed and could stand to add some weight
– Inconsistent in most areas of his game
– Want to see him consistently catch the ball cleanly
– Doesn't finish enough plays and can lose out in combative situations, want to see him play stronger and bigger
-Isn't always physical enough attacking the football on underneath routes
– Want to see him run through routes, not look for the ball so early
– Only one year of production, one year wonder?
Bio
– Two-year starter for the Ducks, declared as a true junior (24 total)
– Career: 119 receptions, 1710 yards (14.4 YPC) 14 TDs
– 2018: 75 receptions, 1184 yards and 10 TDs
– 21 career punt returns, six yards per attempt
– Ran 4.46 at the Combine, jumped 36.5 inches in the vert and 10'2″ broad
– Four-star recruit out of HS, one of the top players in his state, chose Oregon over Alabama, Auburn, and Florida State (17 total offers)
– Named Tennessee Gatorade Player of the Year, 40 total touchdowns his senior year (20 rushing scores on 64 carries)
– Played point guard on his basketball team, had five offers (Tennessee, Memphis, Cal, Ole Miss, UCLA) ranked as four star prospect there too
Tape Breakdown
Mitchell is one of the Steelers' confirmed pre-draft visitors, an obvious sign of some level of interest in his game. And with good reason. Mitchell has moments of great tape out there. The only problem is that it can look pretty bad in spurts, too. But let's begin with the good.
Mitchell is a burner who combines that with a strong release and the ability to beat press coverage. Makes him a plausible "X" receiver. Watch him win the whole route here, from release to finish.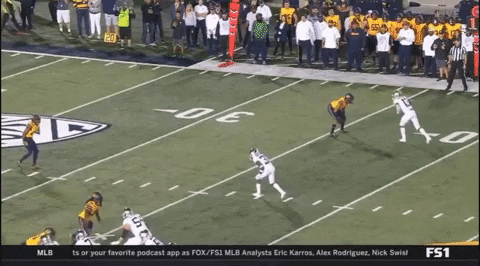 Capable of making high degree of difficulty catches too. Like his one, high pointing the football and making a contested grab along the sideline.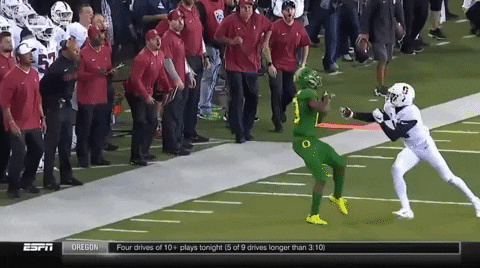 Though lower down on the list of things I care about in a receiver, the Steelers do like their blockers and Mitchell can do it. Love the effort on the corner here. Top of the screen.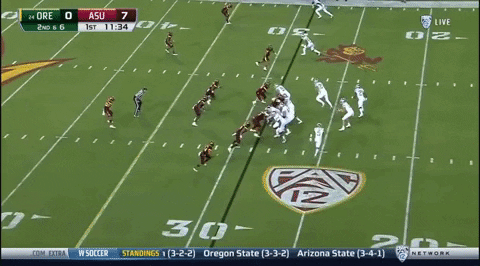 He's a really interesting athlete with a great background. Could've easily played basketball and probably been a star. Like Khari Willis, it seemed to be his first love, football taking a backseat (an injury his sophomore year of HS kept him off the radar, too). It goes all the way back to 8th grade, Mitchell crossing dudes every in this camp.
The Steelers always like those cool backstory players and well-rounded athletes so their interest in Mitchell makes a lot of sense. That control, balance, and processing from playing point guard surely helps on the gridiron too.
The biggest issue I see in his game is inconsistency. It isn't that there's something he simply can't do. He's fast, good strength, can make people miss, flashes good hands, everything you look for. But it can go the other way, too. Struggled to finish too many plays, like these two against Michigan State.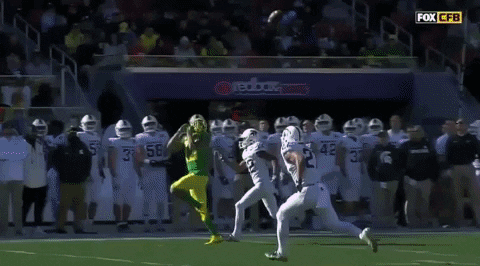 And I want to see him consistently catch the ball cleanly.
Overall, I can see the interest in the mid-rounds. Sort of like WVU's Gary Jennings, though Mitchell has more time on the outside and he's shown the ability to beat press coverage (the two go hand in hand here). If they wanted to double-dip, he's a solid candidate as that second receiver taken.
Projection: Early Day Three
Games Watched: at Arizona State (2017), vs Stanford, at Cal, vs Michigan State