From now until the 2019 NFL Draft takes place, we hope to showcase as many prospects as possible and examine both their strengths and weaknesses. Most of these profiles will feature individuals that the Pittsburgh Steelers are likely to have an interest in, while a few others will be top-ranked players. If there is a player you would like us to analyze, let us know in the comments below.
# 4 Mecole Hardman/WR Georgia – 5'11", 185 lbs
The Good
Fastest receiver in the draft and it is not close, Tyreek Hill level of fast

Explosive route runner with some of the quickest cuts in the draft

Sudden in his movements and routes, can create deception and explosiveness

Versatility in alignments, can kick and punt return, and even played CB at UGA

Catches the ball with hands and away from his body

Elite YAC receiver due to exceptional burst and surprising contact balance

Even though he is slim, he is muscular and durability is not a concern

Fantastic body control on the sideline

Strong, aggressive blocker

Works to leverage exceptionally well and stacks DBs
The Bad
Not a body catcher, but has his fair number of drops

Needs to have better awareness of the sideline and of DBs and coverages

Press coverage stumped him at times

Limited route tree due to Georgia scheme

Not a great contested catch guy, doesn't play physical enough

Just isn't very strong and cannot be a physical receiver due to it
Bio
2018: 35 receptions, 543 yards, 7 TDs

Career: 60 receptions, 961 yards, 11 TDs

His dad is a Steelers fan

Second Team All-SEC

First Team All-American (Kick Returner)

Recipient of two scholarships for academic excellence

His quote: "I can help the Steelers replace AB."
Mecole Hardman is absolutely the fastest receiver in this draft and even perhaps the fastest guy in the draft on tape period. He flies, but his game is not predicated purely on that of speed. Those wheels are useful in every facet of his game, but his flexibility is still impressive and he has elite burst, which might be even more important that vaunted long speed anyways. The speed and burst translate right into his router running, though, which is really, really good for what you would like to see out of a speed guy. The biggest fear with guys like Hardman is that they are just all speed, injury prone, and completely collapse under press coverage. Now, while Hardman faces some issues with press coverage and even awareness issues in route running, his game will not be shut down that easily because he is so much more than speed. His muscular build also makes it seem that he won't be injured very often. Regardless, Hardman can block well for his frame too
It seems that this is the type of receiver that I would just love to have. I can vouch well his NFL prospects because of plays like this.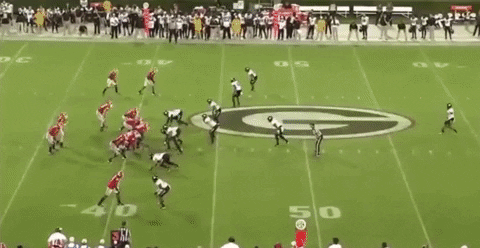 Check out how quick and explosive the cut on this corner route. He flies off the line to make it look like he is going deep off the free release and in off-man coverage, and makes three cuts that are so sharp and fluid that he gets an easy eight yards of separation. After catching it, he just hits the second gear and goes into that blazing long speed and is gone. This is what Hardman can do for you and why he is going to be such a great route runner at the next level. The hip explosion he has is incredible along with great foot speed.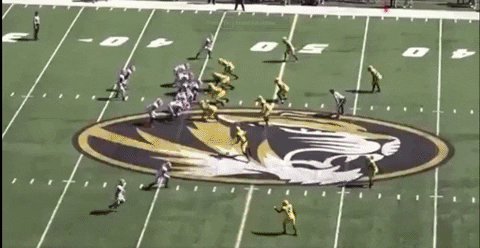 Then on this copper route Hardman should be charged with a federal crime. Everything about this is absolutely gorgeous. From running with his pads over his knees, to the knee-jerking cut he makes after he fakes the corner into the post, it is just a route of beauty. The DB is just lost because of the explosion right off of the cut too. Hardman is a true deep threat and has the combination that not many of these true speed guys really do have in their arsenal.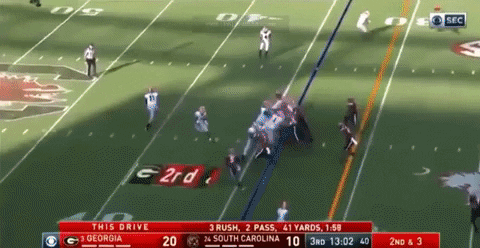 When Hardman is thrown into wide open space, he is dangerous because of his burst, contact balance, and vision. His ability is somewhat running back like in the open field. He starts off by catching it solely with his hands and then takes a hard angle to the sideline because he has the burst and speed to win around that edge. The contact balance to stay up is because of his strength in his center of gravity and surprisingly good leg churn for his size. Hardman is pretty dang strong in weight room I'd guess.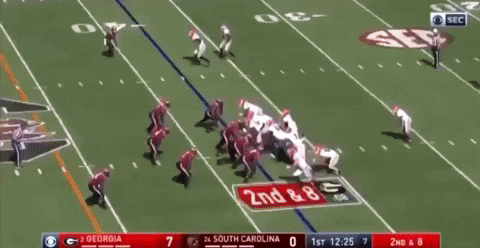 And as a final speed and athleticism showcase, Hardman goes for a hurdle over a man and dusts these South Carolina defenders around the edge. The man just has impeccable short area burst.
Mecole Hardman is not a refined product, as he worked primarily out of the slot and ran a limited route tree at Georgia, but dangerous deep threat ability, largely through his speed and incredible route running skills, imply that Hardman should be a good complement at the next level. He will never be a true number one at the next level, but as a guy who can take the top off the defense and create plays in open space, he is going to find a spot easily.
Projection: Late Day Two
Games Watched: vs South Carolina, vs Alabama, vs Missouri, vs Vanderbilt, vs LSU