From now until the 2019 NFL Draft takes place, we hope to showcase as many prospects as possible and examine both their strengths and weaknesses. Most of these profiles will feature individuals that the Pittsburgh Steelers are likely to have an interest in, while a few others will be top-ranked players. If there is a player you would like us to analyze, let us know in the comments below.
#25 Jordan Scarlett/RB Florida – 5'10/5 208
The Good
– Compact frame with thick lower body
– Power runner with a defined downhill running style
– Nimble feet, able to step through tackles, shows burst on his lateral/jump cuts and the ability to hit the adjacent gap
– Eyes and feet work in sync, helps him create when blocking isn't there
– Runs through low tackles, stays on his feet, shows good effort and hard to bring down by just one defender
– Good leg drive and desire to finish the run
– Shows willingness in pass protection and some experience there
– Patient runner who follows his blocks, knows when to make his cut, gets his shoulders square, doesn't dance when he sees the opening
– Successful in short yardage situations
– Productive when given the opportunity
– Overall, good ball security and didn't fumble at a high rate
The Bad
– Average athlete who doesn't play how he tested, one-gear runner without much burst
– Has trouble hitting the hole due to average acceleration
– Not a dynamic player who won't have many long gains
– Saw little work in passing game, basic route tree, and lot of unknown there
– Technique in pass protection needs work, will lunge and get on his toes, causing him to lose power and blitzer rush past
– Needs to get out to route quicker if blitz doesn't come
– Played in rotation, got to play fresh, and didn't even lead his team in carries/production in 2018
– Average to below average starting experience
– Off the field concerns that must be answered
Bio
– 21 career starts for Gators, left after redshirt junior season
– Career: 344 carries, 1846 yards (5.4 YPC), 12 TDs
– 2018: 131 carries, 776 yards (5.9 YPC) 5 TDs
– Two career fumbles
– Just 15 career receptions
– Suspended for 2015-2016 Citrus Bowl after being cited for marijuana possession
– One of nine Gators suspended in 2017 for credit card fraud, used stolen card to buy unknown item(s), did it only once while two other teammates did so repeatedly
– Reinstated by team in January 2018 under new head coach Dan Mullen
– Four-star recruit out of high school, chose UF over offers from Alabama, Clemson, and Ohio State
– Rushed for over 1100 yards, 24 touchdowns as a senior, also member of track team
Tape Breakdown
Scarlett is one of several running backs the Steelers are bringing in for a pre-draft visit. One of those early Day Three candidates that signal the team is a little more serious about addressing the position than perhaps initially thought. On the field, liken Scarlett much more to James Conner than Jaylen Samuels. Scarlett may be a one-note guy but what he does, he does well. Get downhill, run through tackles.
His feet and ability to change direction laterally though is an impressive trait and my favorite part of his game. The way his eyes and feet are in concert.
And the size and power he has makes him a handful to bring down. Awesome run against Tennessee. Hard to believe he scored here.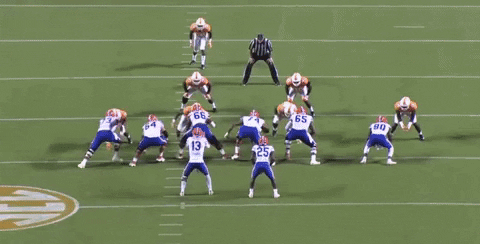 The lack of burst he has, as suggested by his Combine workout (30 inch vert, sub 10 foot broad) is a worry. More explosive backs would've hit the hole here. Instead, Scarlett gets swallowed up through it. The All-22 view gives us a great look at it.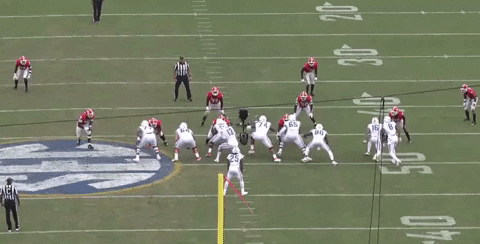 In 2018, he had just four runs of 20+ yards. Not a dynamic player who is going to run away from a defense for a 50 yard score. He's a slow-burn runner, better wearing down defenses and picking up four or five yards at a time. Limits his upside because you want that guy who can break it on any given carry.
I can see why the Steelers are bringing him in for a visit. Serious conversation to be had with him. Given they lightly attended his Pro Day, sending just scout Rick Reiprish, he needs to talk with Faulkner/Colbert/Tomlin about his history. Two suspensions, including missing an entire year is heavy stuff. That credit card fraud was the same event Antonio Callaway got suspended for. To Scarlett's credit, he stayed with the team, not choosing to declare or transfer as several of his teammates did. But with his red flags, this isn't a guy you can draft without asking those difficult questions.
Don't see Scarlett as a full-time guy. An early down back whose upside isn't huge but if he can stay on the straight and narrow, able to carve out a career as a short-yardage and dependable runner. Ceiling could be Jamaal Williams with a floor of someone like Paul Perkins or Kenneth Darby.
Projection: Mid Day Three
Games Watched: at Tennessee, vs Louisville, vs Georgia, at Florida State