From now until the 2019 NFL Draft takes place, we hope to showcase as many prospects as possible and examine both their strengths and weaknesses. Most of these profiles will feature individuals that the Pittsburgh Steelers are likely to have an interest in, while a few others will be top-ranked players. If there is a player you would like us to analyze, let us know in the comments below.
#25 Ben Burr-Kirven/ILB Washington – 6'0 230
The Good
– Excellent hand use, block shedding, and doesn't get stuck to blocks in the run game
– Attacks blockers and doesn't try to go around and work himself out of his gap
– Plus athlete with top level chase and pursuit, flies around to the football, really good motor
– Quickly closes on the football in run and pass
– Overall, finishes plays as a tackler and doesn't miss many
– Takes good angles to the football
– Comfortable and coordinated in coverage, instinctive in zone coverage with athleticism to run and carry backs in man to man
– Flashes pass rushing ability on the edge, able to beat tight ends with his ability to disengage
– Highly productive player always involved in the play, made splash in a lot of ways
– Decorated player on and off the field, seemingly good character
The Bad
– Undersized, lacks bulk and length (31 7/8 inch arms)
– Tendency to guess where the back is going, bounce in and out of his gap, while generally disciplined, occasionally seems to freelance
– Can get overpowered by bigger running backs in the hole, doesn't miss but will allow YAC
– Will get overaggressive, especially late in games, and try to do too much
– Want to see him get more depth in zone coverage when there's no one occupying his zone
– Didn't create many tackles for loss despite high tackle count overall
– Only average starting experience
Bio
– 22 career starts for the Huskies
– Career: 338 tackles (11.5 TFL) 4 sacks, 6 FFs, 4 INTs, 3 FRs
– 2018: 176 total tackles (5.5 TFL), 4 Fs, 2 sacks
– Named Pac-12 Defensive Player of the Year as a senior
– Also named Pac-12 Scholar Athlete of the Year (first player to ever win both in the same year)
– Ran 4.56 at the NFL Combine
– Named school's Special Teamer of the Year as a freshman
– 116 tackles as a senior in high school despite missing part of the year due to Achilles injury, played RB and LB
– Ran track in high school, anchor on 4×100 relay team that set school record, won 100 meter dash as a senior
Tape Breakdown
We've talked so much about the two Devin's and I mocked Mack Wilson with my latest mock draft. But if you're looking for that #4 player, and someone I would consider putting ahead of Wilson, it's Ben Burr-Kirven. The thing that separates him above the others is his hand use and block shedding. Better than Wilson. Better than Bush. Better than White.
You don't rack up over 170 tackles by getting stuck on blocks. And it's littered throughout his tape. Here's several examples. Off ball, over left guard in each of these. #25.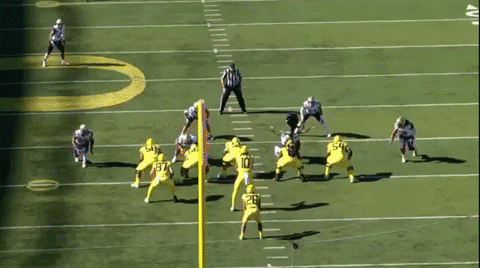 Watch him beat the running back up the middle with ease, pressuring Josh Rosen in 2017.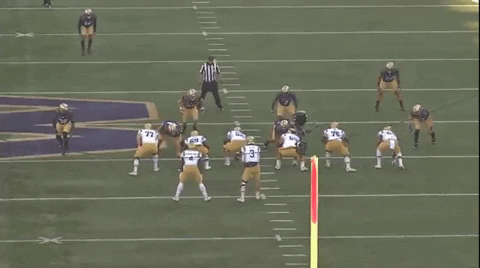 Burr-Kirven is a great athlete with range and motor. You know he wants to finish plays, get in on the play, be the one who is making the stop. Watch him flow against this run, fly in, and finish it.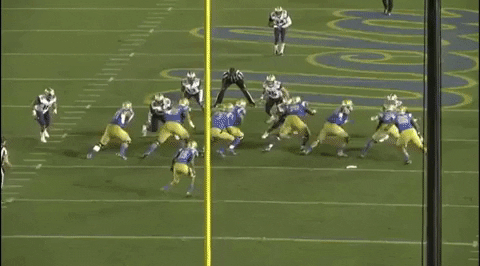 Four career interceptions are a nice number but he helped others – especially safety Taylor Rapp – boost their stats. Two deflections that led to Rapp picking it off.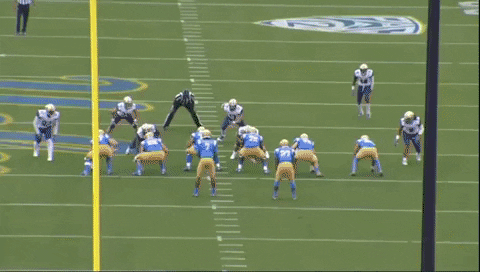 The size is pretty easy to point too and while I didn't see it as a major issue, it still pops up from time to time. Meets the back in the hole here but lets him run through and pick up 3-4 extra yards.
Beyond that, I did see a minor issue of him not getting enough depth in some spot drop zone situations. You can see him a little more shallow than the two defenders next to him and the pass goes just over his fingertips for a touchdown in the loss to Ohio State. Difference in getting that extra step backwards with no one in your zone is huge. Not the only time I saw it either.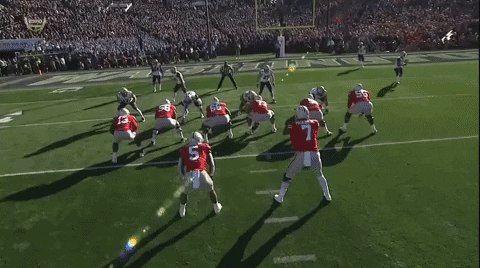 Hard not to like this guy. Production, energy, technique, speed, and can cover. Even the fact he played behind a pretty good defensive line, nose tackle Greg Gaines is a good one who I hope is also on Pittsburgh's radar, doesn't bother me because of all the blocks Burr-Kirven shed.
If you miss out on Devin Bush, I can't think of a better consolation prize in the third round. And if you can get him later, even better.
Projection: Late Day Two-Early Day Three
Games Watched: at UCLA (2017), at UCLA, at Oregon, vs Ohio State