From now until the 2019 NFL Draft takes place, we hope to showcase as many prospects as possible and examine both their strengths and weaknesses. Most of these profiles will feature individuals that the Pittsburgh Steelers are likely to have an interest in, while a few others will be top-ranked players. If there is a player you would like us to analyze, let us know in the comments below.
# 13 Marquise Blair/SAF Utah – 6'2", 195 lbs
The Good
Aggressive mentality, plays like an alpha and hits like it

Great athleticism, both in speed, explosiveness, and agility

Incredible range at single-high, can go sideline-to-sideline easily

Fluid, flips his hips with ease for a high-waisted guy

Smart, high IQ player, processes route concepts well and spaces well

Versatile, played in the box, single-high, and in the slot

Incredible closing speed on the ball and on ball carriers
The Bad
Over aggressiveness gets him in trouble with tackling and overpursuit

Not a great man coverage, has the length, but footwork is not ideal

Fails to get off of blocks well, would need to fill out frame more to be in the box

Inconsistent ball skills, can make plays at the catch point, but the splash of turnovers was not there

Can give up big plays when he is too aggressive in trying to make plays on the ball

Raw frame, might need to add more bulk
Bio
2018: 59 tackles, 2 INTs, 2 PDs

Career: 106 tackles, 2 INTs, 4 PDs

Torn meniscus out of high school and tore knee ligaments in 2017

Academically ineligible at Syracuse

Second Team All Pac-12
Marquise Blair was a case study that frustrated, but when I really dug deeper into his game, I came away really liking his game overall. Blair has the mindset that I want my safeties and players on defense in general to have. It is the "us against everyone" schtick, but that mentality is so important when you want your defense to play physically and create splash plays. Blair has that mindset down to a tee and combined with his athleticism, he has an extremely alluring skillset that he brings into the playing field.
Now, sure that mindset has its drawbacks. Blair is a missile and has been ejected for targeting twice in his college career in addition to missing tackles often due to this type of play. Steelers fans saw it with Ryan Shazier, as he overpursued a ton in the running game. Blair has the same issue and can get lost in the shuffle because of it, but let him play downhill from single-high and watch him flourish.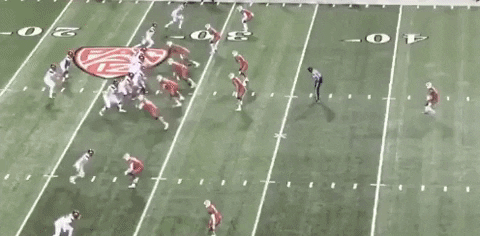 Part of why he should and will be more comfortable at single-high is because of his raw frame and lackluster ability to shed blocks in the box, but also because he has this range. Blair can scoot with excellent hip flexibility, quick feet, and great straight line speed in general. He knows how to maximize his range by having great deep angles as well. Here, he reads the QBs eyes and darts towards the near sideline. He gets there with plenty of time to come over the top and disrupt the catch point here. He can play as a legitimate center fielder.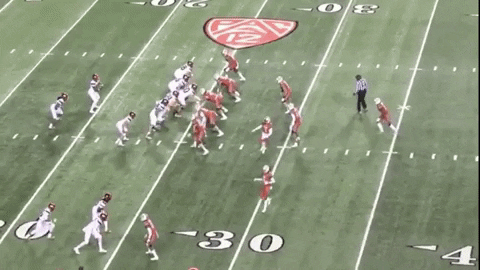 He is cut from my type cloth. Blair recognized the screen pre-snap and instantly came down from his single-high spot to avoid traffic and range over to make this play. Not only is this just a high IQ play by Blair, who has great route recognition as well, but his closing speed and ability to get over there is more than impressive. This is an NFL play from him.
Just let him play downhill and go with that. Similar to how Sean Davis just seems more natural playing aggressively down from FS, Blair is the same type of way. He can come and play near the line at times, but it is not ideal for his frame or even utilizing his athletic ability to the fullest extent. Utah put him in the box far too often and did not let him do what he could do. That could signal more splash plays in the future, since he really never got to flash ball skills and could only show what he could do down in a psuedo-ILB role.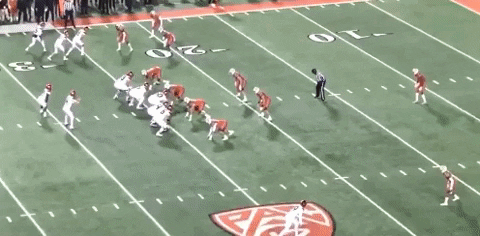 This is my favorite play that I watched of Blair. Just incredible range to come from the far hash all the way to the near sideline. That doesn't happen without great recognition and athleticism to allow him to do it. Now, if he takes a better angle, he might be able to make a play here and pick this thing off. Those ball skills are inconsistent and he has to flash them way more often. Granted, I think playing up a single-high will do that for him, but they did not flash all the time on tape.
Marquise Blair might have played all around at Utah, but he is the ideal single-high safety in a modern NFL scheme. His range and instincts make him capable of more splash plays at the next level. Blair's aggressiveness will need be tamed a bit, but it is far from a con when it is an infectious positive onto the rest of the team. He was a true leader on that defense, and can develop into that in the NFL as well.
Projection: Early Day Three
Games Watched: vs Washington, vs USC, vs Arizona State, vs Washington State, vs Arizona