From now until the 2019 NFL Draft takes place, we hope to showcase as many prospects as possible and examine both their strengths and weaknesses. Most of these profiles will feature individuals that the Pittsburgh Steelers are likely to have an interest in, while a few others will be top-ranked players. If there is a player you would like us to analyze, let us know in the comments below.
#42 Otaro Alaka/LB/Texas A&M/6'3"239
The Good
-Big, physical linebacker that plays downhill with major force
-Great size and arm length for the position
-Noticeable improvement year-to-year when it comes to processing/reading keys
-Very good motor; plays until the final whistle and attempts to track down every play regardless of where he is on
the field
-Power blitzer that works through blocks well with speed to power
-Has shown the ability to slip blocks and clamp up running backs in space
-One of the more physical linebackers in this class; drops the hammer throughout film
The Bad
-Too aggressive at times flying downhill when attacking blockers, which can take him out of plays
-Lacks ideal range for an inside linebacker; looks slow on tape at times, and testing numbers back that up
-Appears uncomfortable in coverage; has to get eyes on receivers in zone, which causes him to get moved out of position by routes; doesn't have much of a feel for spot drops
-Inconsistent tackler because he's constantly looking for the highlight-reel pop
-Slow to locate football on boundary runs when playing in the box
Bio
-Redshirt season who played in 47 career games at Texas A&M; started 5 of 8 games played in true freshman year in 2014
-Finished TAMU career with 260 career tackles, 36.5 tackles for loss, 10.5 sacks, 1 interception, 5 pass breakups and 5 forced fumbles
-Awarded the Strength and Conditioning Defensive Aggie Award and the Defense Unselfish Leadership Award at the team's annual banquet after senior season
-Earned 2014 Liberty Bowl Defensive MVP as a true freshman in a win over West Virginia
-Accepted invited to 2019 Senior Bowl, but had to pull out after lingering wrist injury flared up again
-Invited to 2019 NFL Scouting Combine, where he clocked a 4.82 40-yard dash, 20 reps on the bench, a 36.0-inch vertical jump, and a 131-inch broad jump
Tape Breakdown
Texas A&M inside linebacker Otaro Alaka seems to be playing in the wrong era. If this were the early 2000s, we'd be talking up Alaka much, much more as he's an old-school downhill thumper.
Unfortunately for Alaka, it's 2019 and the game of football has progressed towards athleticism, speed and overall range sideline-to-sideline. Although Alaka has some solid tape and really packs a punch coming downhill as a physical striker, there are clear limitations on tape with him.
That said, I want to focus on the positives with Alaka because he's a projectable linebacker who is worth a Day 3 selection as depth and special teams contributions right away.
Kicking inside in 2018, Alaka showed he was much more comfortable playing in the box than on the edge in Texas A&M's 4-3 defense. He's not overly athletic, but he was solid in the box stacking and shedding or slipping blocks to make plays.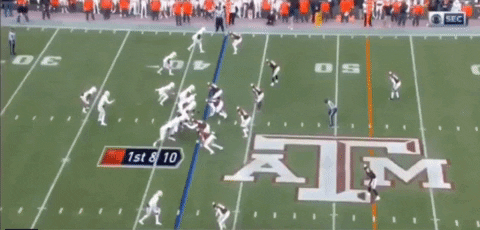 Here against Ole Miss in 2018 – which happened to be his best film that I watched – Alaka slips the interior block for the TFL. This is one of those instances where his processing was quick and correct, allowing him to step up quickly and slip the block from the Rebels' offensive lineman, leading to a clean look at the running back behind the line of scrimmage.
Again, when he processes quickly and reads the play correctly, he can fire downhill in a hurry to avoid blocks and clamp onto the running back for a tackle at or behind the line of scrimmage.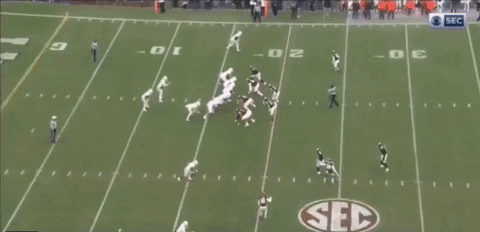 One thing I really liked with Alaka is his ability to scrape and make the play in the hole. He was wildly inconsistent at it throughout his time at A&M, but when he flashed it, it was darn good.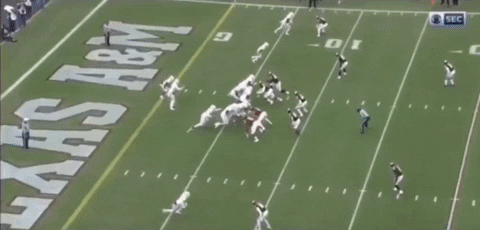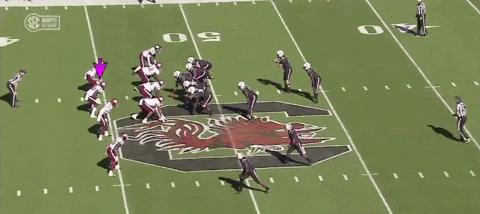 The first clip here is against Ole Miss again. He's a step late to see the hole, but he covers a lot of ground laterally and has those long limbs to clamp onto the back to wrestle him to the ground.
He was much better earlier in the year at that same play against South Carolina, which is in the second clip.
Right away at the snap, you can see Alaka flowing laterally to his left before coming downhill for the stick and the stop.
As a blitzer, Alaka doesn't have a ton to work with coming from the inside other than his power, which is hard to stop for guards, let alone running backs.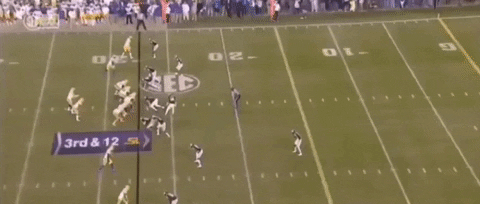 Against LSU in overtime last season, Alaka runs right through running back Nick Brossette for the sack of Joe Burrow. Throughout Alaka's tape, he converted speed to power well when blitzing. He's very effective coming up the middle as a blitzer, and that can translate well to the next level.
Where Alaka struggles is in coverage, both in man and zone. In man he simply doesn't have the foot speed to stay in phase. In coverage, he is uncomfortable spot dropping and has to get eyes on receivers coming into his area, causing him to take his eyes off of the quarterback and get moved out of position.
Against the run, Alaka can be far too aggressive attacking downhill. He still struggles to process what's happening in front of him and can run himself out of plays because his eyes get clouded.
I was a bit disappointed in his testing numbers, as he ran a 4.82 40 at the NFL Combine, but he is a traditional downhill thumper that can play on early downs and on special teams and can carve out a decent NFL career.
Projection: Mid Day 3
Games Watched: LSU (2017), Arkansas (2017), Alabama (2017), South Carolina (2017), Ole Miss (2018), Alabama (2018), South Carolina (2018), Auburn (2018), Arkansas (2018)