From now until the 2019 NFL Draft takes place, we hope to showcase as many prospects as possible and examine both their strengths and weaknesses. Most of these profiles will feature individuals that the Pittsburgh Steelers are likely to have an interest in, while a few others will be top-ranked players. If there is a player you would like us to analyze, let us know in the comments below.
# 31 Jahlani Tavai/ILB Hawaii — 6'3". 250 lbs
The Good
Smart, smart LB, reads keys about as well as anyone in the draft and can read the flow before the play even starts

Hit power is through the roof, engages ball carriers with force

Aggressive, physical player who will be a true enforcer in the run game and passing game

Great block shedder who can blitz off the edge or through the middle, holds lanes and fills and sheds to make plays

Unbelievable effort, motor, and toughness, flies around the field consistently

Disrupts short area zone concepts, can blow up mesh easily

Fluid hips and good mover in space, much better in coverage than given credit for

Has juice all throughout the play, but especially on the first step
The Bad
Serious contact balance issues, flies for heels and can miss tackles that he should otherwise make

Not overly rangy, athletic gifts are merely average

While he can blitz off the edge, does not have the bend or cornering ability to do effectively

Needs to learn how to dip off of edge to help fill gaps and disrupt lanes

Can get overly aggressive and over-pursue ball carriers

Takes questionable angles
Bio
Suffered season ending shoulder injury in 2018

All-Mountain West 2x

Named Hawaii Defensive MVP 2x

Former Rugby player

Discus National Champion in High School
Jahlani Tavai is a fascinating case study of what a modern NFL ILB can look like if deprived of the elite functional athleticism that seems to be required from every three-down linebacker nowadays in the NFL. While Tavai certainly does not have athleticism of a sideline-to-sideline LB, his processing and elite short area burst make him mitigate that lack of true speed. Other than pure speed, Tavai is not a terrible athlete, in fact, laterally, I like the way he moves. His motor is never-ending, he plays like a complete alpha male, and he is always around the football no matter what is going on.
With a background in rugby, it is no shock that Tavai is an aggressive player and overly aggressive many times. But I would much rather be overly aggressive than timid, as Tavai gives the tenacity that you want from the leader of your defense. Tavai's very odd in the fact that he was a hybrid. He played as an OLB and blitzed off as an EDGE at times and then played inside, similar to a guy like Kyle Van Noy and what he does with the Patriots. Tavai is a schematic versatile player that can do so much for your defense in packages. It is that type of stuff that makes Tavai such an enthralling player for NFL front offices.
It is plays like this that make Tavai such a fantastic processor and mitigate that lack of elite range. First off, his first step quickness is as impressive as anything here. Tavai is the first man off on Hawaii towards the near sideline. Great processing and he trusts his eyes, thus making him just fly downhill. Tavai might play aggressively, but he does let that get himself caught up in the trash. He sifts through it and avoids all of it with ease, as he does here. This is a picture perfect tackle for loss.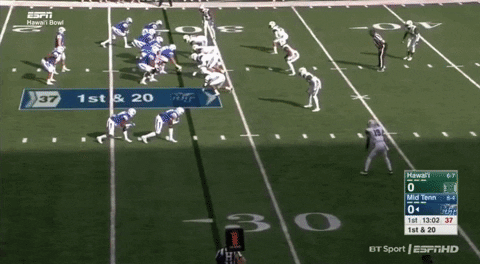 Perhaps Tavai doesn't have great range, but you would think that a guy who does not have that elite range would not be able to range over to make this play. It is a rough angle at first for Tavai as he has to adjust himself halfway up the hash, but great processing to realize the flow of the offensive game plan here to the far sideline is why he can make this play. It is not that his athletic gifts are great, it is that his mental smarts coupled with just enough athletic ability allow him to save this from being a bigger gain than it should be. Great play.
There is no better play to show off his elite instincts and processing here. There is motion, decoys, false jets, and everything in here, but Tavai sticks his nose right up the line to the reverse to the far side because he realizes the flow of the offense and the weak side engagement that is likely to occur. Cheating down and flying right in here for a TFL is awesome stuff.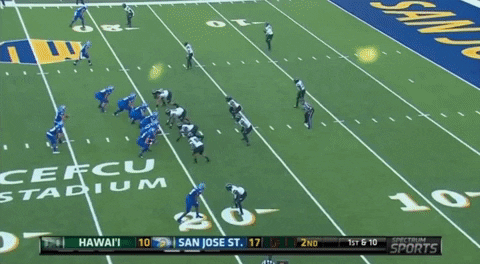 As for coverage, Tavai can do that much better than I thought he would with his athleticism. There's a lot of clunkiness in his backpedal, and I am genuinely not sure how he will do in strict man coverage at the next level, but this play is very nice. It is an extremely fluid hip turn and he carries Josh Oliver right up the seam to perfection. He causes an incompletion due to it. Gorgeous play.
Jahlani Tavai might lack the traditional athleticism of a modern three-down LB, but his processing and quickness allow him to be just that at the next level. As possibly the biggest sleeper at ILB in the draft, Tavai will likely be higher on NFL radars because of his traits and what he brings to the table. Tavai should be a day one contributor on special teams and perhaps even a day one starter under the right circumstances due to his versatility.
Round Grade: 3rd Round
Projection: Early Day Three
NFL Comparison: Kyle Van Noy
Tape Watched: vs Middle Tennessee, vs San Jose State, vs Wyoming, vs Navy, vs Rice