From now until the 2019 NFL Draft takes place, we hope to showcase as many prospects as possible and examine both their strengths and weaknesses. Most of these profiles will feature individuals that the Pittsburgh Steelers are likely to have an interest in, while a few others will be top-ranked players. If there is a player you would like us to analyze, let us know in the comments below.
#18 Isaac Nauta/TE Georgia – 6'3/2 244
The Good
– Not the biggest guy but fills out his frame well
– Soft hands, makes grabs in traffic, good focus and concentration to haul in throws over the middle
– Tough player who doesn't go down easily and seeks out contact
– Above average route runner with the hand use to beat jams/zone defenders and lean to create separation at the top of his break, makes up for lack of athleticism
– Quick upfield after the catch
– Good blocker with experience playing in a three-point stance, shows explosion out of stance and ability to uncoil his hips on contact
– Shows power and creates movement with good leg drive and has a desire to block and do the dirty work, tenacious players who looks to finish
– Experience and competent in pass protection, shows good base and plays with effort and a good football IQ
– Versatile and wore a lot of hats on offense, playing in slot, in-line, and in an H-Back role
– Moderate production for his position, offensive scheme, and talented that surrounded him
– Good starting experience, durable player who didn't miss time
The Bad
– Slightly below average size with poor length for his frame and what the position demands (31 7/8 inches, third shortest from a TE at Combine), some may question if he'll stick at tight end or turn into an H-Back
– Tested very poorly and though a better athlete on tape, not significantly so and will never be a dynamic receiver
– Lacks straight line speed and won't run away from anyone
– Not much of a threat after the catch
– Too easily rerouted by underneath zone defenders who he isn't using his hands
– Played in rotation and didn't have to be "the guy" probably played roughly 75% of the offense's snaps, max
– Limited upside and unlikely to every develop into a starter, more of a complimentary piece
Bio
– 27 career starts for the Bulldogs, left as a true junior (was advised by NFL advisory committee to return to school)
– Career: 68 receptions, 905 yards 8 TDs
– 2018: 30 receptions, 430 yards (14.3 YPC) 3 TDs
– Combine: Ran 4.92 40 with 28 inch vertical and 7.45 three cone (all among worst of position group)
– Five-star recruit, #1 TE in the nation with 37 offers, including Georgia, Auburn, and Clemson
Tape Breakdown
It's fair to say Nauta had an underwhelming college career with all the expectations he had coming out of high school. And while his NFL upside is likely fairly limited, his skillset does offer the ability to play for years in the league.
Georgia's offense demanded their tight ends to put their hand in the dirt and block. He isn't the biggest, strongest, or longest dude, but he plays with good technique, leverage, and a desire to finish the play. This was my favorite rep of his, burying the LB against Texas. Dude knows how to finish.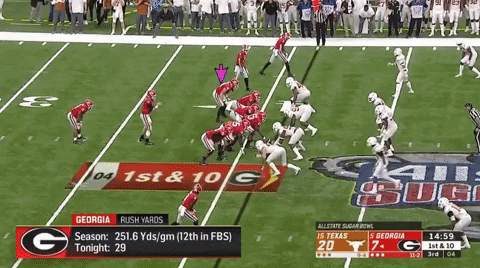 Watch him chip the RDE too versus Florida.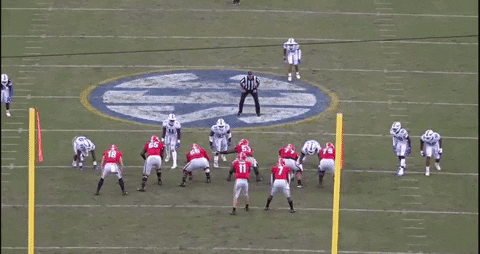 In the passing game, he understands some nuances of route running with his hand use and body lean in his routes. He shows soft hands and the ability to catch in traffic or take a blow to make the grab.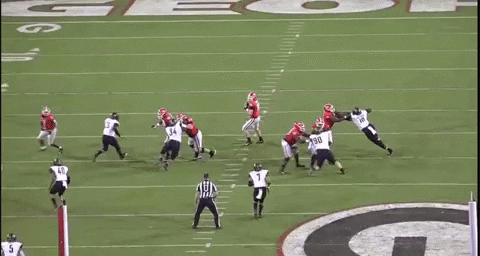 But he isn't a natural separator who can get too physical with his routes. Clear push off against Florida that negates this big gain.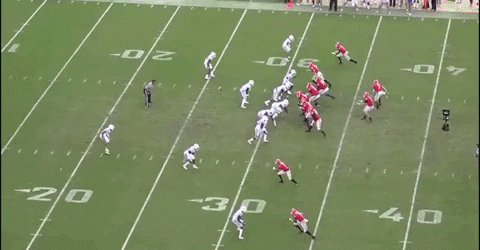 Logic says he should've returned to Georgia for his senior season. And it's hard to argue with that, knowing he's safely going to be a Day Three pick with no guarantees for his NFL future. But every situation is different and reading up on his backstory, his family lost everything in the 2008 recession. So I understand why he made the decision he did.
He's a tough guy, can fit multiple roles, and I think he'll stick around on an NFL roster for several years. But at best, he's your #2, and with his lack of size, could slide into an H-back role. Think Ryan Hewitt, who spent four years in Cincinnati, with a max ceiling of Mychal Rivera.
Projection: Late Day Three
Games Watched: vs Vanderbilt, at LSU, vs Florida, vs Texas