From now until the 2019 NFL Draft takes place, we hope to showcase as many prospects as possible and examine both their strengths and weaknesses. Most of these profiles will feature individuals that the Pittsburgh Steelers are likely to have an interest in, while a few others will be top-ranked players. If there is a player you would like us to analyze, let us know in the comments below.
#26 John Battle IV/S/LSU/6'0 201
The Good
-Versatile defensive chess piece that played a number of roles on LSU's defense
-Most comfortable playing in the box and matches up well against running backs and tight ends
-Drives downhill quickly when the ball is kept in front of him
-Smooth backpedal and appears to have quick, deliberate feet on tape
-Flashes high-level ball skills throughout tape
-Recovers quickly when beaten and is able to get back in phase
-Good frame for the position and has room to add bulk
The Bad
-Awful tackling form; tends to go high and seems to jump into tackle attempts
-Takes poor angles to the football playing the run, and is hesitant to come downhill in space to play the run
-Lacks good play strength; has a handful of reps on tape where he's simply overpowered by running backs
-Struggles mightily in man coverage and has tight hips, leaving him vulnerable against wide receivers
-Eyes tend to get locked into the backfield against the pass; slow to react at times
-Doesn't have much in terms of instincts for the position and really struggles with awareness
Bio
-Three-year starter for LSU under head coach Ed Orgeron and defensive coordinator Dave Aranda
-Played in the NFLPA Collegiate Bowl following graduation from LSU
-Finished four-year career at LSU with 144 career tackles, 5 interceptions, 11 pass breakups, two forced fumbles and 0.5 sacks
-Invited to 2019 NFL Scouting Combine and clocked a 4.67 40-yard dash, 29.5-inch vertical jump, 120-inch broad jump, and a 7.03 3-cone time
Tape Breakdown
When it comes to defense and the NFL Draft, LSU football will always be prominent for the number of high-level prospects they churn out year-to-year. This year is no exception with Devin White and Greedy Williams. With those two prospects stealing the show – and rightfully so – leading up to the 2019 draft at the end of April, a guy like safety and three-year starter John Battle is getting overlooked.
When I watched LSU live over the last three years, Battle always seemed to be around the football. Coming into the 2018 season, I was pretty excited to see if my live viewing impressions would pay off with Battle when it came to tape breakdown.
Unfortunately, that wasn't the case. That being said, Battle is still a guy I'd want on my team if I were an NFL general manager.
Let's start with the positives with Battle. First, he's a versatile piece that a defensive coordinator can move all over the defense. Throughout my tape study on the redshirt senior safety, I saw him line up at off-ball linebacker, slot corner, single-high safety, and two-deep safety. He can line up pretty much wherever you want him to. He's also a smart defender that seems to know where everyone needs to be on defense, and you'll see him gesturing pre-snap on film helping the defense get lined up properly.
As a versatile piece on defense, he does a number of things well, including covering tight ends and running backs in zone and man coverage. When the ball is kept in front of him, he drives downhill with force to make a play on the ball, and when he's locked up in man in these situations, he has a knack for breaking up the pass.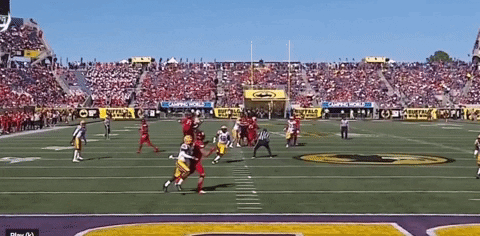 Here against Louisville in the Tigers' bowl game in 2017, Battle does a great job of staying in phase here against the Cardinals' tight end, making a play late on the ball near the goal line to break up the pass.
Then, in 2018 against Georgia on the road, he showed off how well he clicks and closes downhill on the football against Bulldog tight end Isaac Nauta.
His back pedal is smooth, and when he sees the pass coming from Jake Fromm he wastes little movement shifting his weight and exploding downhill to help break up the pass.
However, the Georgia game was really rough for Battle as a run defender and a cover safety.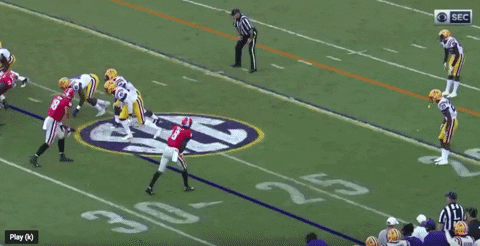 This came against Riley Ridley late in the second half in a blowout win for the Tigers, but this was arguably the worst rep I saw from Battle in the tape study that I did. He gets turned all the way around on this double move, leading to an easy strike from Fromm to Ridley for the touchdown. He's mostly inexperienced in man-to-man coverage against receivers as he was usually asked to play the two-deep or single-high role in zone coverage, allowing him to roam around.
Then, as a run defender, he really struggled with striking power, not just against Georgia, but also in 2018 overall.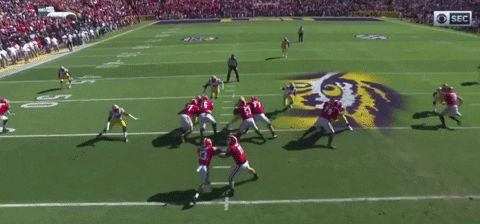 Elijah Holyfield bullied Battle all game long, running him over twice. This was the first such instance and it's a good show of the lack of strength Battle has as a tackler. He's more of a drag-down tackler rather than a striker, which is generally fine as long as you get the ball carrier on the ground, but this is awful. He seems to pull up late and sits back on his heels, leading to an easy truck stick for Holyfield.
Then, against Ole Miss in 2018, Battle again seems reluctant to hit in the open field against the Rebels' running back, leading to additional yardage.
Clearly this isn't the type of safety you want playing the single-high role, or even a box-safety role. He has very little hit power and seems to really struggle with holding up in general. That being said, he is revered by teammates and coaches at LSU and was a strong leader on the last two LSU defenses based on reports. Orgeron and Aranda have spoken highly of him in the past as well.
Battle will also provide some special teams play as well. He was one of LSU's top tacklers on special teams each of the last three seasons, where his tackling appeared to be much, much better, which is odd.
He's not going to blow anyone away athletically, but he'll work his tail off and do pretty much anything a coaching staff will ask him to do. That's a guy I'd take on my team any day. I'm just not sure I'd spend a draft pick on him.
Projection: Late Day 3/Priority UDFA
Games Watched: BYU (2017), Mississippi State (2017), Ole Miss (2017), Louisville (2017), Miami (2018), Georgia (2018), Ole Miss (2018), Auburn (2018)