From now until the 2019 NFL Draft takes place, we hope to showcase as many prospects as possible and examine both their strengths and weaknesses. Most of these profiles will feature individuals that the Pittsburgh Steelers are likely to have an interest in, while a few others will be top-ranked players. If there is a player you would like us to analyze, let us know in the comments below.
# 49 Donald Parham/TE Stetson – 6'8". 243 lbs
The Good
Unbelievable height and size, just a complete menace with his build

Moves very well for his size, ran a 4.67 at his pro day, great time for him

Cheat code at the catch point and on jump balls, high points with ease

Diverse route tree for a tight end, was used out in the slot and in-line

Great stalk blocker who wills his way with DBs

Fantastic after the catch, as way more moves than you'd think

Physical player who imposes his size upon defenders

Good release receiver who can win with leverage well

Good functional strength in blocking
The Bad
Somewhat slender legs, could be some injury worry

Genuinely raw route runner who needs to have far more detail in his routes

Manipulation of DBs is subpar

Needs to have much better feet and hands during blocking

Must learn to recognize spacing and coverages more easily

Needs to accelerate at the top of routes and stems

Low level of competition
Bio
FCS First-Team All-American

38.5" vertical, 4.67 40 at pro day

Holds all notable receiving records at Stetson (receptions, yards, TDs)

Former Basketball Player
Donald Parham is a tight end that gained steam after he really upped his game as the season went on. He was always dominant at the FCS level, but now, he seemed to just be a virtual impossibility to stop, and he never truly was shut down. Parham's game is predicated largely off of his height, which is not as bad as of a thing as you would think. He lacks the finesse to his game and the nuances of route running.
There are no head fakes, jump cuts, or any of that shiftiness that guys like Stanley Morgan, Mecole Hardman, or for a tight end, Noah Fant, have, but Parham can create separation because of his size and releases off the line. He knows how to play to his leverage, stack DBs, and more importantly, his short area quickness off the line can give him all the separation he needs. For a big bodied guy who runs a 4.67 and shows off very good long speed,
However, as a former basketball player, where he really wins is in his contested catch skills. They are all over his tape.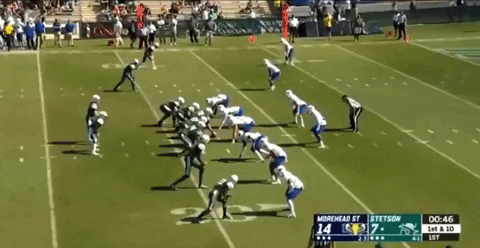 First off, this is a really, really nice release. It is good short area quickness to get away from the initial jam and as the DB engages, Parham wins by swats and gaining a step of separation and essentially stacking the DB through his frame and pure physicality. As he goes up and gets it, he catches it away from his body, high points it, and then shields it as he goes down to the ground. When you are becoming a great contested catch receiver, you want to multitask in the air, and Parham does that by high pointing and then shielding as he does it almost at the same time.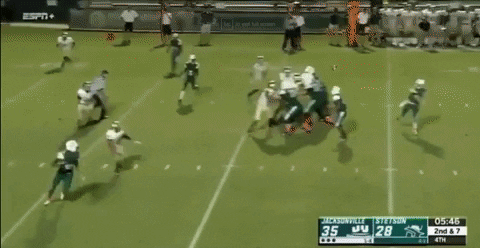 As a mover in space, Parham can really move and has some more shiftiness than I thought he'd have. He has showcased a spin move before and has a really nice move and cut here to get to the end zone. I love his ability to win after the catch and do some through a variety of ways, but the real gem is how he grinds out the final few yards and uses his length to get this thing into the end zone. That is a great motor and high effort stuff.
As for the blocking side of things, Parham plays really high. I mean, I guess he can't be blamed since he is 6'8", but he doesn't come in flat backed. He has good strength, though, and that is why he can win this rep easily. His hands, while somewhat outside, have the grip inside. He is a great stalk blocker in space, but in-line, I do have a lot of questions about his ability to block.
Parham's ability to move in space and showcase long speed is shown here very, very well. Parham has insane movement for his size and just dusts the defense on this one. It bodes well for his prospects in the open field despite lower level of competition.
Donald Parham is a mammoth Tight End that will be a mismatch problem at the next level no matter how you slice it. He can dish out and take physicality due to quickness and his imposing frame and the only thing that will inhibit a true ascension is his route running. His great athleticism for his size and attributes should make him a premium weapon at the next level.
Round Grade: 3rd Round
Projection: Late Day Three
Games Watched: vs Morehead State, vs Sacred Heart, vs Valparaiso, vs Jacksonville, vs Drake