From now until the 2019 NFL Draft takes place, we hope to showcase as many prospects as possible and examine both their strengths and weaknesses. Most of these profiles will feature individuals that the Pittsburgh Steelers are likely to have an interest in, while a few others will be top-ranked players. If there is a player you would like us to analyze, let us know in the comments below.
#25 Cody Thompson/WR/Toledo/6'1"205 
The Good
-Nuanced route runner that gets in and out of his cuts with precision and explosion
-Plays well through contact, and has strong hands to rip the ball away from the defender for catches
-Willing blocker that can stock block with the best of them
-Comfortable running routes from anywhere on the field
-Varied releases to keep corners off balance
-Quick burst out of his stance and excels working double moves vertically
-Special teams warrior for Toledo
The Bad
-Tends to rely on body catches far too often despite having good hands
-Not a flashy receiver that will dominate at the catch point
-Doesn't possess good vertical speed and doesn't stack vertically
-Will not blow anyone away as an athlete
-Won't offer much in terms of YAC; prefers to be a possession guy
-Struggles to pull away from guys as a ball carrier in space
-Slow to recreate routes when redirected
Bio
-Holds Toledo record with 30 career touchdown receptions
-Ranks second on Toledo's career receiving list with 3,312 yards; second all-time in yards per catch (18.3) and 10th in receptions (181)
-Played in 56 career games at Toledo and returned for a fifth year in 2018 after suffering a season-ending leg injury in fifth game of the year against Eastern Michigan, allowing him to redshirt
-Invited to 2019 East-West Shrine Game
-Invited to 2019 NFL Scouting Combine, where he clocked a 4.57 40-yard dash, 19 reps on the bench press, a 4.03 20-yard dash, a 6.87 3-cone drill, 119.0 inches on the broad jump, and a 38.5-inch vertical jump
Tape Breakdown
 There's no doubt that the 2019 NFL Draft class is loaded at wide receiver. When it's as loaded as this draft class is as one position, there's undoubtedly going to be a number of players that get slept on within their positional rankings.
That seems to be happening with Toledo's Cody Thompson, who is easily one of the most productive receivers in this class, having hauled in nearly 200 passes over his career.
He's certainly not going to blow anyone away on tape with athleticism despite his strong testing numbers, but he's a skilled wide receiver that has a knack for getting open, plays well through contact, and really excels as a possession-like receiver.
Thompson isn't much of a home run threat on tape because he doesn't have breakaway speed, but he's really, really good working on double moves, creating ample separation through his footwork and precision route running.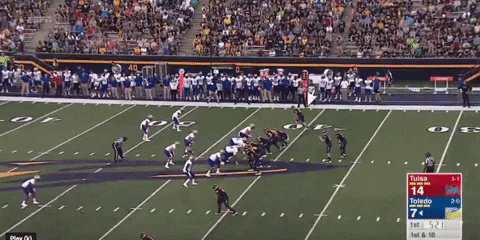 Here against Tulsa in 2017 before his leg injury ended his then-senior season, Thompson absolutely smoked this defensive back with a double move, getting in and out of the cut with explosion. Toledo's Logan Woodside – a former Cincinnati Bengals draft pick and quarterback for the San Antonio Commanders in the now-defunct AAF – woefully missed him. Despite not being able to turn this into a touchdown, it shows a glimpse into Thompson's strengths within the double moves he runs consistently.
I said in my strengths section that Thompson really gets in and out of his cuts with explosion, and I saw that a ton against Miami (Fl.) in 2018. He was going against far superior athletes and more than held his own.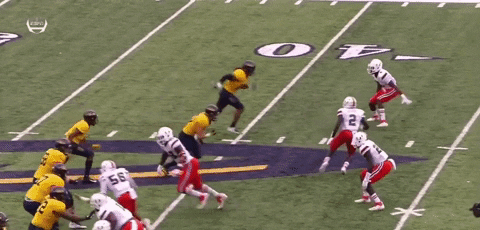 Look at the way he decelerates and turns on a dime, getting his head around to make the reception. Then watch the explosion laterally to leave the Hurricane defender grasping at air.
Coming back from a broken leg in 2017 that ended his then-senior year, allowing him to redshirt and return for a fifth season in 2018, Thompson appeared to lose a step throughout his game. However, he really stepped up as a contested-catch weapon, working well through contact.
Against Eastern Michigan last season – the team that ended his 2017 season, Thompson played with a chip on his shoulder and really outmuscled defensive backs time and time again in this matchup.
Here on a fade route, Thompson absorbs the early contact and is able to shield the defender from the back shoulder throw for the score. I love the core strength here from Thompson as well.
Outside of his abilities as a receiver, he's a willing blocker that can stalk-block with the best of them.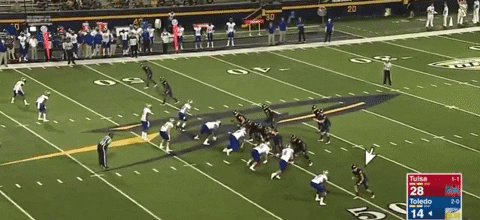 He has this unique blocking style in his game where he rocks defensive backs to sleep like he's running a route and then explodes into their frame for a run block, driving them backwards. It's really impressive on tape.
The thing that really has me pounding the table for Thompson is his work on special teams. During his career at Toledo, Thompson had three blocked punts and had a punt return for a touchdown in 2018.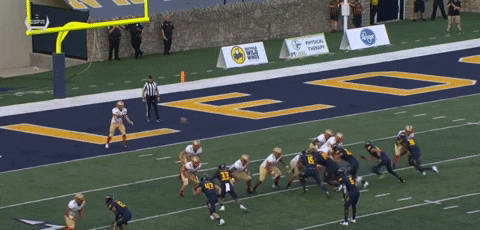 Here's his highlight reel punt block against VMI last season. He literally caught the punt right off of the punter's foot for the 2-yard punt-block touchdown.
Thompson simply enjoys special teams play and will have an impact in that area right away while he adjusts to the NFL game at receiver.
Overall, I really like Thompson's game, but I can certainly see the NFL not liking him as much. He's not going to blow anyone away with his route running and he struggles to redirect when playing a physical defensive back, but he finds way to succeed, and succeeds at a high level.
Projection: Mid Day 3
Games Watched: Tulsa (2017), Miami (2018), Fresno State (2018), Eastern Michigan (2018), Northern Illinois (2018), Virginia Military Institute (2018)