From now until the 2019 NFL Draft takes place, we hope to showcase as many prospects as possible and examine both their strengths and weaknesses. Most of these profiles will feature individuals that the Pittsburgh Steelers are likely to have an interest in, while a few others will be top-ranked players. If there is a player you would like us to analyze, let us know in the comments below.
#34 Dare Odeyingbo/DE Vanderbilt – 6'2 282
The Good
– Thick body with a broad chest, looks the part
– Good length and uses it well despite below average height, creates space in the run game that helps him disengage
– Powerful initial strike that can stun linemen and create penetration in the run game, proper hand placement
– Versatile player who moved around the entire front, even stood up and saw a couple snaps off-ball
– Holds the point of attack well in the run game
– Experience used on stunts and games
– Chases the ball with good effort, albeit bit of a lumberer
– Shows ball awareness and ability to bat down passes and get hands in throwing lanes
– Strong tackler and like the way he finishes
– Did flash production, strong junior campaign
The Bad
– Lacks height to play against tackles, lacks weight to play inside
– Minimal pass rusher who flashes a swim move but tends to stall out and doesn't create much power/push on his bull rush, will struggle even against tight ends
– Too easily controlled in the pass game
– Struggles to flow down the line on zone schemes or when asked to chase from the backside, will be too easily reach blocked
– Production dropped off senior year
– Ceiling is limited and he feels close to maxed out as a player
Bio
– 2 1/2 year starter for Vandy (three games of sophomore season), 27 in total
– Career: 96 tackles, 21.5 TFL, 9.5 sacks, 6 PDs, 1 FF
– 2018: 28 tackles, 3.5 TFL, 2 sacks, 1 INT
– Best season came as a junior: 39 tackles, 13.5 TFL, 6.5 sacks
– Two-way player in high school, played RB + DE/LB, rushed for over 5400 yards and 74 TDs in HS career
– Also played basketball and lettered in track
– Participated in Regional Combine earlier this year
– Younger brother now plays for Vanderbilt
Tape Breakdown
I'm profiling him because the team reportedly met with Odeyingbo after Vanderbilt's Pro Day where we don't know his workout results aside from a 30 inch vertical. But I feel like he's one of those UDFAs you can lock in as becoming a Pittsburgh Steeler.
One of the biggest allures is his versatility. He's played up and down the line, pretty much literally every spot. 5 tech, 3 tech, 0 tech, even some off-ball linebacker, like you'll see below. You don't have a lot of defensive linemen with that sort of experience, not to mention Vandy used some 3-4 groupings.
He's strong at the point of attack against the run using his length well to shed and make stops. Really like the power on his punch and the ability to create penetration off it. Best example of it here over the Georgia right guard.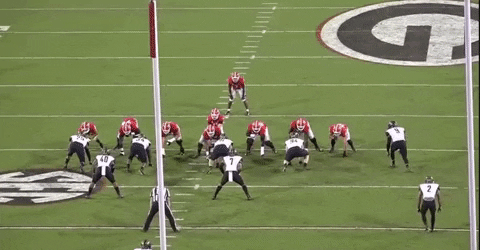 But he's a one-note player who offers very little as a pass rusher. There's some strength and effort but his hand use is very much underdeveloped and generally just stalls out if his initial bull fails. I do like his ability to stay in the play, getting his hands up in throwing lanes – six pass deflections for a 6'2 linemen isn't anything to sneeze at – but we're talking L.T. Walton levels of pass rush. Not good.
See it in the run game too. Slow off the line and controlled by the left tackle, who takes him to a knee.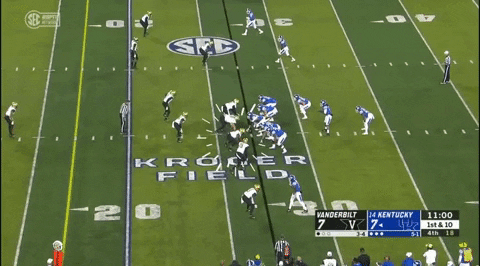 Obviously, he's lacking some size and weight to be an ideal fit in the Steelers 3-4 but I think he can play along the interior as a 3rd/4th stringer throughout the preseason. He plays much stronger than he weighs and I'm not sure how accurate that 282 pound listing is anyway. Has a Lavon Hooks vibe with him I can get on board with, though I absolutely wouldn't spent a draft pick on him. Nor throw a lot of money his way as a UDFA. But I think you could end up seeing him in Latrobe.
Projection: UDFA
Games Watched: at Georgia, at Kentucky, at Missouri