From now until the 2019 NFL Draft takes place, we hope to showcase as many prospects as possible and examine both their strengths and weaknesses. Most of these profiles will feature individuals that the Pittsburgh Steelers are likely to have an interest in, while a few others will be top-ranked players. If there is a player you would like us to analyze, let us know in the comments below.
#6/#24 Ty Johnson/RB Maryland – 5'10 212
The Good
– Good size, added a ton of weight to his frame throughout college (roughly 40 pounds) but carries it well and didn't lose speed
– Big lower half, able to run through arm tackles with ease
– Home run hitter with excellent speed, serious threat in the open field
– Hits the hole with burst and acceleration, hits the second level quickly
– Speed to outrace defenders, even ones who have the angle, to the edge
– Good leg drive and effort to push the pile, doesn't go down easy
– Highly productive when healthy and given the opportunity
– Repeatedly made splash plays and rattled off long, game-changing runs
– Shows soft hands as a receiver
– Excellent kick returner who flashed big play ability
– Versatile, lined up at tight end, asked to block in some schemes
– Good starting experience
The Bad
– One-gear runner, struggles to break down and change directions, takes too many steps to gather himself
– Straight-line player without much wiggle, won't make many miss if he can't outrun them
– Looks to bounce runs too much, needs to play to strengths and get shoulders square more often, especially in short-yardage situations
– Struggles in pass protection, shows willingness to sacrifice himself but drops eyes and plays with poor techqniue overall
– Difficulty in identifying where blitzers are coming from and will allow free rushers
– Didn't run varied route tree, mostly flares and flats, caught only a handful of passes in his career
– Allowed to play fresh as part of rotation, didn't have to be the workhorse and didn't always look like the best back on his team
– Battled soft tissue injuries in 2018
Bio
– 28 career starts for the Terps
– Career: 348 carries for 2635 yards (7.6 YPC) 17 TDs
– 7.6 career average is 7th in NCAA history
– 29 receptions in career
– 2018: Played nine games, 66 carries for 506 yards (7.7 YPC) 3 TDs
– Limited by hamstring injury during the year, suffered hamstring injury again during Pro Day
– Best season came in 2016, rushing for over 1000 yards and 9.1 YPC
– KR career: 48 returns, 24.9 yard average, 2 TDs
– Four career punt returns (three came freshman year)
– 11 career games of 100+ yards, only had more than 15 carries in one of them
– Only three career games of 15+ carries
– Ran 4.41 at Pro Day
– Totaled nearly 5000 all-purpose yards in high school, also played defense
– Work #6 his first three seasons before changing to 24 for senior season
– Light recruit out of high school, had only two offers (Maryland & Albany)
– Sent letters/emails to 50 schools to try and get noticed
– Selected to play in 2018 Shrine Game
– Avid cook
Tape Breakdown
Ty Johnson was one of the last Steelers pre-draft visitors to come in. Similar to Kerrith Whyte Jr or Diontae Johnson, the big focus here is on his return ability. There's clearly some interest in either upgrading or at the least, adding competition there. And with good reason. This is a team that's been in the basement the last two seasons in the kick return game.
Johnson's excelled there with two career touchdowns on fewer than 50 attempts. Like this 100 yard runback in 2017 against the Ohio State Buckeyes.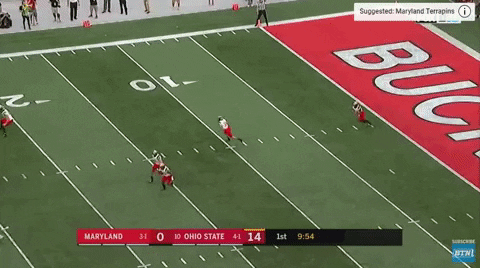 That's going to be the theme here. Big play ability. Johnson truly is a feast or famine type of player. There's games where he's had 200 yards rushing, others where you barely heard from him. But he can – and did – run away from entire defenses.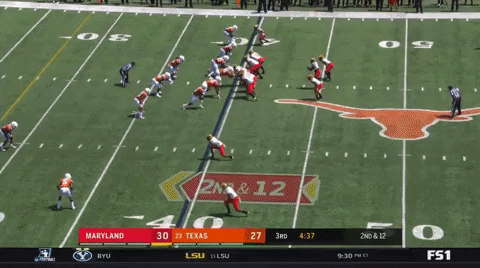 In terms of usage, not talking about ability, there are some similarities to Jaylen Samuels. Maryland's offense featured a lot of options, sweeps, with former Pitt OC Matt Canada calling the shots. So Johnson has taken sweeps, played in a stand-up tight end role, and been asked to block, just as Samuels did in moments at NC State.
They're different players in plenty of other ways, Johnson much faster, Samuels a much more proven receiver, but there is some crossover.
I do want to see him get downhill though. Needs to play to his strengths, his burst, acceleration, straight-line speed. 3rd and 1, he's looking to bounce this run instead of putting his head down and picking up the first down. He did ultimately move the sticks but it was much closer than it should've been.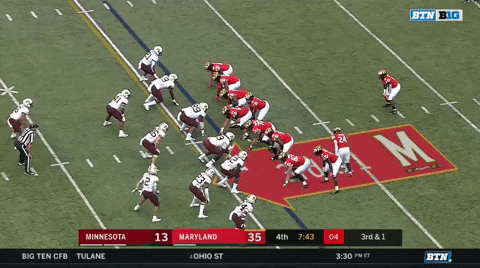 Johnson is definitely a Day Three sleeper. I like him more than the other returning back they brought in, Whyte Jr. He's not well-rounded enough to be a #1 guy but I think there's a ceiling of being a #2 and quality return man.
Projection: Mid-Late Day Three
Games Watched: at Texas (2017), at Texas, at Bowling Green, vs Maryland, vs Minnesota