From now until the 2019 NFL Draft takes place, we hope to showcase as many prospects as possible and examine both their strengths and weaknesses. Most of these profiles will feature individuals that the Pittsburgh Steelers are likely to have an interest in, while a few others will be top-ranked players. If there is a player you would like us to analyze, let us know in the comments below.
#8 Will Harris/S Boston College – 6'1 207
The Good
– Sturdy frame and muscular body, looks the part to play in the NFL
– Above average athlete who tested well and shows straight-line speed in the open field
– Physical player with desire to make the impact hit, gets involved in piles and will sacrifice his body to make the play
– Versatile player, spent time in slot, in the box, as the single high safety
– Experience in blitz concepts with good closing speed
– Shows athleticism to man up receivers in coverage and carry them downfield
– Takes good angles to the ball, plays inside/out and solid coming downhill against the run
– Excellent starting experience
– Durable, didn't miss time despite heavy-hitting playing style
– Regarded as leader in the locker room
– Has NFL bloodlines
The Bad
– Failed to become an impact player, rarely made a splash play, doesn't mesh with playing style (zero career forced fumbles)
– Tends to go for the big hit and causes him to miss more tackles than he should
– Inconsistent technique as a tackler causes him to play smaller than his size
– Will guess on routes and fooled by double-moves and stems in route when matched on receivers in man coverage
– Won't always finish at the catch point in man concepts
– NFL upside seems limited and appears maxed out as a player
Bio
– 41 career starts
– Career: 225 tackles (7.5 TFL, 1 sack), 7 pass breakups, 5 INTs, 0 FFs
– 2018: 75 tackles (1 TFL), 1 INT
– Only picked off more than one pass in a season once (2016 with two), one INT in his three others
– Ran 4.41 at NFL Combine
– Named team captain in 2018 and as a senior in high school
– Had Don Brown (one of college football's top defensive coordinators) as his coach for 2015
– Played wide receiver and defensive back in high school, caught 10 touchdowns as a senior
– Father played WR for Mississippi State, drafted by Bills in 7th round of 1993 draft
Tape Breakdown
There's certainly a stark difference between Harris and the other Boston College safety we profiled, Lukas Denis. Denis is undersized, underpowered, but a ballhawk in his career. Think of Harris as the opposite, Much bigger, stronger, and didn't make nearly those kind of splash plays.
Harris is a prototypical looking safety who wants to be physical and make the tackle. Watch him close on this throw to the flat, break up the pass, and finish the play.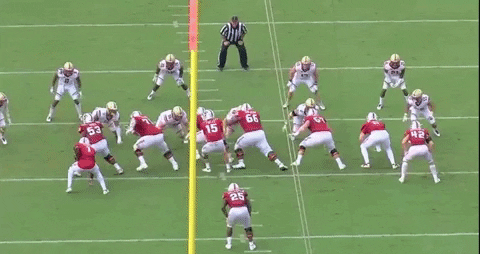 Really like the angle he takes here. You can see it well from the end zone view. Plays inside-out, rallies downhill, and makes the tackle.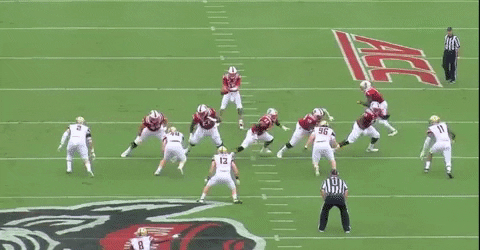 But he won't always play as big as he's listed. His technique can be messy and lead to ugly results. Like him getting truck-sticked by Syracuse's quarterback and allowing a touchdown in the process. Ouch.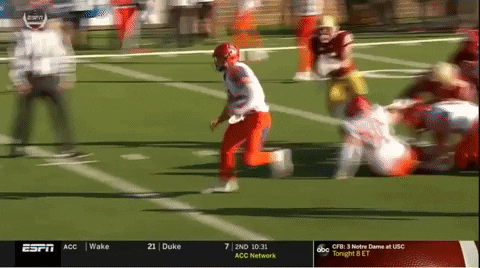 Then there's the lack of big plays. He did recover a boatload of fumbles – six – but didn't create many on his own. Maybe blame that on his position and the playmakers that surrounded him but still. I wouldn't expect him to start causing turnovers in the NFL. That limits his NFL upside.
Seems like a high character guy and good presence in that locker room, earning the captain nod in high school and college. Though his game feels mostly maxed out, he can improve his tackling technique and that'll help. I see him as a top backup, strong special teamer, and possible 6th DB option. A more athletic Marcus Allen. Good player but not someone I'm going to bang the gavel for come draft day.
Projection: Mid-Day Three
Games Watched: at NC State, at Florida State, vs Syracuse