From now until the 2019 NFL Draft takes place, we hope to showcase as many prospects as possible and examine both their strengths and weaknesses. Most of these profiles will feature individuals that the Pittsburgh Steelers are likely to have an interest in, while a few others will be top-ranked players. If there is a player you would like us to analyze, let us know in the comments below.
# 90 Malik Reed/EDGE Nevada – 6'1", 250 lbs
The Good
Fantastic bender, has ample flexibility in both his hips and ankles to get around the edge

Smooth operator in space, can slip off-ball or drop back into coverage

Great as a stand-up OLB, burst is shown in globs when standing up

Explosive player off the line that can win on speed rushes and burst alone at times

Corners and dips well to decrease surface area as he works around the edge

Endless motor that never quits

Has good pass rush plans on the outside as a 3-4 OLB

Slashes well in run defense and can come back down

Good coverage OBL or OLB, can process well in zone
The Bad
Not much of note to speed or power, might need to bulk up

Size is a bit of a concern and might be what projects him into a 4-3 SAM role

Needs to hold his gap more on the edge, hit or miss, but slashes well

Hand usage as nothing of note aside from a double swipe, doesn't time well enough

Somewhat shaky tackler, nips at feet in the open field

Short arms means long arm isn't a part of his arsenal and means he might have to rely on the burst his whole career
Bio
Moved from 4-3 DE to 3-4 OLB in 2018

First-Team All Mountain West (2x)

Semifinalist for Bronko Nagurski award

Former basketball player
Malik Reed has been a man that has been shifted around the defense so much at Nevada that it simply hasn't been funny. He was a DE, he played off-ball, and he stood up as a 3-4 OLB as well. Reed has had to shift his weight multiple times because of it, and his projection in many situations are far more muddied because of the way he was almost used as a virtual chess piece, but it seems to be notable that he easily had his best success as an OLB and flourished because of it.
In a 4-3, he is a SAM all day, but in the Steelers' 3-4 system, he should just flourish as an OLB because I believe naturally, that is where Reed is going to best project himself as quite honestly. Reed has size issues and doesn't win with his hands at all. That is obviously going to be an issue at the next level, but he consistently illustrates the ability to corner and bend well, which means he should still be able to produce at a good level as well.
Reed can drop back into coverage fluidly as well, so there shouldn't be much of an issue if he is met with those responsibilities. The real hallmarks of his game is his first step explosiveness and bend, as shown.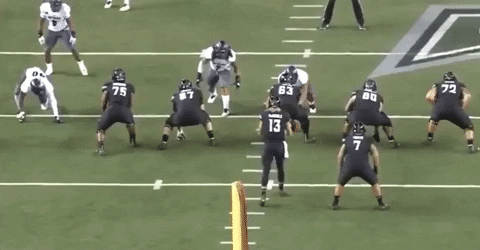 It is the first step and ability to bend here that is so impressive by Malik Reed. His first step means he is already even with the LTs kickslide off the snap, and as he bends, check out how far his ankle is out in front of his hips, that is bend folks! Really solid bend and he uses his hands to corner and make this such an easy pressure for him.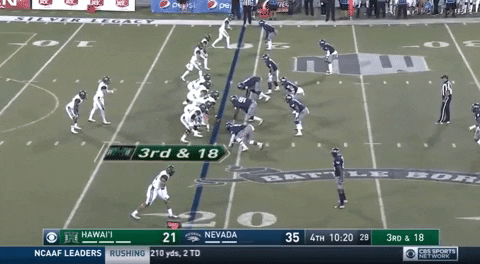 There is nothing else to say other than his explosiveness wins this rep. The OT comes out of his set as a 45 set but Malik Reed beats him half moon style and just bats his hands down and bends around the edge to make this play. There is simply no better way to win than this. This is the type of stuff that wins repetitions in the NFL.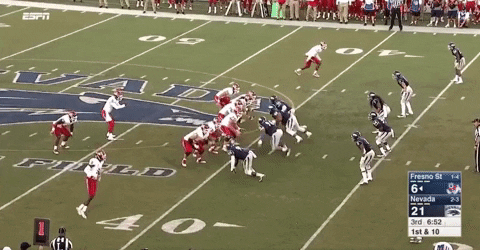 This one is a bit more creative in that he threatens the inside move as an inside hop step and then goes back outside. His explosiveness allows him to set this up, but the bend around the edge and the double swipe allow him to corner this well. He set this one up as the game went on by going inside and then winning as he goes outside.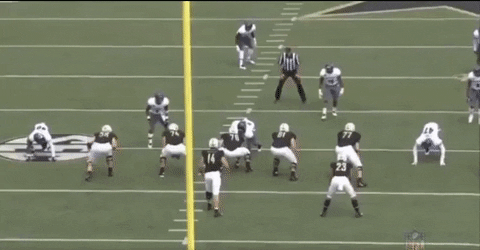 One last thing that hallmarks Reed's game is his motor. It is red hot all game long. He flies from the line and ranges over to lay this big hit right out on the ball carrier here. Love this play from Reed and it shows a guy who has no effort concerns ever.
Malik Reed should be a starter-level 3-4 OLB at the next level, and although he has extremely suspect run defense and hand usage, Reed's bend and explosiveness alone give him more than enough traits to be a starter in the NFL. As a late Day 2 guy or early Day 3 guy, Reed brings tremendous value to the table.
Projection: Round 5
Round Grade: 4th Round
NFL Comparison: Genard Avery
Games Watched: vs Hawaii, vs Fresno State, vs Vanderbilt, vs UNLV, vs San Diego State