From now until the 2019 NFL Draft takes place, we hope to showcase as many prospects as possible and examine both their strengths and weaknesses. Most of these profiles will feature individuals that the Pittsburgh Steelers are likely to have an interest in, while a few others will be top-ranked players. If there is a player you would like us to analyze, let us know in the comments below.
#4 Khalil Hodge/LB/Buffalo/6'1"235
The Good
-Possesses sideline-to-sideline range and has a nose for the football; great motor for the position
-Highly productive off-ball linebacker at UB
-Quick-twitch LB that consistently slips blockers and explodes downhill for stops
-Reads and reacts quickly to play happening in front of him and nearly always finds himself in position to make a play on the ball carrier
-Surprisingly good hands for the position; comfortable dropping in space and getting a hand on the ball
-Think, muscular frame for the position and can hold up well inside
-Sound, technical tackler who rarely misses
The Bad
-Struggled with weight issues at times on film and looked slow in a couple of games
-Rarely takes on blocks, which he'll certainly be asked to do in the NFL; prefers to slip and use athleticism
-Visual pursuit player that lacks ideal instincts to cut off the play before it starts
-Slow to scrape at times and has to rely on athleticism to get back into position
-Limited in pass drops; slow, heavy backpedal and looks woefully uncomfortable in man when turning and running
Bio
-Finished UB career with 419 career tackles, 21.5 tackles for loss, 5.5 sacks, 3 sacks and 3 forced fumbles
-Recorded at least 100 tackles in three straight seasons
-Led the country in 2017 with 153 tackles
-Named first team All-MAC inside linebacker in 2017 and 2018
-Invited to 2019 East-West Shrine Game
Tape Breakdown
If you're looking for production and athleticism at linebacker in the 2019 NFL draft class, and don't want to spend a premium draft pick on a guy with that skill set, you can afford to wait and snag Buffalo's Khalil Hodge.
Hodge finished in the top 5 in the FBS all three years at UB in tackles, finishing his career with an astounding 419 stops. The senior, who competed in the East-West Shrine Game following the 2018 season, is constantly around the football on film and routinely gets guys on the ground.
When it comes to finding the football and tackling in this draft class, I'd argue there's no defender better at that than Hodge.
That said, he's not the traditional linebacker that teams covet. He's not great in coverage and won't stack and shed blockers to make plays. Instead, he's a guy that prefers to slip around blocks with his athleticism in the box and find the football.
He's pretty darn good at it.
Against Western Michigan in 2017, this play absolutely jumped off the screen at me. Hodge doesn't care to take on blockers, and why would he when he's so good at slipping around them like this without losing any ground in the process.
Look at that jump cut to his right to avoid the linemen. Once he's clear, he bursts downhill and cuts the running back off, holding him to a 3-yard gain in the process. You can't teach this type of slip and burst, and with Hodge it's a huge part of his game.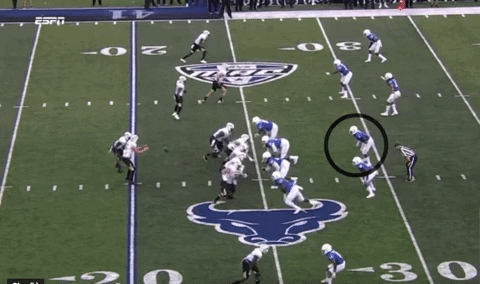 Hodge slips this second-level block by Temple's right tackle, allowing him to scrape over the C-gap and fire downhill for the big stick behind the line of scrimmage on the Temple back.
When I see plays like this where the linebacker is supremely athletic and slips blocks like this, I can't help but be reminded of Ryan Shazier in this area. No, Hodge isn't close to Shazier's talent level, but when narrowed down to slipping blocks like this, they're both pretty darn good at it and seem to have perfected that aspect of their game.
One thing I really liked with Hodge was his ability to stay clean at the second level, slide around, read what's happening in front of him and then somehow always get to the football.
Against Ohio here, Hodge appears slow to react at the snap, but this is all measured by the Buffalo linebacker. Once he sees a clear path, he trusts his abilities and fires downhill for the TFL.
In coverage, Pro Football Focus had Hodge as the second-best off-ball linebacker in the country, in terms of passer rating when targeted.
That's pretty good company to be in with Wisconsin's T.J. Edwards and Alabama's Mack Wilson on that list. Hodge isn't as good as Wilson is in coverage, especially in man, but he's comfortable spot dropping, reading the quarterback's eyes, and making a play on the football.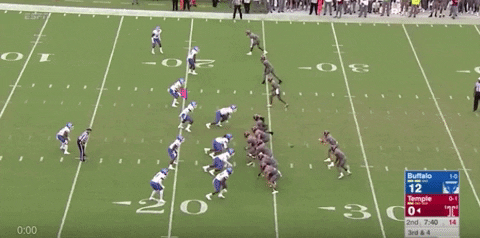 That's an ugly backpedal, but it can be cleaned up. What I love about this is that he feels the receiver to his left and reads the quarterback's eyes, exploding sideways to get a hand on the football and break up the pass.
Overall, Hodge is as productive as they come and has some intriguing traits to work with. I do worry about his struggles with weight as he tended to play heavier than the coaching staff wanted him to at times. That said, he's a certified baller that is always around the football.
Sometimes, you just need to take guys that produce like Hodge has and figure it out from there. I have no doubt this guy will have a productive NFL career.
Games Watched: Ohio ('17), Western Michigan ('17), Temple ('18), Akron ('18), Toledo ('18)
Projection: Early Day 3