From now until the 2019 NFL Draft takes place, we hope to showcase as many prospects as possible and examine both their strengths and weaknesses. Most of these profiles will feature individuals that the Pittsburgh Steelers are likely to have an interest in, while a few others will be top-ranked players. If there is a player you would like us to analyze, let us know in the comments below.
#28 Michael Jackson/CB/Miami/6'1 210
The Good
-Big, physical corner with long arms to latch onto receivers
-Uses length and strength very well as a press cover corner; stuns receivers early, rarely allows free release when in press
-Really effective blitzer off the edge that hides intentions well and doesn't have a false step
-Has a knack for high-pointing the football like a receiver when making a play on the ball
-Comfortable in man, zone, or press; reads quarterback's eyes well
-Will be an impact special teamer right away
The Bad
-Heavy feet at times on film and has some tight hips when trying to turn and run
-Really struggles against quick receivers and can get grabby in man coverage, leading to flags
-Makeup speed is almost non-existent
-Explosion is hard to find on tape, especially coming downhill to support the run or close in on crossing routes
-Lacks instincts in zone coverage, but will find himself around the ball more often than not
-Inconsistent tackler that drops his eyes and fails to wrap up far too often for anyone's liking
Bio
-Played in 51 career games at the University of Miami (FL) starting 23 games over final two seasons-Named All-ACC Second Team in 2017, and All-ACC Honorable Mention in 2018
-Finished career with 97 tackles, 6.5 tackles for loss, 3.5 sacks, and 4 interceptions
-Broke up an additional 11 passes and forced 2 fumbles in final two years as a starter at Miami
-Invited to the 2019 NFL Scouting Combine
-Clocked a 4.45 40-yard dash at the combine, adding 13 reps on the bench, a 40.5-inch vertical jump, and a 4.12 20-yard shuttle
Tape Breakdown
Michael Jackson's 2017 season was certainly a thriller for the University of Miami (FL) and had his draft stock seemingly soaring, but a rough 2018 season showed a number of flaws in his game, leading to him falling out of the top 10 discussion at cornerback in the 2019 NFL Draft.
Coming out of Turnover Chain U, Jackson had just 4 career interceptions – all of which came in his junior season. Despite finishing with just four interceptions in 51 career games (23 starts) I was really pleased with Jackson's ball skills as he routinely high-pointed the football when the opportunity was there to make a play on the ball, and also showed off soft hands as well.
Unlike other cornerbacks in this class, Jackson's game is all about physicality as he loves to play press-man and bully receivers to the boundary where he can harass them along the sideline.
When he was able to do that successfully in 2017, we saw a lot of plays like this.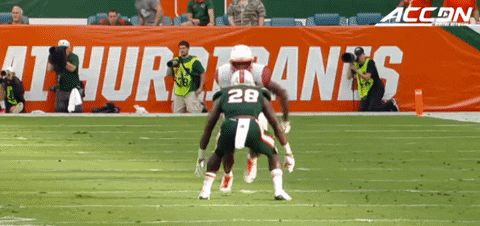 That's against Syracuse's Jamal Custis, a big, physical receiver that I'm really high on in this draft class. Jackson forces him wide with a quick punch and never lets him get over the top, undercutting him for the diving interception.
Midway through his senior season, Jackson showed flashes of playing off-man and clicking and closing on the football in the air to break up passes.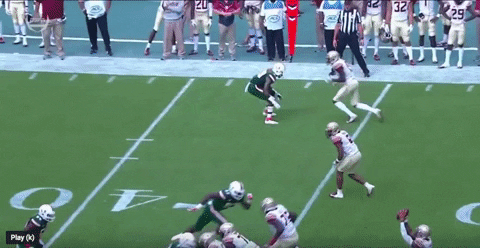 The good thing here is Jackson sinks his hips in his backpedal, never gets too top heavy and reacts quickly to what the receiver does on the in-breaking route, allowing Jackson to plant and drive downhill for the pass breakup.
He can get a bit too grabby on vertical routes against faster receivers, simply because he doesn't have recovery speed, but for every negative play in that regard I could show you, I can turn around and show you a play like this from Jackson.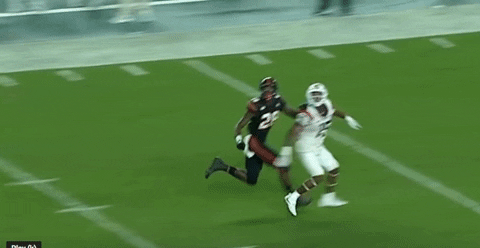 Yes, he has a hand on the Virginia Tech receiver down the field, but look at the way he leaps and gets a hand on this football, breaking up a potential splash play. I have to be honest: I rarely see these types of plays from a college cornerback, and he did this as a junior.
Outside of his coverage abilities, Jackson is an effective blitzer coming off the edge. He disguises his intentions really, really well and wastes no movement firing downhill at the snap.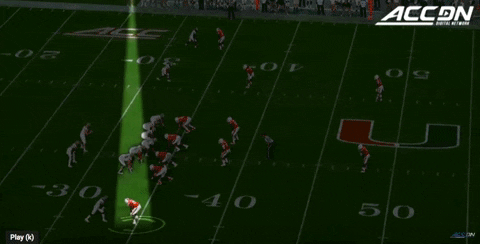 I'd like to see him get a bit better at finishing once he reaches the quarterback off the edge, but I'll take this type of disruptive blitz all day long if he's providing it when called upon.
One area I really want to see Jackson improve on is shedding blocks on the boundary.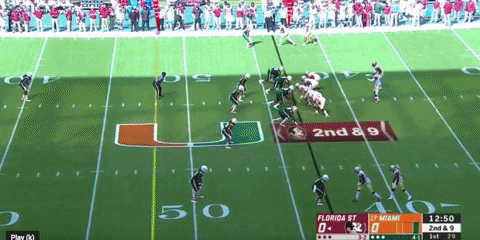 Against Florida State in 2018, Jackson was clamped up consistently by Florida State's receivers in the run and screen game. For such a physical cornerback, he should be much, much better in this area than this.
Overall, Jackson appears stiff on tape at times, but he's as physical as they come at the line of scrimmage at cornerback. He'll certainly be scheme dependent and will need to be covered up at times, but he's going to bring an edge to the cornerback room at the next level, and will make an immediate impact as a core special teams player.
Projection: Mid Day 3
Games Watched: Pittsburgh (2017), Virginia Tech (2017), Syracuse (2017), Florida State (2018), LSU (2018), North Carolina (2018)