From now until the 2019 NFL Draft takes place, we hope to showcase as many prospects as possible and examine both their strengths and weaknesses. Most of these profiles will feature individuals that the Pittsburgh Steelers are likely to have an interest in, while a few others will be top-ranked players. If there is a player you would like us to analyze, let us know in the comments below.
#8 Bruce Anderson/RB/North Dakota State/5'11″ 210
The Good
-Good long speed and has a background as a high-end high school sprinter
-Excellent contact balance, allowing him to string together a number of moves in tight quarters
-Underrated power; loves to drop the shoulder along the sideline and run through defenders for extra yards, rather than slipping out of bounds
-Developed route tree out of the backfield and has soft hands to pluck the ball away from his body
-Underrated YAC creator thanks to vision and long speed
-Extensive special teams experience
The Bad
-Surprisingly struggled near the goal line; missed quite a few creases in the red zone
-Struggles with patience and letting blocks set up at times, especially in junior season
-Feet are mostly a mess in pass protection; he's a willing blocker in that area but technique has to get cleaned up in the NFL
-A touch too quick at times at bouncing runs to the outside and will miss cutback lanes along the interior
Bio
-Two-time FCS All-American and All-Missouri Valley Football Conference selection
-Played in 52 games as part of four Missouri Valley Football Conference championship teams and three NCAA Division I FCS national titles
-Finished 11th on NDSU's all-time rushing charts with 2,896 yards and 5.96 yards per carry
-Finished fifth all-time at NDSU with 4,704 all-purpose yards
-Invited to 2019 Senior Bowl, but aggravated an injury and missed the game
-Scored 24 rushing touchdowns and added 32 receptions for 448 yards and 7 touchdowns in four years
Tape Breakdown
Small school sleepers can often produce some of the best – and most fun – tape one will watch in the long draft process. As we wrap things up, that's pretty much where I stand with North Dakota State running back Bruce Anderson.
His tape is electrifying in all aspects – as a runner, receiver, kick returner and overall special teams player. Anderson did pretty much everything asked of him at NDSU and did it at a high level.
As a runner, Anderson runs with a great center of balance and a low pad level, making him a tough target for tackles. He tended to bounce runs to the outside a tick too quick for me at times on film, but one thing I loved about his game when he bounced outside was his mentality to dish out punishment to the nearest defender, rather than slipping out of bounds like a some other backs in this class.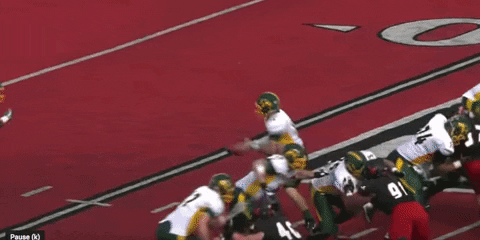 Against Eastern Washington in 2017, Anderson absolutely stuns this linebacker by uncoiling a right shoulder into the defender's chest. Anderson is able to stay on his feet too and pick up the first down after the initial contact.
At times on film, Anderson can struggle with patience and vision, allowing blocks to set up and seeing creases, but against Sam Houston State in the FCS playoffs, Anderson flashed that he has both patience and vision in his toolbox.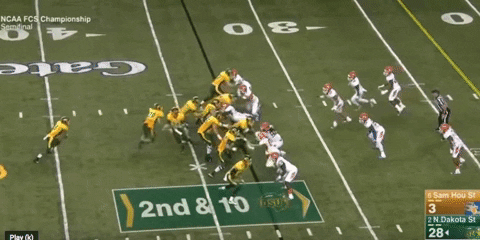 The center and left guard get caught up in the hole, causing a bit of a traffic jam. Anderson could have gone left or right, but he picked right and outran the last two defenders Sam Houston State had to offer, leading to an easy walk-in touchdown.
As a receiver, Anderson showed really good hands and a developed route tree despite rarely being asked to work as a receiving back in NDSU's pro style offense.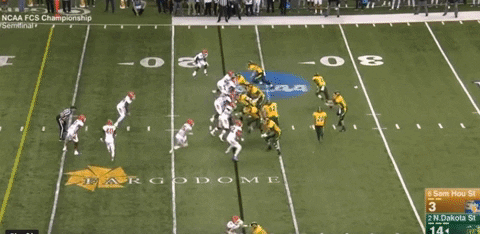 Here on a wheel route against Sam Houston State, Anderson is wide open and Easton Stick puts the ball a bit outside and high. Anderson makes it look easy, plucking the ball out of the air above his head while keeping his feet inbounds.
If you asked Chris Klieman, now Kansas State's head coach if he would have done anything different with Anderson in his four years at NDSU, I'm betting Klieman would say he wishes he used him as a receiver more.
Aside from his work as a running back and receiver, Anderson was a special teams warrior. He returned kicks for two seasons and was quite successful at it, and also covered kicks up until his final season.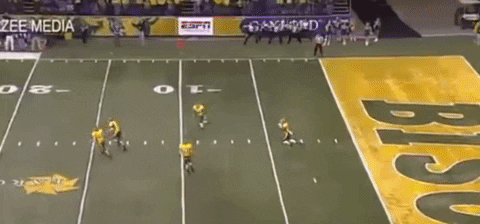 Returning this kickoff against James Madison in 2017, Anderson showed off his contact balance and power, running through a number of tackle attempts on his way to a 95-yard kick return for touchdown. He had to switch to No. 42 in this game because his No. 8 jersey was shredded earlier in the game as he ran through contact.
He's not a burner by any stretch and doesn't necessarily profile as a returner in the NFL, but with his sprinter's background and his ability to make defenders miss in tight quarters, he could carve out a role strictly as a returner.
But then, he can also do this on kick coverage.
Now that's a form tackle at full speed in space. How many running backs do you see doing that in general, let alone one who is the No. 1 back on his team? That's a bit reckless from the coaching staff to put him on kick coverage, but he's willing to do whatever he's asked to do to help his team win.
That's a coach's dream.
As a pass protector he needs major work with his feet, and he needs to learn to be more patient, especially in the red zone because he tends to put his head down and slam it in there. Overall though, Anderson is a major sleeper in this class; he'll be able to contribute right away on special teams and could develop into a solid third-down back down the line.
Projection: Mid Day 3
Games Watched: Sam Houston State (2017), James Madison (2017), Eastern Washington (2017), South Dakota State (2018), Cal Poly (2018), Colgate (2018), Northern Illinois (2018)