From now until the 2019 NFL Draft takes place, we hope to showcase as many prospects as possible and examine both their strengths and weaknesses. Most of these profiles will feature individuals that the Pittsburgh Steelers are likely to have an interest in, while a few others will be top-ranked players. If there is a player you would like us to analyze, let us know in the comments below.
#5 Trayveon Williams/RB/Texas A&M/5'8" 206
The Good
-Compact, muscular frame that was noticeably thicker in 2018 compared to 2017
-Stacks moves very well on top of each other and is one of the more elusive backs in the draft class
-Good burst and quick feet to get north in a hurry
-Has enough acceleration to bounce runs and win the edge consistently
-Skilled receiver with soft hands and is a home run threat with the ball in his hands after the catch
-Made transition from spread offense to more traditional pro style offense look easy
-Impressive contact balance for a smaller back
The Bad
-Vision is a question mark; some cuts/gaps look premeditated, rather than Williams reading what is happening in front of him
-Won't set up blocks as well as he should; really only knows one speed and that's fast
-Looks small at times on film in the SEC
-Really only one year in college as a true workhorse back
-Not as explosive as a running back of his size and speed should be; some cuts are rather slow and lethargic
Bio
-Rushed for 1,057 yards as a true freshman in 2016 at Texas A&M on just 156 carries
-Played in 38 career games with the Aggies, earning 27 starts
-Finished three-year career at A&M with 3,615 rushing yards and 34 touchdowns on 600 carries. Added 66 receptions for 561 yards and one touchdown, and returned 11 kickoffs for 265 yards (24.1 yards per return)
-Invited to 2019 NFL Scouting Combine
-Clocked a 4.51 40-yard dash, a 4.44 20-yard shuttle, 19 reps on the bench, and a 33-inch vertical jump
-Former 4-star recruit that was one of the top 10 all-purpose backs in the country coming out of high school
Tape Breakdown
After bursting onto the scene in 2016 as a true freshman at Texas A&M, Trayveon Williams one-upped himself in 2018, rushing for 1,760 yards and 18 touchdowns in Jimbo Fisher's first season.
Williams was noticeably thicker on film from 2016 and 2017 compared to 2018, and it showed in the stats too as Williams recorded nearly 300 carries, proving to be a workhorse for the Aggies in Fisher's pro style offense.
Right away on tape you can see Williams' home run abilities, and his knack for turning the corner and running away from defenders.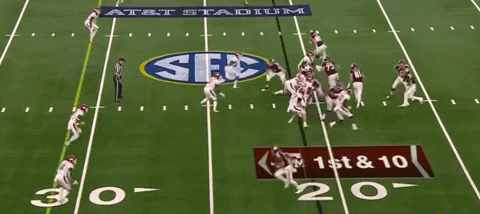 Against Arkansas in 2018, Williams nearly comes to a complete stop in the backfield and makes a 90-degree turn to his right and picks up steam in a hurry. Check out the mean stiff-arm too as he turns the corner and picks up the first down.
Even with the stiff-arm, Williams has to show off his contact balance too, which is a big part of his game after adding some weight. He's a small back, but his compact build allows him to power through tackles and stay on his feet in situations where others can't.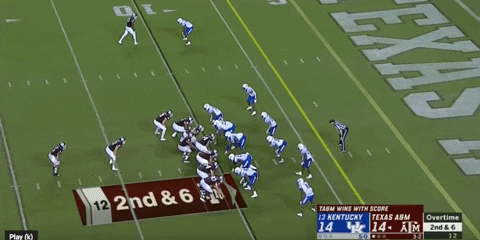 This is my favorite run from Williams, and it came in overtime against Kentucky. When in the red zone, Williams had a nose for the goal line in 2018. If he came close to the end zone, he found his way into it consistently.
Look at the power early in the run to work through the first tackle attempt by Kentucky's cornerback. Now, it is an ugly tackle attempt, but the corner gets enough on Williams to try and slow him down. It doesn't faze him. That then leads to Williams leaping up over two defenders for the score. He's relentless as a runner.
In space, he has great contact balance too.
This came against Louisiana-Monroe early in the season on an option play.
He's able to run through three tackle attempts without even remotely slowing down. Guys bounce off of his thick legs; it's astonishing to watch sometimes.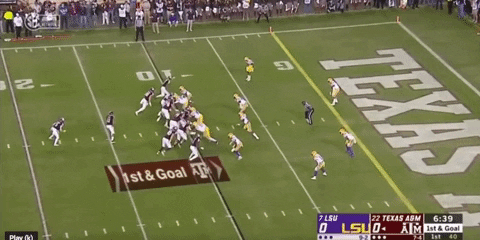 Power is an underrated area of Williams' game. He doesn't look like a power back on film, but he'll run right through you if he catches you relaxing. Aside from the power to finish off this touchdown against LSU last season, watch the footwork behind the line of scrimmage too.
That's so darn good from Williams. Sure, it's against a defensive tackle, but Williams' feet are a blur here behind the line and it allows him to avoid the tackle and burst upfield for the score in the blink of an eye.
As a receiver, Williams had a relatively simple route tree on screens, the Texas route, flares, and hitch routes, but he ran them to perfection. After the catch, Williams was a nightmare for defenses.
Again, watch the feet of Williams. My goodness that's good.
That's a quick 1-2 after the catch and then a breathtakingly quick burst around the defender, leaving him grasping at air as Williams turns it upfield for the score. Notice at the end of the run too that he absorbs a shot in the chest from an Auburn defender and bounces right off of it.
Overall, Williams didn't test as well as backs his size and skillset normally do, but he's coming off of a monster junior year in which he showed everything possible. He'll need to work on reading defenses and trusting his eyes while also finding a balance in play speed between fast and patient. But he's a productive back that can be on the field for all three downs and showed, at least last season, he can handle a heavy workload in a pro style offense.
Projection: Mid Day 2
Games Watched: Louisiana-Monroe (2018), LSU (2018), Auburn (2018), Kentucky (2018), Arkansas (2018), Alabama (2018), Ole Miss (2018)