From now until the 2019 NFL Draft takes place, we hope to showcase as many prospects as possible and examine both their strengths and weaknesses. Most of these profiles will feature individuals that the Pittsburgh Steelers are likely to have an interest in, while a few others will be top-ranked players. If there is a player you would like us to analyze, let us know in the comments below.
#3 Rashan Gary/DE Michigan – 6'4/3 277
The Good
– Good bulk and big lower half, excellent length (34 1/8 inch arms)
– Tested like an elite athlete for his size (4.58/1.63 40, 38 inch vertical, 10'0″ broad)
– Excellent power as a pass rusher, proper placement and shows a powerful strike
– Long-arm stab is best and "go to" pass rush move, able to walk tackles back, take control of blocks
– Shows pass rush plan with ability to counter off it, rip/swipe is backup move
– Has ability to counter inside when tackles overset
– Strong at the point of attack in the run game, normally plays with leverage and ability to uncoil his hips, consistently strikes first and takes control of the block with length and upper body strength
– Stack and shed ability in the run game, length creates space between him and the blocker, keeps head out of the block, distance allows him to find the ball and disengage
– Versatile with experience at both end spots and a couple snaps at three tech, played under top defensive coordinator and used on twists and stunts
– Does his job and rarely out of position
– Chases the ball hard when it's in his area, athleticism to close
– Finishes the play when given the opportunity
The Bad
– Not a big threat off the edge and will struggle to turn the corner
– Good first step/timing but less explosive than he tests
– Can get locked up on pass rushes when brute force doesn't work
– Unlikely to ever be a team's #1 pass rushing threat
– Can take on pullers/blocks in space too tall in the run game
– Lacks productivity and splash plays, though scheme did hinder potential
– Needs to chase the ball harder when the play is away from him, will get passed up by teammates
– Banged up throughout 2018, missed time and left games early
– Always played with his hand down and never dropped into coverage
– Pops up when running in the open field
Bio
– 21 career starts in 34 games
– Career: 119 tackles (23 TFL), 9.5 sacks, 1 FF
– 2018: 38 tackles (6.5 TFL) 3.5 sacks in nine games played
– Only one year with more than four sacks
– First Team All-Big Ten selection in 2017 and 2018
– Five star, #1 recruit in the nation out of HS
– First player ever to be unanimously considered the #1 recruit by all four major scouting services (Rivals, ESPN, 247, and Scout)
– Had 32 offers, chose Michigan over Alabama, Auburn, and Clemson
– Racked up 13.5 sacks in nine games his senior year of HS despite playing on a subpar, 3-6 team (went 9-2 year before)
Tape Breakdown
I know we're getting to Gary right before the draft but we'd be remiss if we didn't discuss him at all. While he's not likely to become a Steeler, if he falls, maybe it becomes an interesting conversation for the team at 20. His name is at least worth mentioning.
While he isn't a twitched up, elite pass rusher, he's great in almost all the other areas. Gary plays the position with discipline and strength you don't often see from college prospects.
As a pass rusher, his long-arm stab and the power he generates is easily his best asset and move. Two examples of him just dominating tackles with it.
He is capable of countering off it though. He shows a chop and rip as secondary moves that aren't nearly as potent but help him keep tackles guessing. Like his ability to work back inside if he can't win the edge. LDE here. Almost looks like a hump move once the right tackle opens his hips. Wins inside, forcing the guard to pick him up.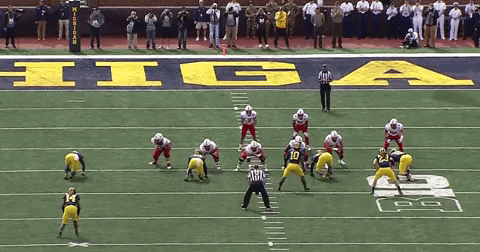 Gary shows that strength in the run game too. His long arms allow him to take control of blocks and create space in run defense, a critical component. He then can find the ball and shed, as he did many times in the tape I watched. LDE here. Get square to the block, find the ball, shed, make the tackle. Perfect.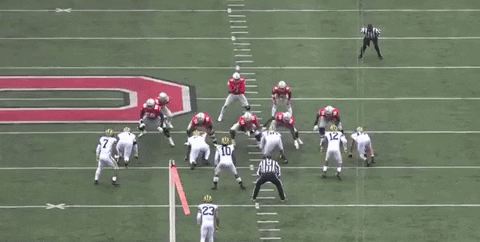 However, he is not a great athlete and isn't as fast or explosive as some of his outstanding Combine numbers suggest. Gary shows tightness when trying to flatten the edge and tackles in the NFL are going to sit on his power and make him go wide. There, he may struggle. Again, the LDE. Shoved upfield.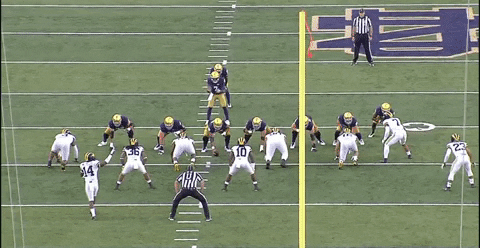 Production is another obvious concern but the scheme wasn't always the most friendly to him. I understand why his numbers were down though he also only played in nine games and left in the middle of others. There's a small concern why he was so banged up but there aren't any serious medical red flags with him. Similar boat as Devin Bush.
I don't want to say he's a low-effort player, that's a dangerous claim for any outsider to make, but I do want to see him chase the ball harder when it's away from him. He gets passed up by teammates too often and I want to see that athleticism on display snap to snap.
The question is if you're getting an elite player. I'm not positive about that, don't think he's going to be someone racking up 10+ sacks per year in the NFL, and for the Steelers, an even tougher fit when asking where you're going to play him. I view his ceiling as Justin Smith, who never had more than 8.5 sacks in a season, but was solid and consistent throughout. Gary is an ideal 4-3 strong side end in the NFL.
Projection: Top 20
Games Watched: at Notre Dame, vs Nebraska, at Northwestern, at Ohio State