As you should know by now, our attention has now shifted to the 2016 NFL Draft as it relates to the prospects. From now until the draft takes place, we hope to profile as many draft prospects as we possibly can for you. Most of these player profiles will be centered around prospects the Pittsburgh Steelers are likely to have interest in.
Look at small school safety Miles Killebrew. 
#28 Miles Killebrew/SS Southern Utah: 6'1/7 219
The Good
– Bulked up frame and has safety size
– Huge hitter, incredibly aggressive, violent player
– Strong hands, throws his body around, and when he plays with proper technique, shuts down plays in an instant
– High motor/effort player who will chase sideline-to-sideline
– Big hitter and wants to be an enforcer over the middle in coverage
– Appears to have a fluid turn in coverage, timed well in agility drills
– Decent instincts and reacts to the ball, disciplined player
– Asset on special teams
– Excellent starting experience, as much as you can ask for
The Bad
– Marginal athlete who struggles on the perimeter
– Inconsistent tackler who doesn't always wrap up, misses too many, goes for killshot too often
– Poor angles downhill to the ball in run and pass, constantly misses landmark and routinely places himself out of position to make the play
– Struggles to stay in-phase and find the football vertically in man coverage
– Likely limited schematically at the next level, will get exposed in space, and there is some debate over if he'll make a permanent move to linebacker
– Obvious small school concerns, played at the FCS level
Bio
– Four year starter
– 2015: 132 tackles, blocked 2 kicks, but did not register an INT or a FF
– 2014: 4 FFs, 3 INTs
Tape Breakdown
If you watched the Combine, you know Mike Mayock raved about this kid, a highlight reel dedicated to his big hits. And there's no question Killebrew can lay the lumber. Chases this run across the field to show this running what's up after the back stiff-armed his way through the Southern Utah front lines.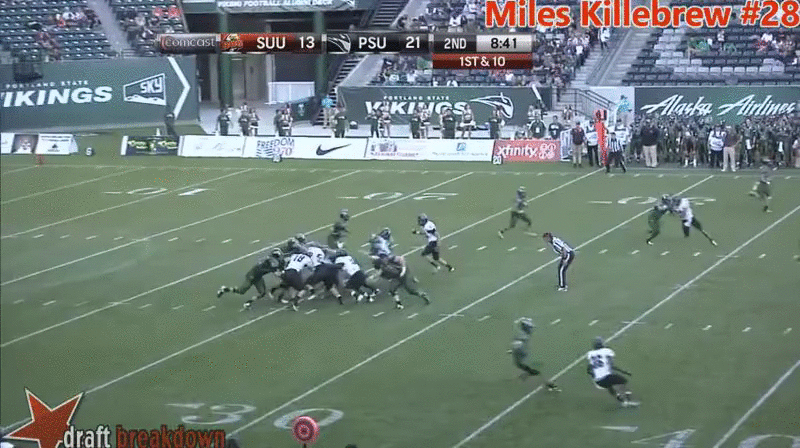 And don't double-catch around him. He'll make sure you don't complete the catch, as he does here last year versus Sam Houston State.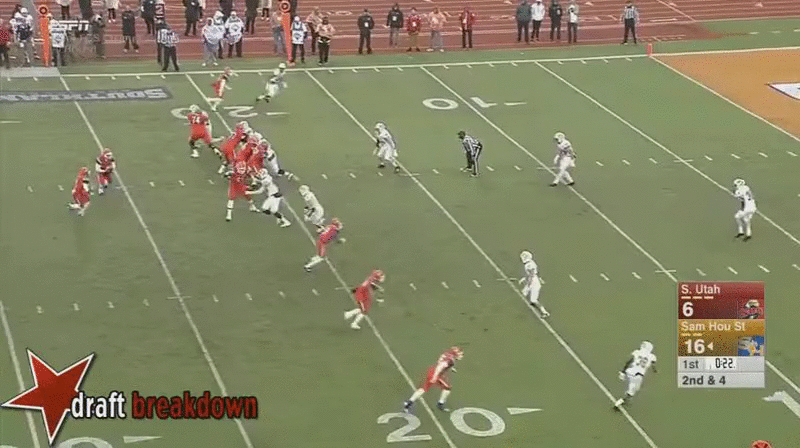 But for those Youtube-worthy plays he makes, the ones Mayock showed, there are just as many negative ones that make you wince.
Can't get trucked by this running back half your size. Just an ugly look from Killebrew on a play, it gets cut off at the end, where Sam Houston State scores.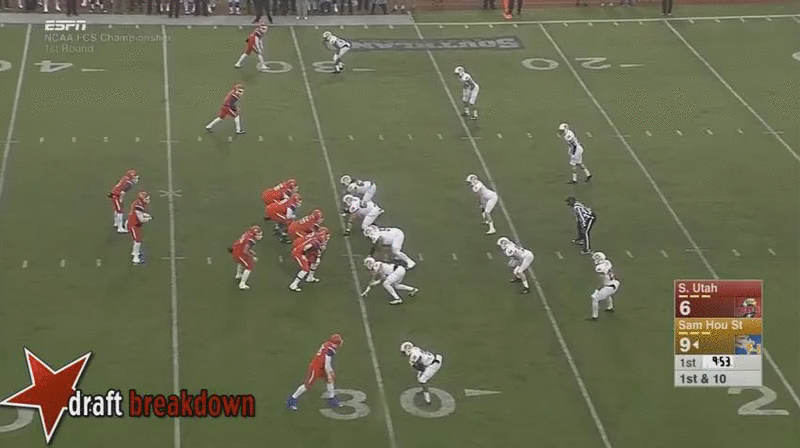 He is physical and violent but reckless at times, like so many safeties we've profiled in this class. Goes for the killshot and doesn't always wrap up. Doesn't bring the receiver down, who earns himself a couple extra yards of YAC.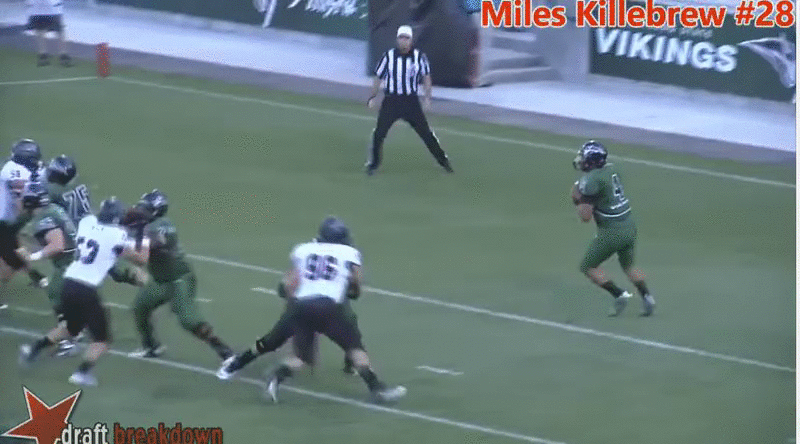 Most troubling are his angles to the football. Totally whiffs trying to play the catch point here versus Portland State. Being a big hitter means nothing if you're three feet away from the ball.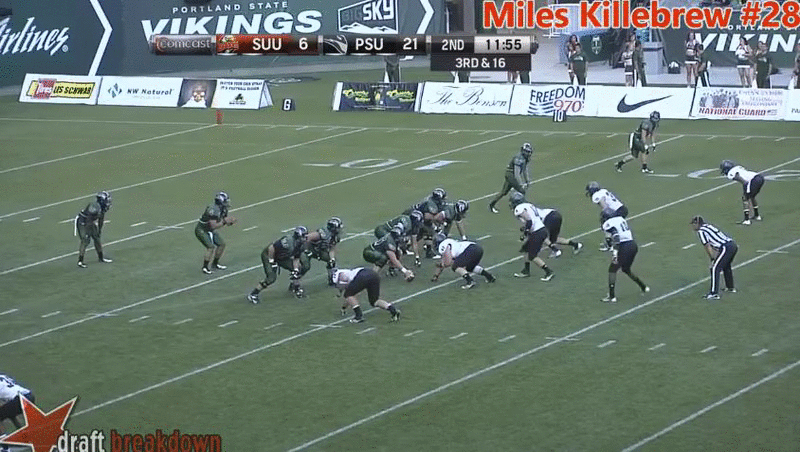 This is just bad work in man coverage. Can't get to the receiver's hip, doesn't find the football, late with his hands to try and break it up. Killebrew does not thrive in space.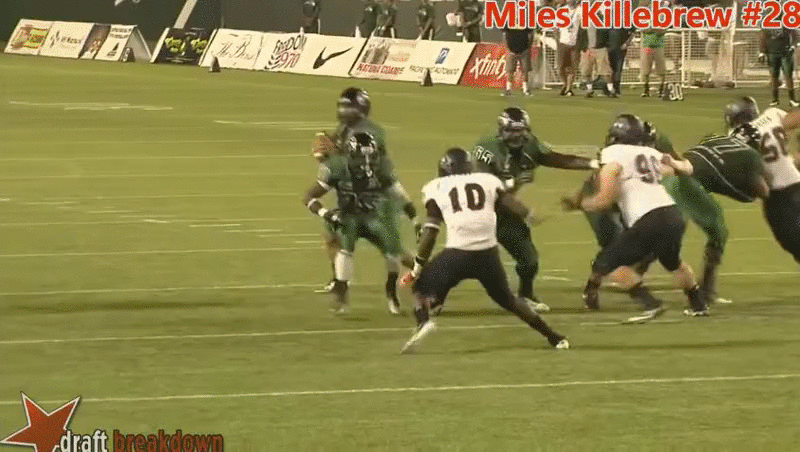 Though most of his work in pre-draft events have come at safety, the Senior Bowl and the Combine, I really see a linebacker or at best, your hybrid type. The lack of athleticism and rough angles are going to limit him too much and frankly, a guy who misses as many tackles as he does isn't someone I trust to be my last line of defense. Put him in a more confined space and let him thump. That's the best chance for him to win and at linebacker, he can move well enough to leave him on the field for most situations.
Pittsburgh certainly has their interest in guys with this hybrid tag, Jeremy Cash and Jatavis Brown, so I can see them digging Killebrew in that respect. But they come from bigger schools so tossing in that factor, that interest is likely to be more minimal. It's becoming trendier to say this, but I don't really even view Killebrew as a draftable prospect, though odds are good he gets taken in roughly the 5th round.
I dig him for the special teams factor. But that's about it.
Projection: Late 7th-Priority UDFA
Games Watched: vs Portland State (2013), at Sam Houston St, Senior Bowl