As you should know by now, our attention has now shifted to the 2016 NFL Draft as it relates to the prospects. From now until the draft takes place, we hope to profile as many draft prospects as we possibly can for you. Most of these player profiles will be centered around prospects the Pittsburgh Steelers are likely to have interest in.
A look at Michigan State outside linebacker Shilique Calhoun.
#89 Shilique Calhoun/OLB Michigan St: 6'5 250
The Good
– Built, filled-out frame, with incredibly long arms (34 1/4 inches)
– Savvy, refined pass rusher who reads OTs set and creates a plan to counter
– Variety of effective pass rush moves (club, dip/rip, bull, inside spin)
– Shows impactful punch and able to knock hands down of OT to win the edge
– Uses his length to create separation in pass and run
– Above average explosion off the ball, testing was very good (4.25 short shuttle, 6.97 three cone)
– Tons of starting experience
– High level of production in a strong conference
– Decorated career, success in big games, and regarded as a team leader
– Personable, great in interviews, and will surely be well-liked by every team
– Experience playing both sides of the ball, with left and right hand down
The Bad
– Is not a phenomenal athlete (4.82 40, 1.69 ten split)
– Not particularly bendy around the edge, Dupree like, and can get run up the arc
– High-cut, lot of surface area to hit, and can get him run up the field as a pass rusher or washed when one-gapping
– Almost zero experience dropping into coverage, twice in six games watched
– Has to maintain leverage in both phases, gets too high with his hands as a pass rusher and saps of him some power
– Leg drive needs to be more consistent, can go dead when he gets locked up on his bull
– Effort, chase could be a little better
– Older than your typical prospect
Bio
– 42 career starts
– 2015: 15.5 TFL, 10.5 sacks
– Career: 44 TFL, 27.5 sacks, 4 forced fumbles, 2 blocked kicks
– Two-time captain
– 2013 Big Ten Defensive Linemen Of The Year (14 TFL, 7.5 sacks)
– Turned 24 years old in March
– Successful basketball player in high school, 17 points and 10 rebounds per game
Tape Breakdown
You probably remember Calhoun as my first round pick in my latest mock draft. Now, here is your report on the man who created a lot of buzz in the comment section of that post.
Again, to be clear, Calhoun is not a perfect prospect. But he makes sense in so many ways. Let's look at the good.
His best asset is his mind and ability to use a variety of rush moves to get after the quarterback.
As the Iowa left tackle sets and opens up, with the left guard blocking down, Calhoun quickly swims inside and nails the quarterback, as the ball flutters out for an incompletion. That's rush IQ. Not going to beat the tackle on the edge with the way he set, so go inside.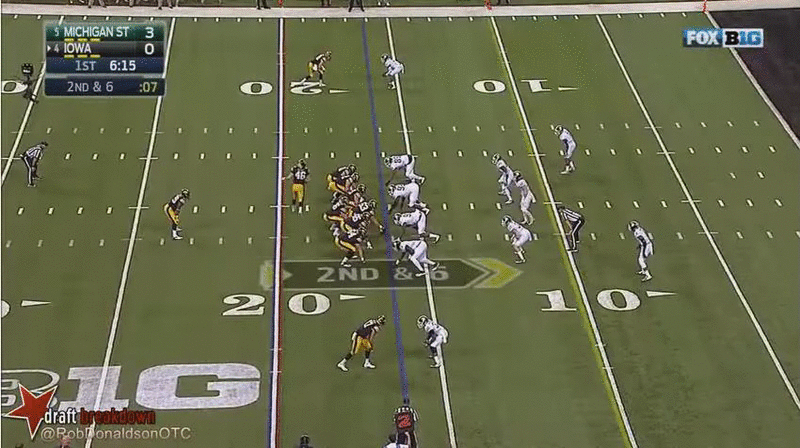 And this is great effort. 3rd and 18, supposed to be just a contain rush on Vernon Adams. But Calhoun knocks the right tackle's hands away and chases Adams down for the sack.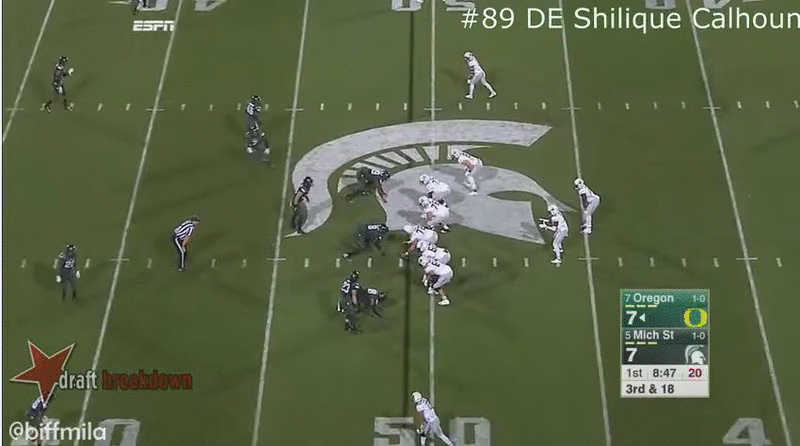 The camera barely cuts back in time, but if you want to see him have success against a top-talent tackle, here he is bullying Jason Spriggs.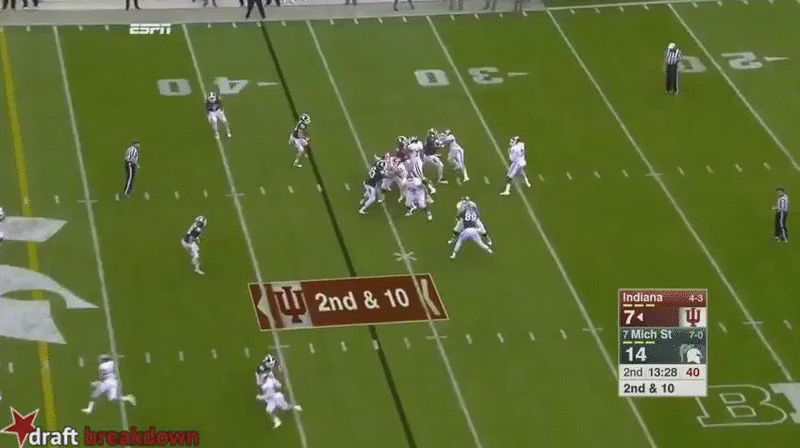 His run defense is not great though his issues are more technical than they are physical. Has to do a better job with leverage, both staying low, and maintaining his gap flowing down the lane. Here's an example of the latter. 2014 versus Ohio State, Jeff Heuerman is able to keep him from getting leverage on the edge and containing the run. Can't let a tackle do that to you, much less a tight end, even if the tight end had the initial outside leverage. Have to keep that outside arm free and work down the line.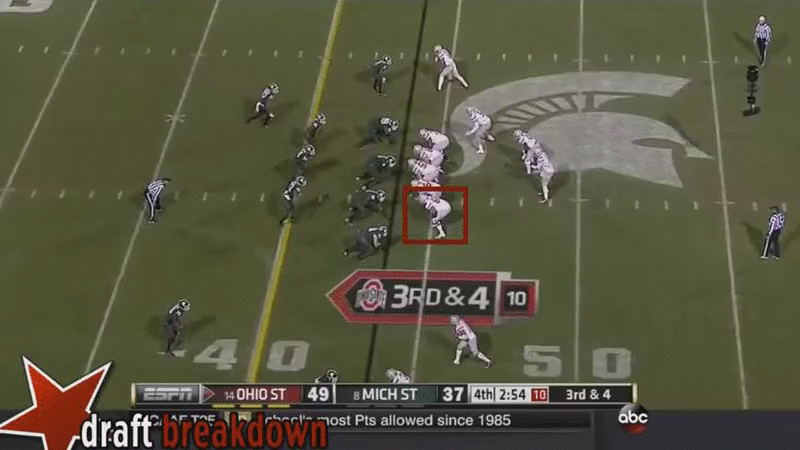 But like Bud Dupree, as I made mention in my report, Calhoun is not a natural bender around the edge. He wins the edge with power, punching and/or knocking the tackles' hands down to stun him, and dipping. If he can't, he'll go up the arc, like this example against left tackle Tyler Johnstone in 2015.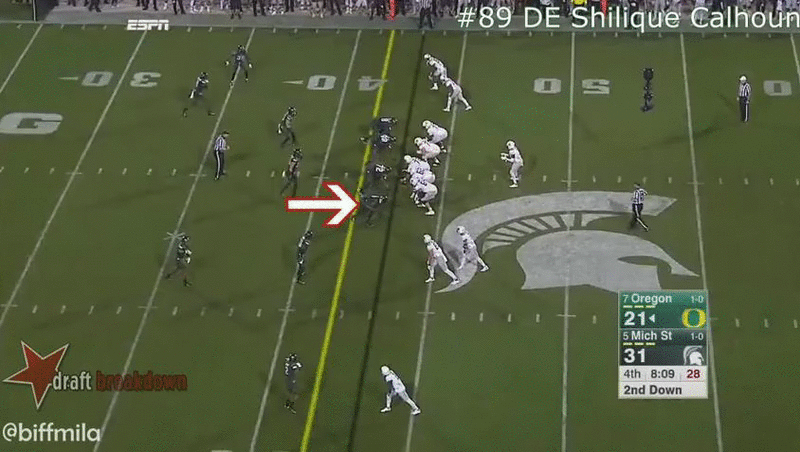 Calhoun didn't get many opportunities to play in space but there are moments where you can see his athleticism. We're going all the way back to his 2013 tape against Ohio State, a game he overall struggled in, but quickly got into the flat. Even though he doesn't make the tackle, you see the ability to stay on his feet, change direction, and move in space.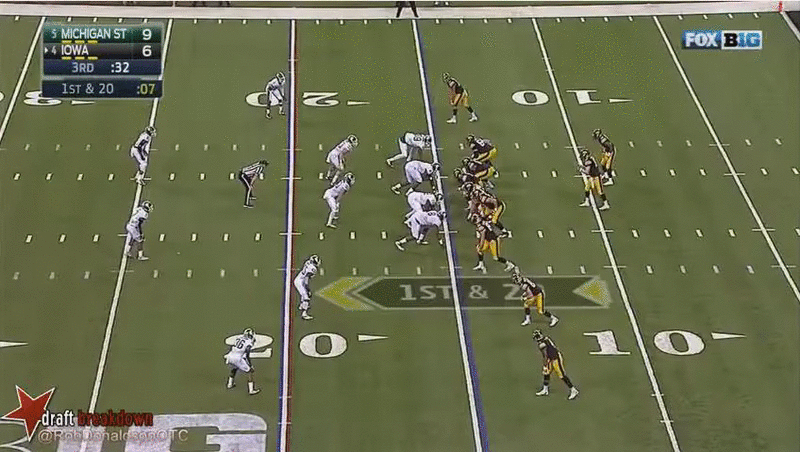 If you want an example of him actually finishing the play, here's a clip against Iowa in the Big Ten Title Game. A game in which Calhoun had three tackles for loss, two sacks, a forced fumble, and several pressures.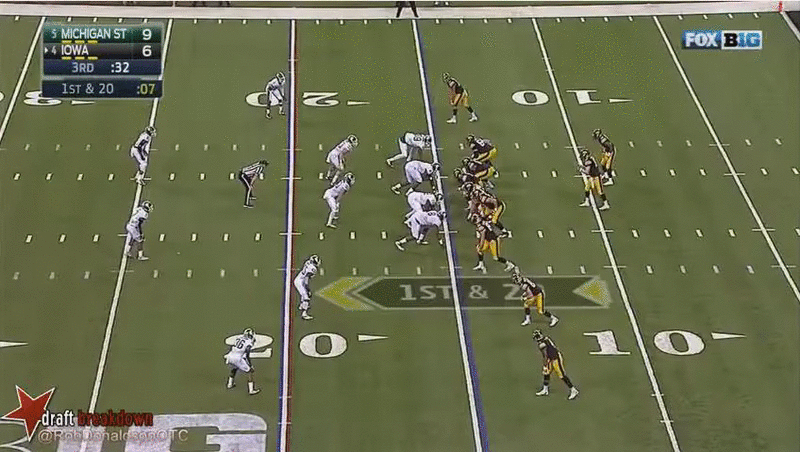 Though he didn't drop, he looked pretty fluid at the Combine for someone who rarely did it in-game. And his agility drills, like I noted above, indicate someone who isn't stiff. They were better than what Dupree turned in at his Pro Day, for example. Calhoun was .02 short on his 40 time for checking every single box for edge rushers. He fits almost perfectly what the Steelers look for, especially when you look at conference, experience, and leadership.
I have no idea if the Steelers have interest in this kid. There isn't anything tangible to go off of. But like I said in the mock, they really should, if they want to be serious about improving their edge group and overall pass rush.
Projection: Mid-Late 1st Round
Games Watched: