With the offseason now in full swing, we have turned our attention to the 2016 NFL Draft as it relates to the college prospects. From now until the draft takes place, we hope to profile as many draft prospects as we possibly can for you. Most of these player profiles will be centered around prospects the Pittsburgh Steelers are likely to have interest in but we will also include several top-rated players as well who might not necessarily be fits for them specifically.
Today, a profile of Toledo wide receiver Alonzo Russell.
Alonzo Russell/WR Toledo: 6'3/5 198
The Good
– NFL frame and fills his body out well, has size and length to play in the league
– Times his jumps well and tracks the ball vertically, allowing him to win 50/50 balls downfield
– Size makes him a naturally difficult player to bring down in the open field
– Shows a slightly better than expected burst after the catch, making him a YAC threat
– Glimpses of effort and physicality as a blocker, in run and bubble game, when the play is coming towards him
– Shows late hands and ability to hide the fact the ball is coming to him so defenders aren't tipped off and have ability to react
– Long, wide catch radius, and shows hand/eye coordination to be capable of making difficult catches
– Experience in the slot and outside, lined up at different splits
– Tons of starting experience and durable, never missed a game
The Bad
– Slow, lethargic player in almost all of his motions
– Struggles to fire out off the line, struggles tremendously to beat press coverage, wastes steps and time to even cross the line of scrimmage
– Not a crisp route runner who doesn't break quickly at the top of his route and fails to immediately show his numbers to the quarterback as soon as he needs to
– Long-strider but lacks straight line speed, predictably will not time well
– Frustrating player, will struggle at catch points underneath, doesn't always play to size, and too many drops to fully trust him
– Appears to dog routes when he isn't apart of the immediate progression, gives less effort on blocks away from him or when he has to crack a safety
– Visibly slower off the line on a run or when the ball is intended to go away from him than he is on passes
– Statistically regressed senior season
Bio
– Four year starter, 50 career games
– 2015: 36 catches 618 yards 5 TDs
– Senior totals were lowest marks in receptions and yards in career, touchdowns tied for fewest, though set career high in yards per catch
– Dropped 16.7% of his catches in his senior year (6 drops on 36 receptions)
– 20+ yard catch in 9 of 12 games during senior year
– Ejected from one game in 2015 after illegal, helmet-to-helmet crackback block
Tape Breakdown
Russell sure looks the part getting off the bus. There's no debate about that. Long, built, he checks the boxes from his height, 33 1/2 inch arms, near 80-inch wingspan, though his hands are on the small-ish size given his frame at 9 1/8.
He will make some spectacular plays that are hard to not fall in love with. Has the size, vertical, and timing to win vertically. Against Iowa State, here's Russell on a post, plucking the ball away from his frame with late hands, and making the grab.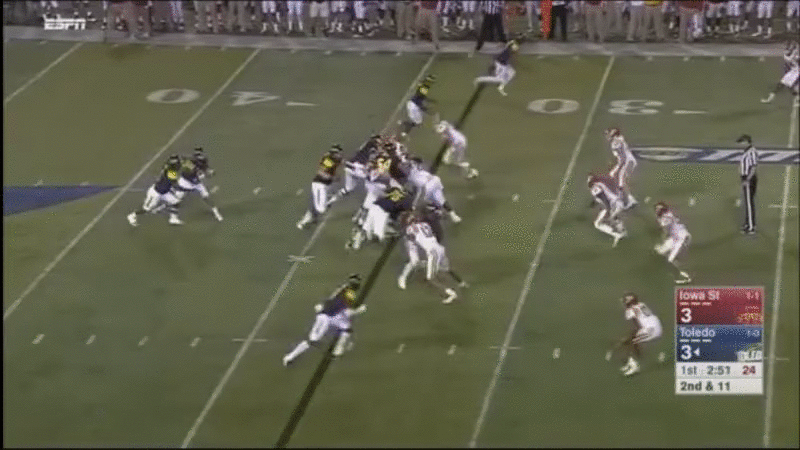 In 2014 against Central Michigan, he snags this nine route over the corner, and then takes off and scores.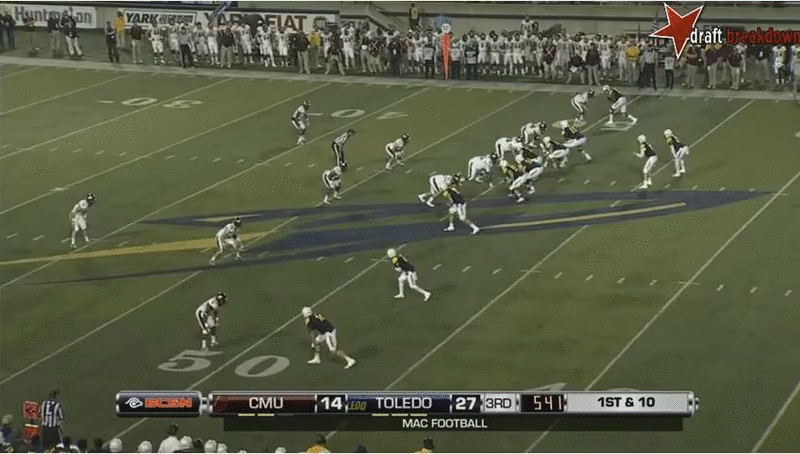 In the same game, he showed impressive body control on this touchdown, finding and adjusting to the football, and getting his foot inbounds.
You see those flashes on tape from game-to-game but he is frustratingly inconsistent in almost every facet of the game. The biggest issue I have with Russell, and I have many, is a total lack of explosion in everything he does. We can show this with video and pictures.
Lined up at the top of the screen, you can see how late he is off the ball. Still hasn't even taken his first step as every other receiver has taken at least one.
Though he beats the corner at the bottom, he is slow off the line and could've exploded off his outside foot better as he stemmed inside.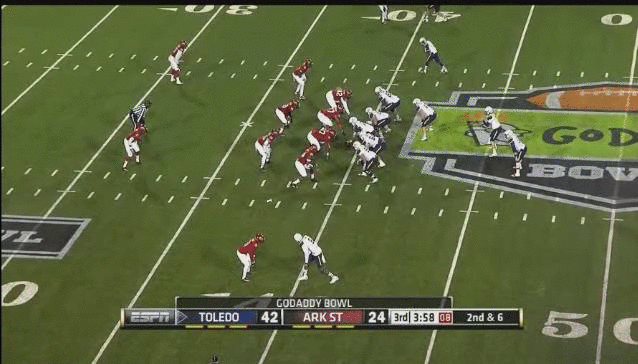 This last clip is about as bad as it gets. False step and takes about four steps for him to even cross the line before finally winning, despite him having inside leverage almost immediately, the corner opening his hips and shoulders. It's so bad that the quarterback comes off his read immediately and goes to his next progression.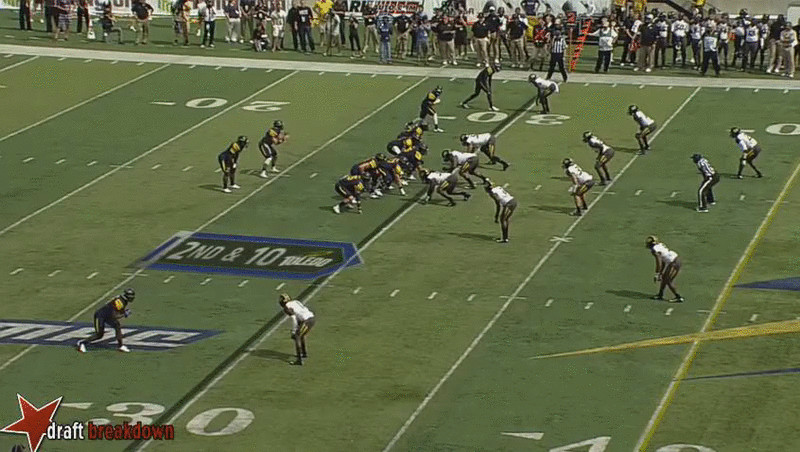 I don't like big guys that struggle at catch points. Watch this ISU defensive back rip the ball out of Russell's hands.
He'll also drop some passes he should've had, like this one over the middle.
In this final look, Russell (in the slot) isn't part of the first progression, and so he slows up on the route. No attempt to separate as he bends his route across, doesn't run hard, doesn't look up for the football.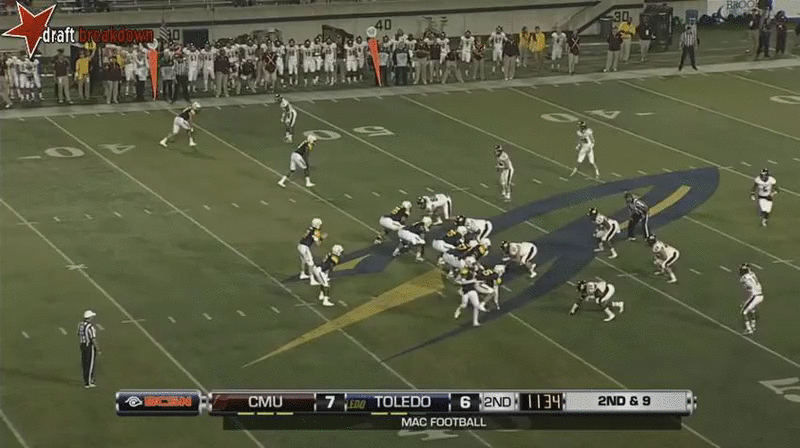 Granted, there was apparently some sort of injury during 2014, but a lot of the issues I'm looking at aren't injury related. Release, footwork, hands, effort, things I wouldn't put on whatever he dealt with.
I vaguely remembered some positive plays from him casually watching TV or a look I gave their running back, Kareem Hunt, last year. It was like waking up from a dream, a vague idea of what you remember. Unfortunately, looking at Russell much more carefully, his game sort of falls apart. You have to be explosive to play in the NFL. That doesn't apply for just receivers but these days, almost every position. I don't see it with Russell in any aspect of his tape, and don't see him winning with his physical tools like he got away with in college.
I always attempt to be optimistic and think of how guys can win but I struggle to come up with any system and scheme that fits Russell well. A vertical attack, like what exists in Arizona, but even still, his lack of long speed and ability to work off press is going to hinder him.
I haven't explored the entire class but find this wide receiver group to be strong overall, even if it lacks a defined, top prospect. There are so many intriguing receivers and that will push Russell down even further. I question if he should even be drafted.
Not big on comparisons and I certainly don't do it for every prospect, but I get a Jeff Fuller type of feel, though Fuller was about 20 pounds heavier. Big guy but not explosive and isn't going to separate. Fuller was just signed to a futures deal after playing in the CFL. Not a guy you get too excited about and Russel is my first undraftable grade of this process.
Projection: Priority UDFA
Games Watched: vs Missouri (2014), vs Central Michigan (2014), vs Arkansas St (2014 – Bowl), vs Iowa St
https://www.youtube.com/watch?v=3bPO0uJGvww
https://www.youtube.com/watch?v=ItIgwd0J6Vk