As we delve into the Pittsburgh Steelers offseason, our attention has now shifted to the 2016 NFL Draft as it relates to the prospects. From now until the draft takes place, we hope to profile as many draft prospects as we possibly can for you. Most of these player profiles will be centered around prospects the Steelers are likely to have interest in.
We bring you one of the draft's sleepers. San Jose State running back Tyler Ervin.
#7 Tyler Ervin/RB San Jose St: 5'9 192
The Good
– Tougher runner than size/narrative would indicate, capable and trusted to run between the tackles
– Shows burst off his cut, capable of planting off his left or right foot
– Explosive, dynamic runner who gets to speed quickly and was able to run away from LBs and DBs even when defender had the angle
– Decisive runner, especially on zone concepts, who makes decision after three steps, plants, and gets upfield
– Runs hard into the teeth of a defense and tougher to bring down than anticipated
– Overall, reads the field well and shows plus vision, capable of reading hat of DL and cutting appropriately
– A patient runner who follows his blocks well
– Extensive return experience in the kick and punt game and lined up as a WR, player you can play everywhere and get creative with, getting him in space and creating splash plays
– Gives effort in pass protection despite natural shortcomings, will get square and take on bigger players, doesn't shy away from the challenge
– 9 1/4 inch hands are bigger than you'd assume and overall, average to above average
The Bad
– Will always get knocked for his size and not viewed as a feature back, some teams probably won't have a defined plan for him, hurting his value
– Obviously, not a relatively strong runner and won't run through many tackles downhill, fights for tough yards but isn't going to push many piles
– Despite effort, marginal pass protector who is better off releasing than staying in to block in most cases, forcing linebacker to peel out or act as hot route on blitz
– Appears more comfortable on zone concepts than power, seems to prefer rhythm of zone steps and sometimes misses his lane and isn't as explosive downhill on gap/iso runs
– Dealt with injury issues early in college career, keeping doubt over size and ability to hold up in the NFL
Bio
– Listed at 177 pounds on team website but told me he played in 184 range all season long, added some additional weight for Senior Bowl
– 2014 and 2015 team MVP and served as captain last year
– 2015: 1600 yards rushing (5.4 YPC) with 45 catches, 15 total offensive touchdowns
– 23.9 yards per kick return, one punt return TD in seven attempts
– Five career special teams touchdowns (three kick, two punt)
– Came to SJSU as true hybrid player, running back, return specialist, and defensive back freshman year
– Suffered ankle injury in first game of 2013 season and sat out rest of season, missed four games with right shoulder injury in 2012
Tape Breakdown
Ervin is going to get overlooked in a pretty talented running back class with guys like Derrick Henry and Ezekiel Elliot. Look at him, heck, I stood next to him down at Mobile, and you might not see much of a prospect.
The main overall point for Ervin's game is this: looks are deceiving. He plays much bigger and though he'll never be a feature back, he can be a defined runner in the NFL.
You might see Dri Archer. But I see a completely different back. Archer couldn't – wouldn't – run inside the tackles. Ervin is the total opposite. He can cut into the teeth of a defense and I'd wager most of his runs were between the tackles and guards. He's not going to drag defenders across the field, but he's not going to crumble like a house of cards either.
Watch him fall off this big lick by the safety, twisting forward and picking up another yard. It might just be one yard but it illustrates a player who has a chip, in mindset and on tape.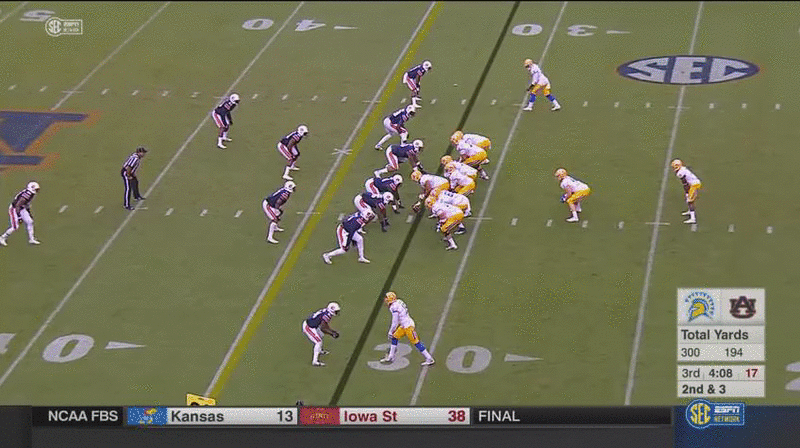 But when we're talking Ervin, we're talking about his big play ability. The guy can scoot. So to wet your palate, here's an example of him just running away from everybody. The New Mexico safety has the angle here but Ervin just blows past en route to a huge gain.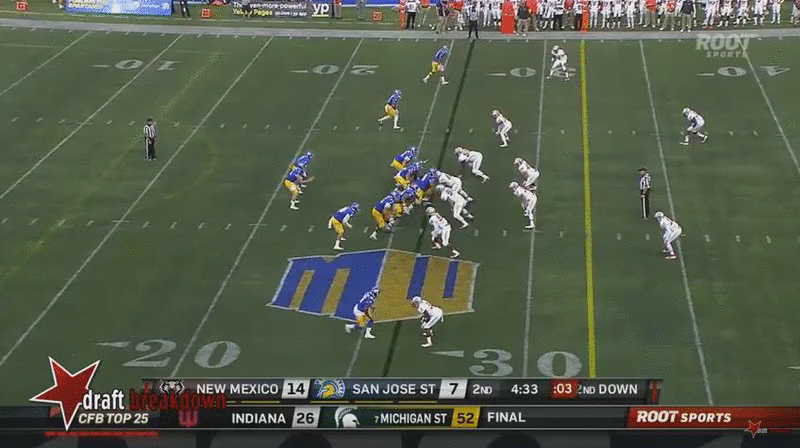 We can talk about speed and splash plays, all that fun stuff. But running backs win with their feet and eyes. Everything else is just a consequence. Ervin has both. Excellent zone runner who is decsivie. On zone runs, you're looking for the back to take three steps after the handoff and on that final, third step, make a decision, plant, cut, and either bang, bend, or bring the run. That's all dependent on how the defensive line reacts.
Watch him on this zone run. Handoff to the left, on his third step, he plants with his left foot, cuts in-between the two defensive lineman, and finishes the run by lowering his pad level and falling forward.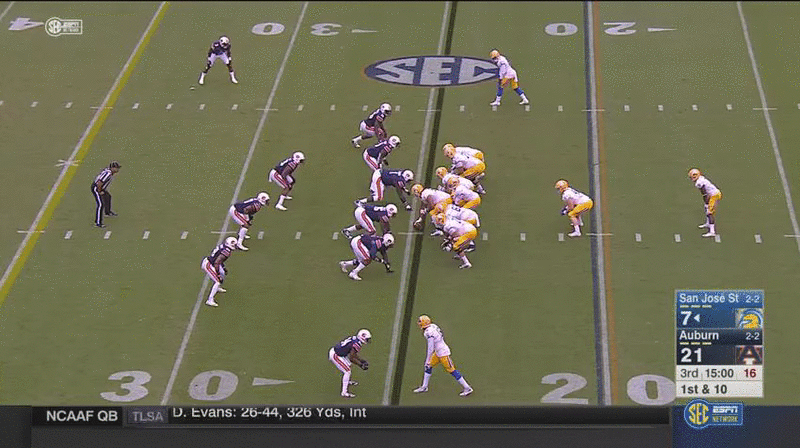 That's what I like about his game. It's decisive, it's explosive, and it's physical.
While he is a willing pass protector, I actually watched him square up to the towering Carl Nassib at the Senior Bowl and go toe-to-toe with a linebacker in an individual drill. But because he's on the small side, he's going to struggle.
After being faked the handoff against Oregon State, he plays with a poor base, feet not parallel, and the blitzing linebacker just steamrolls through.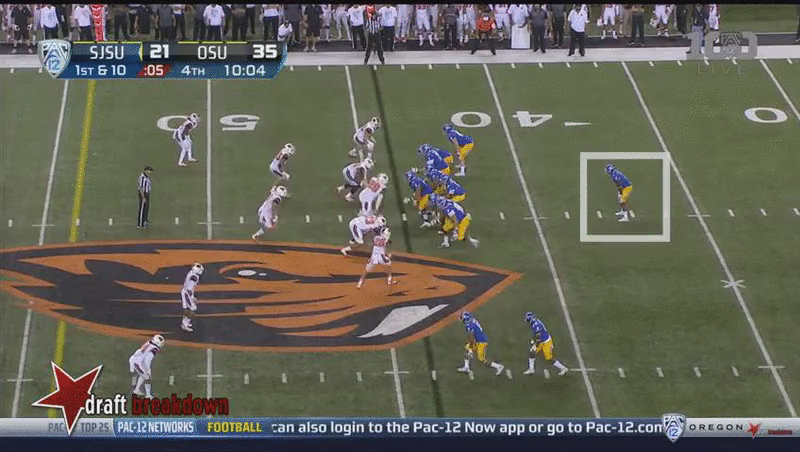 And here, on this power run, he just seems hesitant to hit the hole. Saw it a couple times on gap schemes. Vision and explosiveness just isn't as good.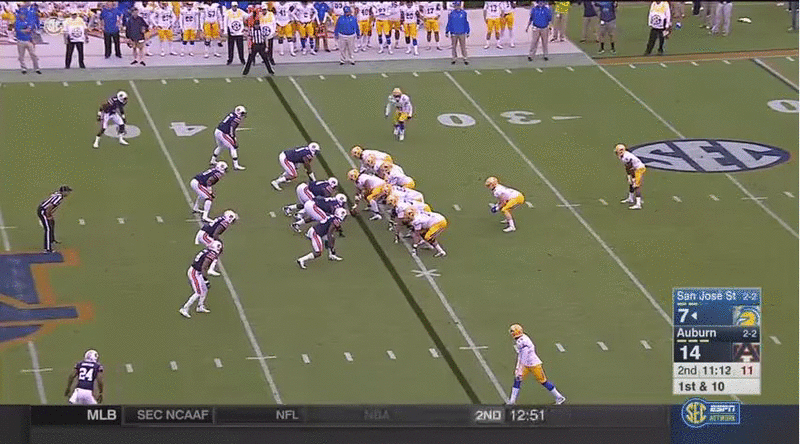 Ervin, of course, will not be the marquee name in this year's draft. But so many running backs have been unheralded guys from the mid, later rounds or even undrafted players. Think of a guy like Dion Lewis, who Ervin actually compares to pretty well. A 5th rounder in 2011, who basically fell out of the league, but stormed back onto the main stage this year with the New England Patriots. Those guys can succeed. So can Ervin, with hopefully a slightly less bumpy path than Lewis.
Projection: Late 3rd-Early 4th
Games Watched: at Oregon St, at Auburn, vs New Mexico, Senior Bowl