As we delve into the Pittsburgh Steelers offseason, our attention has now shifted to the 2016 NFL Draft as it relates to the prospects. From now until the draft takes place, we hope to profile as many draft prospects as we possibly can for you. Most of these player profiles will be centered around prospects the Steelers are likely to have interest in.
Back to the secondary today with Oklahoma State cornerback Kevin Peterson.
Kevin Peterson/CB Oklahoma St: 5'10/4 173
The Good
– Small frame but plays big, aggressive, and competitive nature
– Technically sound who stays in-phase in man coverage, keys the receiver's eyes, and plays the pocket well
– Above average athlete with short-area burst and quickness who is able to transition out of his pedal without wasted motion and get downhill
– Embraces contact and will come down to support the run, a capable open field tackler
– Makes up for size with impressive vertical and timing, able to contest and high-point the football vertically
– Showed versatility, played both outside cornerback spots, field/boundary
– Has a high football IQ and plays hard, to the whistle, won't need to be reminded to pay attention to details in the NFL
The Bad
– Far too light at current weight to play in the NFL, needs to add weight/muscle, and has short arms with small hands (30 1/2, 8 7/8 respectively), may not meet measurable prerequisite for all teams
– Over-aggressive and will gamble in coverage, caught looking in the backfield and not reading receiver's route
– Lack of size predictably hurts him when matched up against bigger receivers, simply out-sized and out-muscled on vertical concepts
– Not a forceful, impactful tackler who needs to play with sound technique to bring the runner down
– Do see some stiffness transitioning downhill in bail technique, clearly not as comfortable as he was out of his normal pedal
– Needs to do a better job of understanding technique and leverage at the line of scrimmage, allows free releases to areas he shouldn't (inside release with inside leverage)
– Straight line speed not awful but isn't spectacular, likely will post just average numbers at the Combine
– Limited interception numbers in colllege
Bio
– Three year starter, finished career with 5 INTs, one his senior year
– Helped shut down WVU's Kevin White in 2014
– State track champion in 100 and 200 meter dash in high school
– Successful running back in high school, rushed for over 1600 yards his senior year
– Reputation as a tough player who will play through injury, dealt with a knee injury that required a scope, missed one game, sat out of half another due to an ankle issue
Tape Breakdown
Though he weighed in at the Senior Bowl much lighter than I anticipated, I wonder if he was sick or something, I won't be one to write him off. His tape talks a lot louder. If you know me and have read my reports, or have an inkling about what the Steelers look for in a corner, you know they have to be physical and play the run. And Peterson certainly embraces contact.
Here he is working off the pulling guard and making the tackle on the back out of bounds.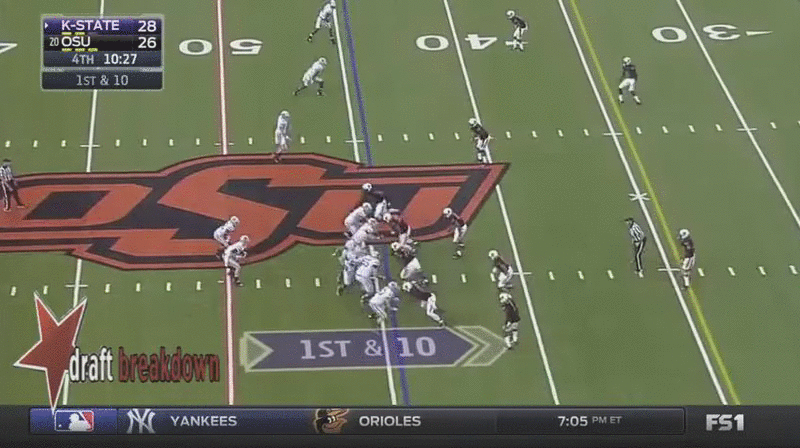 Granted, because of his lack of size, he is not a hugely impactful tackler. He won't destroy anyone. To an extent, there is a struggle bringing the runner down. But he brings effort and works hard to wrap up, two positive and workable traits any coach can get onboard with.
If you have read my work too, you know I love cornerbacks that play the receivers eyes and play through their hands, playing the pocket and breaking passes up. Peterson does that very well and it's one of my favorite traits.
His eyes go from tracking the ball on this throw across the field to the receiver's eyes, swiping down with his hand to break the pass up to prevent the touchdown and preserve the Cowboys' lead.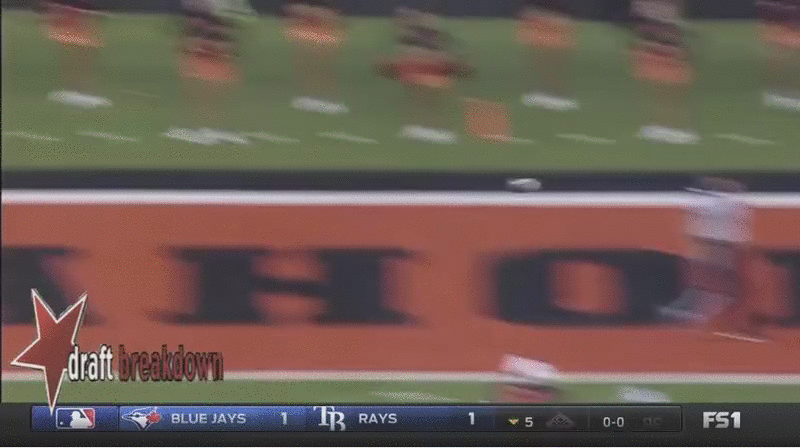 It's shown again vertically against Corey Coleman. Digging this. Put it on a clinic tape. He's not going to look back for the football and get out of phase, giving up the touchdown. Lock eyes on the receiver, watch his eyes and hands – they'll tell you when the ball is coming. He breaks it up as Coleman begins to extend his hands, creating the incompletion.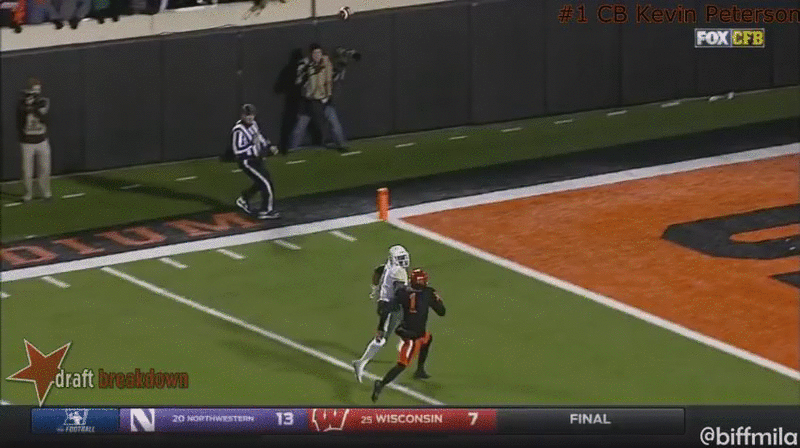 And a still of it from another angle. This is how I want my cornerbacks to play the football in man coverage.
Earlier in that Baylor game, here's Peterson in zone, getting depth while finding the football, timing his jump well, and breaking up the throw.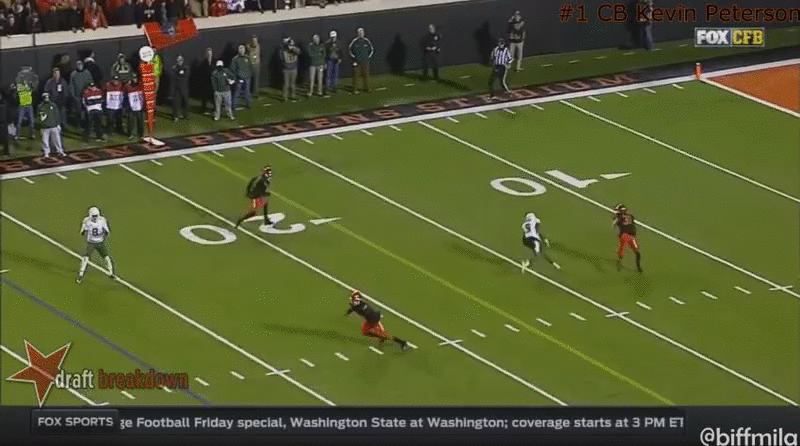 He can be aggressive and lose track of his receiver in man to man coverage. This is Cover 1 (man-free). Peterson gets caught looking in the backfield, losing the receiver, and with the rub creating, giving up more separation. The quarterback never gets the throw off but that's irrelevant. Negative play by Peterson.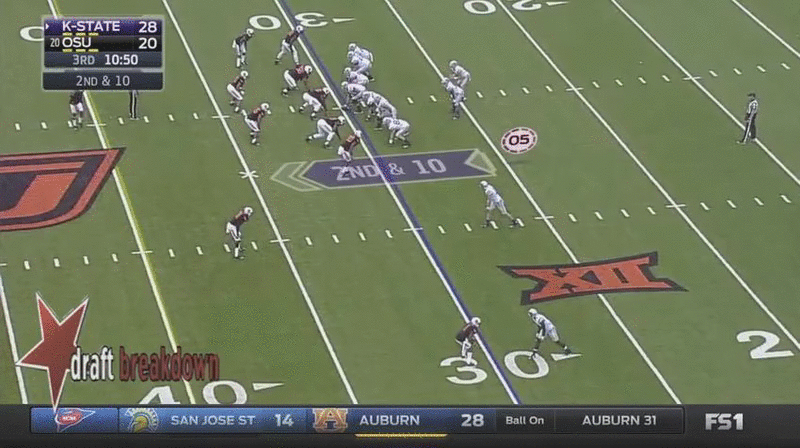 This is zone, what looks like a coverage called Cover 3 cone, but watch the poor technique by Peterson. Lined up inside shade but jumps outside on the snap and lets the receiver win inside. No reason to play that shade if you're going to give up your leverage so easily.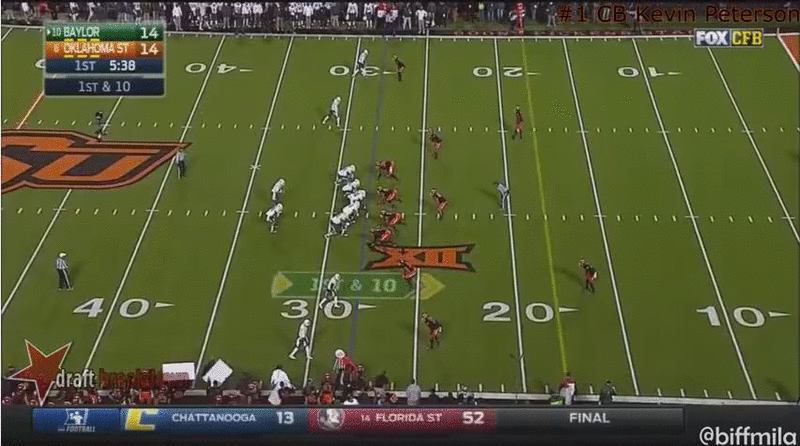 Like I wrote in the report, big, physical receivers are going to give Peterson fits. Laquon Treadwell scored on him twice and though Peterson didn't play terribly on either, he just couldn't compete against the hulking receiver.
I tweeted this out last night. I'm not big on comparisons, they're generally silly and centered around just a couple of basic traits, but I get an E.J. Gaines feel from Peterson. Gaines was a harder hitter and better tackler but everything else is similar. From measurables, shorter arms and a little light, who are technicians and reputations for shutting down big-name college receivers (Gaines versus Michael Crabtree, Peterson vs White).
He's not going to be the biggest, the fastest, viscerally most impressive player. But put on the tape and you see someone who catches your eye. An underrated player in this year's class.
Projection: Late 2nd
Games Watched: vs Kansas St, vs Baylor, vs Ole Miss (Bowl)