As we delve into the Pittsburgh Steelers offseason, our attention has now shifted to the 2016 NFL Draft as it relates to the prospects. From now until the draft takes place, we hope to profile as many draft prospects as we possibly can for you. Most of these player profiles will be centered around prospects the Steelers are likely to have interest in.
#45 – Deion Jones/LB LSU: 6-1, 219 (Senior Bowl measurements)
The Good
 – Absorbs blocks well for a guy his size
 – Works through traffic
 – Surprising power against OL for a smaller guy
 – Great play recognition, jumping flat routes based on what he's seen before from the offense
 – Good vision of the backfield, committing downhill against run. Decisive and aggressive attacking
 – Smooth hips, comfortable riding the seam in man
 – Closing burst is violent, disruptive
 – Physical against receivers in scramble drills
 – Great short-area agility and bend
The Bad
 – Takes on blocks with low vision, head needs to come up
 – Needs to finish plays
 – Engages on tackles well, just lacks the follow through or power much of the time. Enigmatic for a guy who's played special teams for so long and would be expected to have good fundamentals
 – Comfortable picking up and passing off crossing routes against zone underneath, but needs to sink when his receiver stems deep. Seems lost in zone
 – Seems to allow players to bounce off him when tackling
 – Hips freeze and he loses track of place in zone
 – Has good instincts against the run but too often just guesses a gap
 – Needs to wrap up and tackle instead of going for the strip too often
Bio
 – 2015 Butkus Award Finalist, awarded to the top college LBs
 – Statistically great senior year: 88 tackles, 12.5 TFL, 5.0 sacks, 2 INTs (1 for TD), 1 FF
 – Defensive MVP for LSU and team captain in 2015
 – Noted by several journalists as a standout at the 2016 Senior Bowl
 – Three-year mainly special teamer at the college level
 – Didn't start a game until junior year, due to injury to current Buccaneer and then-LSU Tiger Kwon Alexander
 – More tackles senior year (88) than previous three seasons combined (64)
 – From Louisiana originally, was rated as the #8 prospect in-state by 247sports and #14 by Rivals
 – Notched 179 tackles, 8 sacks, 5 FF, 3 INTs and 3 FRs in 2011, senior year, at Jesuit (New Orleans) High School
Tape Breakdown
One thing stands out pretty quickly about Jones, and that's how prepared he is. With only one year starting at the college level, Jones has evidently spent his fair share of time in film rooms studying the opposition before getting to see the field.
On just the second snap of the Eastern Michigan game, Jones has the tight end in man coverage on a flat route on this second and 7. He does a good job getting through traffic (the WR on the slant sets a semi-pick), closes quickly and wraps up the TE, Eastern Michigan's Cody Tuttle. Excellent tackle to not allow any yards after the catch, and about as good of a reaction to the route here as you could ask for from a LB.
Let's take a skip ahead to the fourth quarter. Up 15, Jones knows he has a similar "late and long" down to before (3rd and 11 this time). As such, he gives Tuttle a little extra cushion. At Tuttle's stem to the out route, Jones sees the QB under pressure and preparing to get rid of the ball to the TE. At that, Jones knows that there's no chance of a wheel route or anything up the sideline, and breaks on the ball. From there, he jumps in front of the TE for an easy pick-six.
This is simple instincts and football IQ; Jones sees the same player running a similar route with the QB under pressure. He learned from last time, and this time sees it telegraphed from a mile away.
Here we see Jones with a very nice run play. He stacks and sheds the offensive lineman in space and slips outside, forcing the RB to cut back to the middle of the field. However, note how off-balance he is when he contacts the ball carrier. He tries to spin around and attempt the tackle, but musters no power. The back falls forward for the first down.
Although Jones was obviously disadvantaged here by the situation he was in athletically to spin around and make that tackle, this is a slightly worrying trend he shows on tape. Jones does a good job getting himself to where he needs to be, but he struggles to finish when there.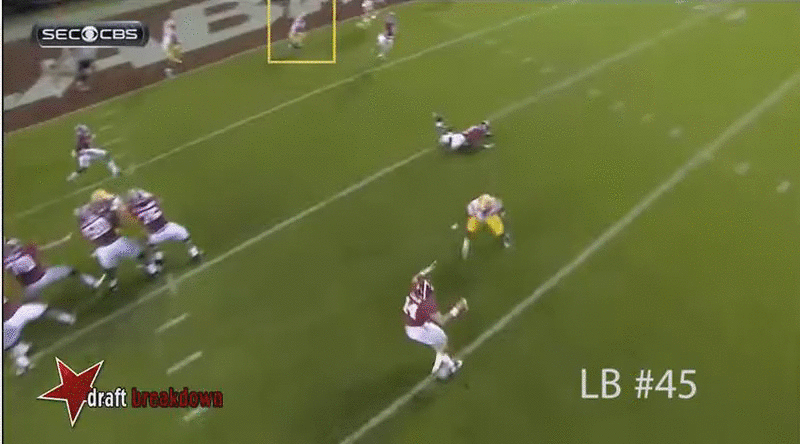 Here, Jones has Alabama QB Jake Coker dead to rights in open space. This is a tackle where he should stop Coker stone cold in his tracks charging downhill. Instead, he just bounces off. Coker shrugs him as if he isn't even there. This is a play (especially on the opposing QB who's not known for being a scrambler) that you have to make. As I said…a worrying trend of not finishing.
Jones does struggle to recognize some of the finer nuances of coverages at times. In zone coverage, he flashes stiff hips and a lack of knowledge as to where he needs to position himself.
This is Cover 2, and Jones needs to sink to protect the center of the field. Instead, he gets caught flat-footed with stiff hips. Especially when facing a much quicker, lighter slot receiver, he needs to be careful in coverage.
This is Cover 6 (quarter-quarter-half). The boundary receiver runs a 9 route, meaning he occupies the boundary corner. The TE runs a very nice wheel route, which Jones has to sink to take away. Instead, he is nowhere to be seen near the TE, instead staying far more shallower – for what, I cannot see. That boundary corner, Tre'Davious White has to come up to make the tackle on a play where Jones' lack of awareness cost the Tigers a big gain.
However, for as much as he struggles in zone, Jones shines in man. If you give him a receiver, he'll stick to him (as we saw earlier with the pick six against Eastern Michigan). Here, he has an extremely aggressive play on the ball. Although the ball is extremely poorly placed (it was behind Jones, let alone the receiver), note his hips. He initially sets up facing the weak sideline, basically inviting WR Antonio Calloway to cross his face dangerously. Instead, Jones flips his hips smoothly and closes underneath for an easy PD. That hip fluidity shows up for Jones time and again in man coverage, but mystifyingly not in zone.
Summary:
Although the Steelers are set at their two ILB positions, they are in notable need of some playmaking ability. After all the buzz about the speed of Jones at Senior Bowl practices, and some nice plays during the game itself, I figured I'd take a look at what the hype was about. Jones had a great backfield running mate at LSU in Kendall Beckwith, who could easily have been a Day 2 pick this draft had he declared. Beckwith was the strength/power guy, while Jones was the speedy backer.
NFL special teams coaches are going to fall in love with Jones right off the bat for his experience as an immediate four-core player. Although he lacks polish as a defender, he has shown production and consistent ability on special teams. In 2014, his 8 special teams tackles ranked third on the team. If you take a guy and play him mostly on special teams for three years, he should learn the fundamentals and be a team player.
Where Jones is worryingly deficient on defense are some of those fundamentals. Although he makes mistake on the field that are simply inexperience errors (tackling angles against the run, for instance), his tackling is extremely flawed. It's pretty clear to see guys bounce off him, including Coker as outlined above. Although he engages well, it's his follow-through and closing power that's lacking. All too often, Jones is in the right place to make the play but just can't finish. These are fundamentals that should have been drilled into him repeatedly on special teams, and that he should be able to display better on the field now.
Jones does best when he doesn't have to figure out a play. His play instincts in zone are markedly subpar. Where he really excels is man (where he just has to stick to the receiver) or run if he's uncovered. An NFL coach will probably have to scheme around Jones in the run game to keep him free to flow to the ball, optimal anyway because of his size. Although Jones doesn't get washed out in the run game by any means, he just has some difficulty shedding blocks that can be avoided with a little scheming.
Where are you left with an undersized probable NFL weakside backer? You take him on early Day 3, stick him on special teams and let him get up to pro speed. I don't think Jones will start in his first season, especially seeing as he needs more sand in his pants to engage NFL offensive linemen, but he could be an intriguing nickel linebacker to begin.
Projection: 4th Round
Games Watched: at Alabama, vs. Eastern Michigan, vs. Florida (all 2015)