As we delve into the Pittsburgh Steelers offseason, our attention has now shifted to the 2016 NFL Draft as it relates to the prospects. From now until the draft takes place, we hope to profile as many draft prospects as we possibly can for you. Most of these player profiles will be centered around prospects the Steelers are likely to have interest in.
Our first edge prospect today: Virginia Tech's Dadi Nicolas.
#90 – Dadi Nicolas/OLB Virginia Tech: 6'3 235
The Good
– Lanky makeup but frame to grow into with long arms and big hands (35 1/4, 10 1/2 respectively)
– Plus athlete who flashes a strong initial step
– Will flash array of pass rushing moves, active hand use to disengage blocks in pass and run game
– Looks fluid in coverage, isn't stiff in his drops, and has some, though limited experience, doing so
– Works hard and runs to the football, effort will be endearing to every team
– Stuck in a bad scheme and times where gameplan didn't suit him, injury limited productivity in 2015
– Showed productivity when healthy junior season
The Bad
– Weak, thin frame with a skinny lower half and has to add more muscle to his upper and lower half
– Can win with his initial step but has difficulty finishing plays, lacks some bend and strength to flatten, causing him to get pushed up arc and sealed
– Lacks a strong base to hold up against the run and beaten up on the LOS far too often
– Needs to develop a go-to move and counters, hand use is too spotty and doesn't always have a plan of attack as a pass rusher
– Appears to struggle taking information in and picking it up on it quickly, needs extra coaching and attention
– Limited positionally, mainly at left end, and always played with his right hand down
– Lacks experience on special teams
– Production nosedived from senior to junior year
Bio
– 26 career starts, including 12 of 13 senior year
– 2015: 7 TFL, 2.5 sacks, 5 hurries
– 2014: 18.5 TFL, 9 sacks, 35 hurries
– Only roughly 122 career snaps on special teams, according to team's website
– Spent majority of high school career playing basketball, played football his senior year
– Ejected for one game senior year after making contact with an official
– Two career blocked kicks, both in junior year
– Name pronounced "Daddy"
– Born in Haiti, biological mother sent him to America to live with another family when he was three months, mother came to states when Dadi was 16
– Arrested in June of 2012 for stealing a bike, suspended by team for the summer, plead charge down to misdemeanor petty larceny, sentenced to 125 hours of community service, reinstated by team in late August of 2012
Tape Breakdown
Let's start with the good, as we normally do. There's no doubt Nicolas is a good athlete in that vague, testable, sense. But he can win with his explosion off the snap. Against slower college right tackles, that was sometimes enough.
He also has flashed an array of moves as a pass rusher, giving him something other than straight-line burst to be effective. Here, Nicolas sets up the right guard with a spin, beating him. Though, and the GIF below doesn't show it, he fails to sack Cardale Jones, letting the QB scamper for a nice gain, an all too recurring issue in Nicolas' game.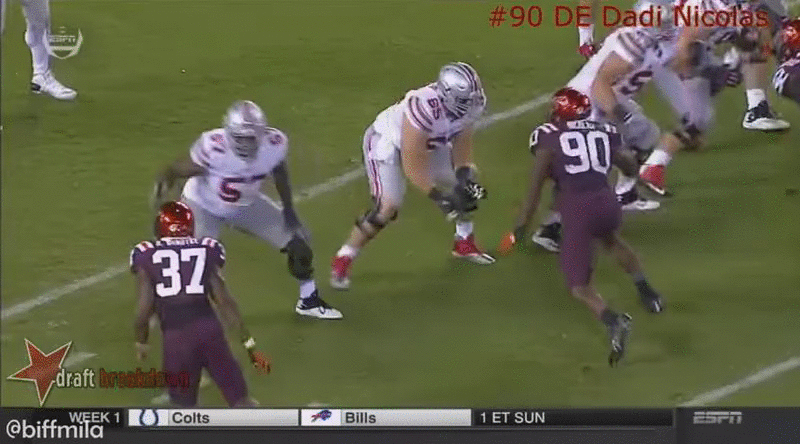 While he played on just the left side, he was asked to stand up and drop into zone coverage. He looks fluid and coordinated doing so, flipping his hips and driving on the ball thrown into the right flat.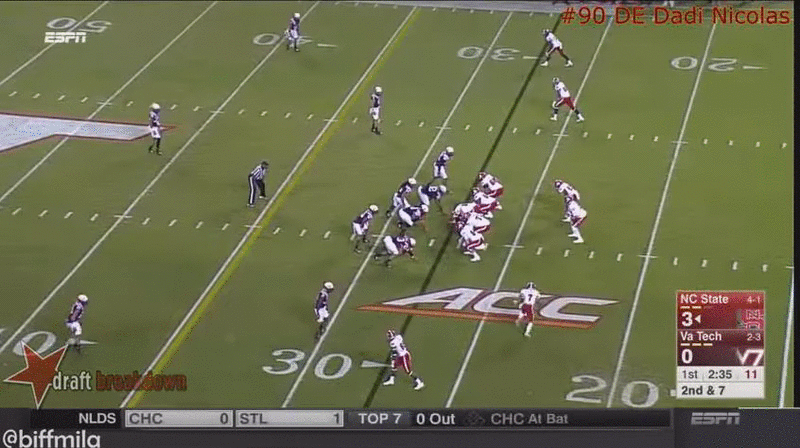 But by and large, Nicolas is one heck of a prospect to project with any confidence. Super raw. Even when he wins with his first step or even is right on top of the quarterback, his lack of strength too often results in him being unable to finish the play.
Here against NC State, he splits the double-team between the right tackle and running back but can't bring the QB down. Granted, that QB is Jacoby Brissett, a big, difficult guy to sack, but how is Nicolas going to be expected to wrestle down the likes of Ben Roethlisberger at the next level?
I do acknowledge the hand injury probably played a role but still, this isn't something you want to see.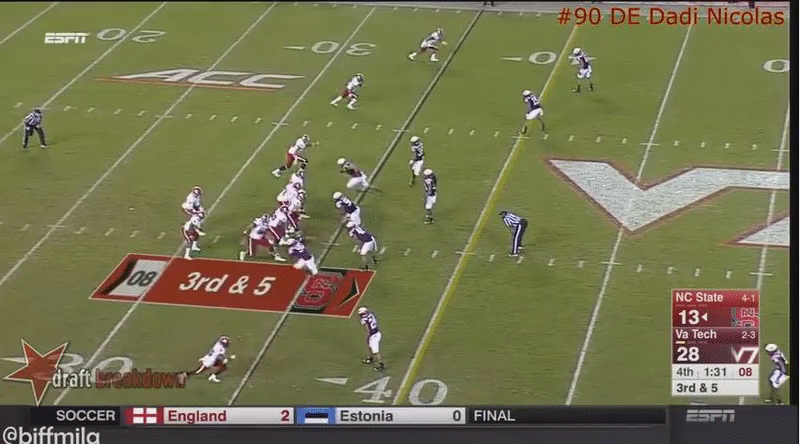 That doesn't even touch his biggest issue – trying to play the run. Offers little to nothing at the point of attack or setting the edge. Too thin, too weak, and doesn't have the base to hold the point of attack against base blocks.
Watch Nicolas get stuck on the right tackle as the running back slips past into the open field for six. You might call it a hold but there was no flag and I see a guy who struggles to use his hands to get off blocks.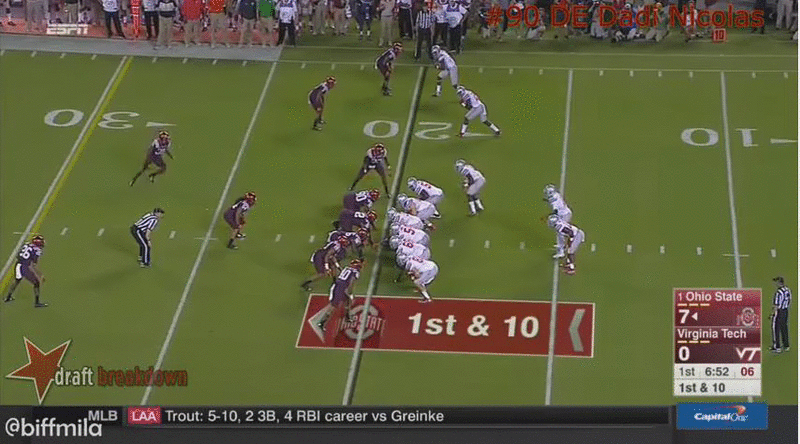 And here's the right guard drive blocking Nicolas a good three yards back off the line of scrimmage. Nicolas is finally able to defeat the block but in a booth, you can sense how much he's going to struggle.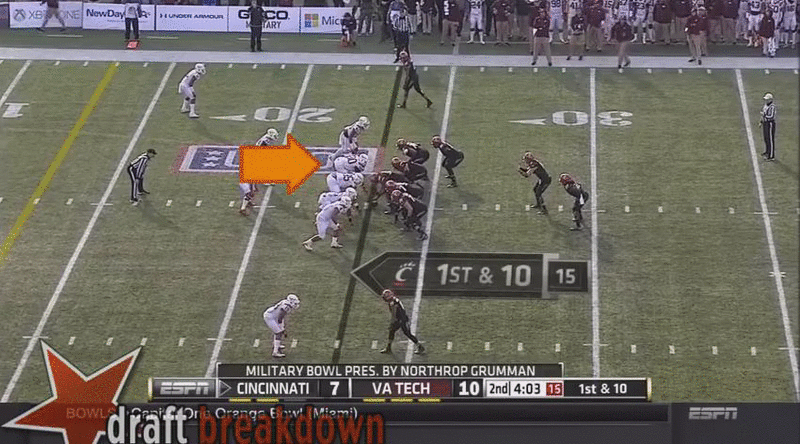 Like I wrote at the Senior Bowl, watching Nicholas up close and personal, he had trouble knowing where to lineup and had to be reminded by coaches too often to get on the ball or line up in the right gap. There's the worry that he is a player who doesn't take to coaching as quickly as others.
With the Pittsburgh Steelers' potential need at outside linebacker, a guy like Nicolas could be in the fold on Day Three. But he's anyone's guess. If a coach can figure out how he learns best, really teaches him up, maybe you have something. I could definitely see Nicolas being a quality special teamer with his athleticism, motor, and pass rushing mentality, an asset for defeating blocks on kicks and punts.
Though he has a higher pedigree, Nicolas reminds me a bit of Howard Jones, who spent two camps with the Steelers before semi-thriving with the Tampa Bay Buccaneers. Similar size, great athletes, lacks focus, and really just pass rushers. So as I write this, maybe that's the best-case scenario for Nicolas, too. At first glance, and as I have written, it's easy to project him as an outside linebacker – 233 is light.
But if you can't hold your lunch against the run, you're not playing outside linebacker in most schemes, especially in subpackage football with a four-man front. Put him with his hand down in an aggressive, 4-3 front, in subpackage football, and let him get upfield.
Of course, I am looking at an optimistic side of things here and a "slightly better Howard Jones" isn't going to get any fanbase excited. Howard Jones himself is probably just going to keep skimming through.
Though I shouldn't, I have to forewarn you that this is the draft; an exercise of thought, not a scientific theory. My words are words, not gospel. So sorry if you're a big Hokie fan who called off work when Frank Beamer retired, I'm sorry.
I can't get crazy excited over every prospect. Nicolas has some attractive traits but fit and ceiling are a dart throw.
Projection: Mid-Late 6th
Games Watched: vs Ohio State, vs NC State, vs Cincinnati (2014 – Bowl)