As you should know by now, our attention has now shifted to the 2016 NFL Draft as it relates to the prospects. From now until the draft takes place, we hope to profile as many draft prospects as we possibly can for you. Most of these player profiles will be centered around prospects the Pittsburgh Steelers are likely to have interest in.
One of the top interior prospects of the draft is who we're profiling today. Stanford guard Josh Garnett.
#51 Josh Garnett/OG Stanford: 6'4/4 317
The Good
– Prototypical size, carries weight well with a huge lower half, and combines it with good enough length (33 3/8 inch arms)
– Physical, nasty lineman with desire to throw his weight around and finish his blocks
– Underrated athlete with nimble feet for his frame, capable of long/short pulling, and relatively explosive out of his stance
– Works hard to get arms extended in both phases and creates separation between he and the defender
– Strong, controlling hands and when playing with technique, defenders have great level of difficulty shedding
– Innate strength that is derived from his lower half but also gets low and plays with proper leverage
– Played in an offense that ran every sort of scheme, no assignment will be foreign to him in the NFL
– Hard worker who wants to get better, takes opportunity to soak up as many reps as he can, even just mental ones
– Likeable personality, well-spoken player who teams are likely to mark high in the interview room
– NFL bloodlines, dad played in the NFL
The Bad
– A good athlete but not a tremendous one and can get a little exposed in space
– Slight tendency to lean/bend in pass protection and just needs to make a conscious effort to maintain his base
– Has to keep his base under him as a run blocker, will get overextended on some drive blocks and fall off
– Could do better job looking for work in pass protection, gets a little lax when uncovered
– Some small issues mentally, screwing up on his assignment, but minor and he has desire to learn and get better with repetitions
Bio
– Two-year, full-time starter at left guard for Stanford, team captain senior year
– 2015 Outland Trophy winner for nation's best lineman, first in school history
– 2015 All-American by almost every outlet
– Saw spot-starts and playing time in 2012 and 2013, work in jumbo packages
– Father, Scott, drafted in 8th round of 1984 draft, a defensive lineman who spent four years in the NFL
Tape Breakdown
Garnett is one of the top interior prospects in this year's draft, especially if you consider someone like Cody Whitehair as a tackle.
Garnett should be viewed, and adored, for his ability to run block. Shows that nasty, finish blocks, put people on his butt. It should not be the only thing he's known for, don't pigeon-hole him, but it's definitely in his arsenal.
As the left guard in all the following clips, watch him stick, drive, and pancake this Northwestern three tech.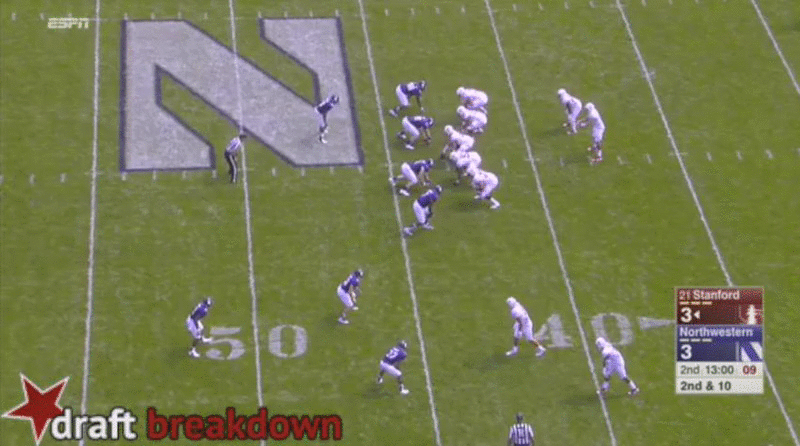 On this Wildcat play, Garnett buries the defensive tackle as he spikes inside. Keeps the alley open as Christian McCaffery scoots behind for a touchdown.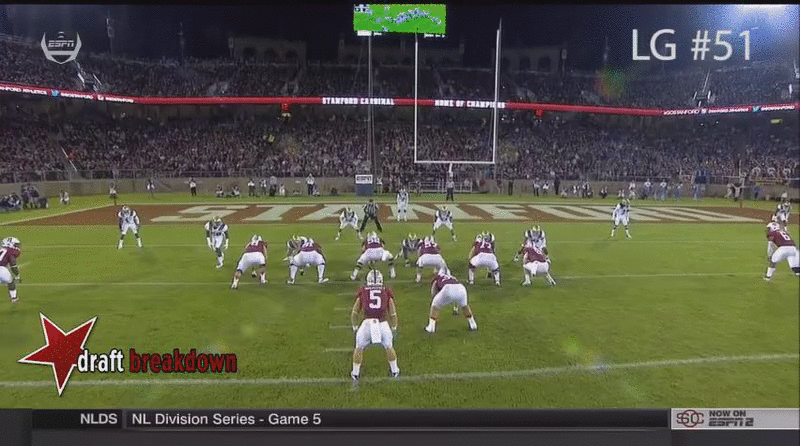 But like I wrote, that isn't all he is. He was asked to pull and kickout as much as any lineman you're going to watch, and he did it well. Nimble feet for a big man who has pulled across the formation and short-pulled. Here he kicks out the five tech, putting him into the ground, on this power concept.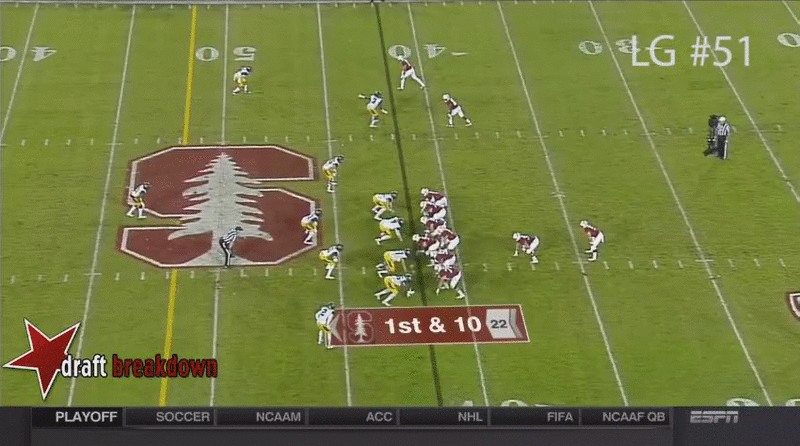 And here he is short-pulling, basically fold blocking with the center and working to the MIKE 'backer. Sticks and drives and even though he falls off late, had the hole not been filled, the running back is long gone before the linebacker can shed.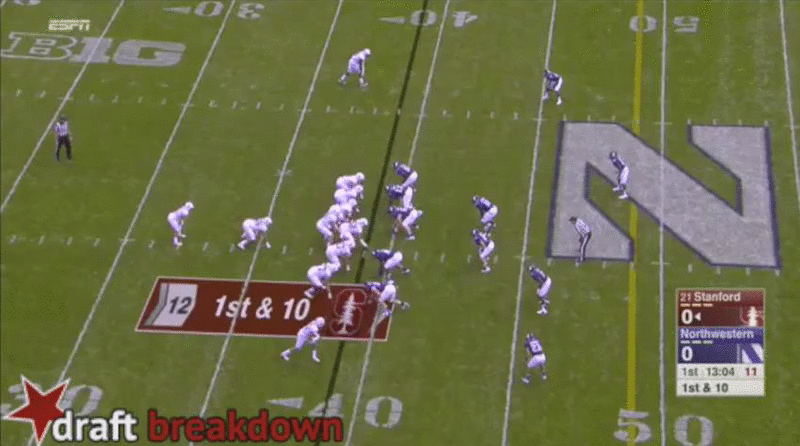 Though I like Garnett, and the conclusion of this report a glowing one, it doesn't mean I ignore his flaws. Most are minor but they're present, and you're always looking to get better. In the clip below, he fails to keep his feet moving and winds up leaning in pass protection, getting away with it because of his strength and the defender's poor hand use, failing to shed the block.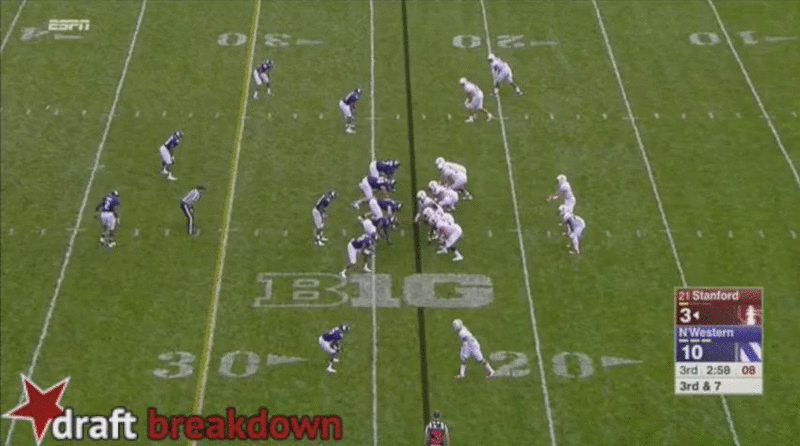 On this run block, he shows flatback on contact initially but is able to get his lower half under him after a couple steps and again, his strength and hands is enough to get by.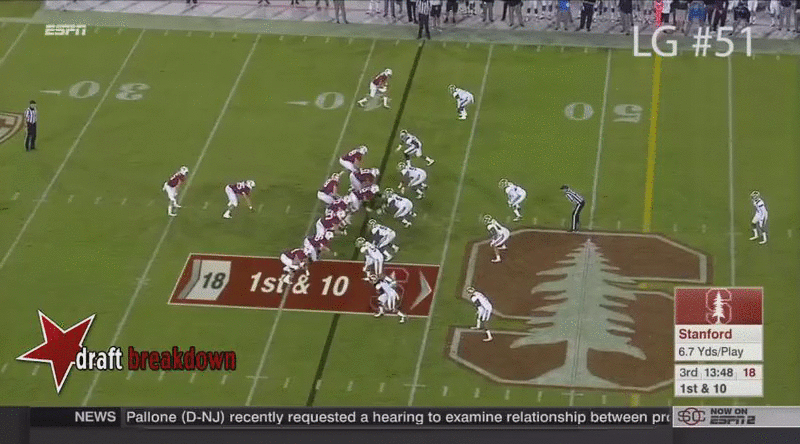 Watched him at the Senior Bowl and overall, he was impressive. An easy-going guy to talk to who gave thoughtful, honest answers. You might think he's best in a power scheme, especially with the preconceived notions about what a Stanford offense is (gap schemes), but Garnett told me they ran inside zone the majority of the time in 2015. He can fit in any system.
I've shared the story before but watch him in practice or on practice tape, and you see a guy who takes a rep nearly every time, regardless of whether he's directly in the drill or not. Have a bad rep? He'd jog over to the side and practice a couple times on what he was just coached up. An "inactive" participant of the offensive line in one-on-one drills? He'll still shoot his hands and take the rep. Little stuff like that you love.
Now, it wasn't all perfect, and on the All-22 I was able to view, I did see some mental blips. Carrying out the wrong assignment or not being sound in his zone rules, chasing lineman he definitely shouldn't. It's minor and hey, it's a new environment and offense, so I'm not looking to kill the guy over it, but it's a reminder that he's prone to mistakes, even if he has a Stanford degree.
Bottom line is that Garnett is the type of player that will thrive in any system, any scheme, under any coaching staff. He's an easy guy to fall for, as a player and as a person, and figures to be the first true guard to come off the board in April. Remember, he's only a two year starter and that makes his ceiling even higher.
Projection: Top 25
Games Watched: at Northwestern, vs UCLA, vs California, Senior Bowl