As we delve into the Pittsburgh Steelers offseason, our attention has now shifted to the 2016 NFL Draft as it relates to the prospects. From now until the draft takes place, we hope to profile as many draft prospects as we possibly can for you. Most of these player profiles will be centered around prospects the Steelers are likely to have interest in.
A breakdown of perhaps the top edge prospect in this year's draft and one many Steelers' fans have been asking for. Eastern Kentucky OLB Noah Spence.
#9 Noah Spence/OLB Eastern Kentucky: 6'2/5 254
The Good
– A+ athlete with an excellent get off, times the snap well and explosive first step
– Uses his hands well against the run, proper placement and capable of shedding
– Can win with his athleticism off the edge, flexibility to flatten and get upfield
– Aggressive, hungry player who attacks the football, looks for strip sack
– Versatile, played both sides, hand up and down, has experienced rushing out of left and right hand stance, appears to be left hand dominant
– Shows ability to counter, see it the more you watch, though still needs work on ability to set up his rushes
– Tons of upside and may only be scratching the surface of his potential
– Productive at FBS and FCS levels
The Bad
– Height/weight is fine but lacks length (31 inches, 74 inch wingspan), very much below average metrics
– Don't have a ton of confidence in his ability to hold the point of attack or set physical edge in the run game
– Has to keep working on his counters, see speed rush too often and causes him to get run up the arc more than I'd like to see
– Hand use overall as a pass rusher is underdeveloped and he can get stuck on blocks,
– Needs to work on little things, become more detail-oriented, get hands up in throwing lanes as a pass rusher
– Didn't drop a ton in college and will have to make position switch that requires it in the NFL
– Serious drug history, will have to be screened heavily, likely will be off some team's boards
Bio
– 2015, lone year with EKU: 22.5 TFL, 11.5 sacks, 3 FF
– Originally committed to Ohio State in 2012, played for two seasons, had nine sacks (8 in 2013) over those two years
– Ruled permanently ineligible by Big Ten after a second failed drug test for ecstasy, suspended the first time for three games, later found out to be lying about knowingly consuming the drug
– Urban Meyer helped find him a home at EKU, sat out 2014 season
– Cited for public intoxication at Eastern Kentucky, charge eventually expunged from his record
– Had a great Senior Bowl week, glowing reports from nearly every outlet, including our own
– Five star prospect out of high school, 35.5 sacks junior and senior seasons combined
Tape Breakdown
Oh boy, he's one tough guy to figure out.
If you listen to other draft analysts, you know Spence has been shooting up boards (which always play catch up to the NFL, they don't create the market). At this point, it's looking increasingly unlikely Spence is available at 25th overall, though keep in mind most – myself included – didn't think Bud Dupree would fall, either.
There's no denying this guy is a freak of a pass rusher. The tools are all pretty clearly there. His first step is what will define him and have fans of whatever team drafts him drool – and those who have to face him twice a year cringe.
Watch him whip this Kentucky right tackle off the ball and get skinny to turn upfield. Quarterback gets the ball off in time but the pressure is there.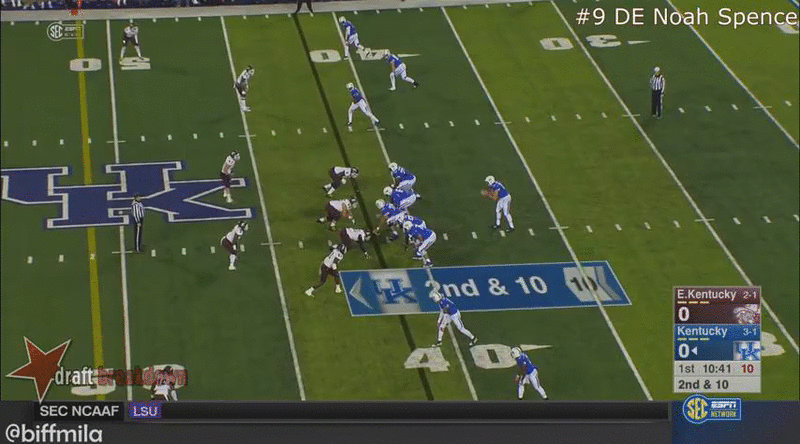 And here he is flipped to the RDE spot, dipping and ripping under the left tackle, forcing the ball out of Jacoby Brissett's hands.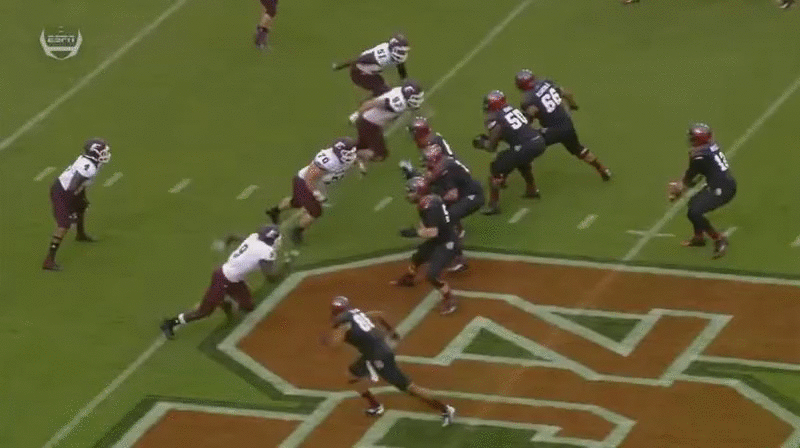 The more I watch, especially in one-on-ones at the Senior Bowl, the more counters I saw. That was my real big concern early on and Spence started to remind me of Dee Ford, who I wasn't high on coming out of Auburn. Just speed guys who don't have any other plan. But while it isn't perfect, it's enough to show he understands the concept and will get better in time.
Here against Kentucky, he sets up outside and then steps inside to beat the left tackle, swimming over him and flushing the quarterback.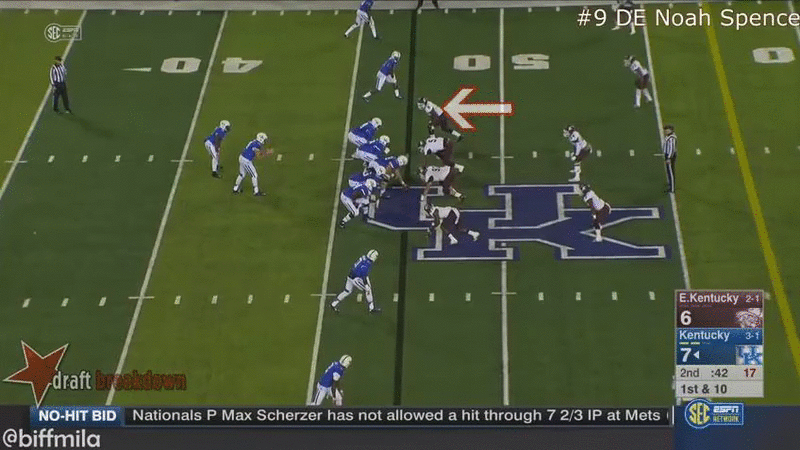 Still, he needs to be stronger in every facet of his game. Pushed around too much as a pass rusher and against the run. Watch him try to convert speed to power but the NC State left tackle anchor with ease, and then get completely moved off his spot and losing contain by the running back's chip.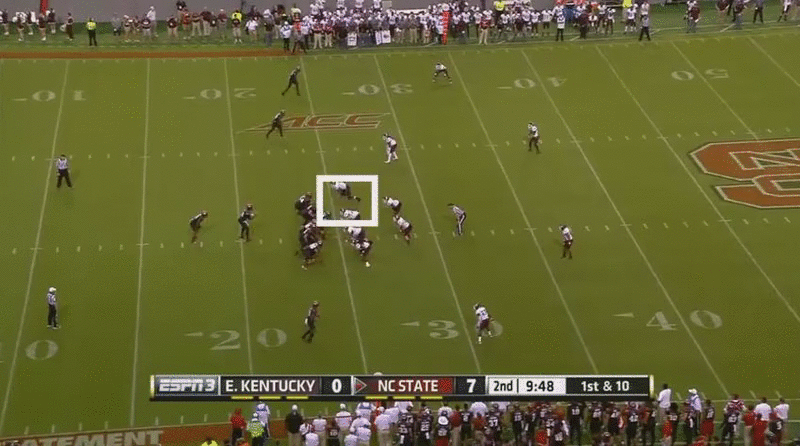 And here's Spence pulling a rookie-year Ryan Shazier, trying to run around the lead block but really just opening up a lane for the running back. Has to be more physical and willing at the point of attack.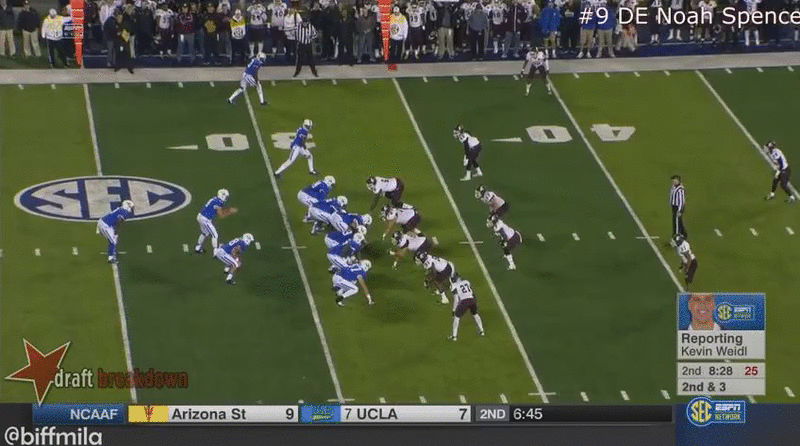 The elephant in the room, the story that will dominate headlines, is his past drug problems. I read what I could but did not talk to Spence and don't have intimate knowledge on the situation and like any player, it's hard for me to make any sort of final evaluation. Spence's drug issue was not just weed, it was ectasy, and he failed two tests.
After the first, he claimed – later admitting it was a lie – that someone slipped something in his drink. He failed a second test and the Big Ten, not even Ohio State, ruled him permanently ineligible.
He had one other small incident at Eastern Kentucky, public intoxication, that was expunged from his record. He seems relatively clean since then and for what it's worth, former teammate Braxton Miller spoke highly of Spence at the Senior Bowl. So teams are going to have to feel like they trust him. This goes beyond regular, weed-in-the-dorm-room issues. Will the life of the NFL cause him to fall back onto old habits or can he stay clean and be a true success story? I can't answer that.
I like Noah Spence and I've definitely warmed up to him watching and hearing more about him, though I think I'm slightly lower on him than a lot of draft analysts. I don't quite see a top 10-15 player here and feel his run defense is too underdeveloped for me to personally be comfortable taking a guy that high. If he takes the same "fall," Dupree did, he'll be a tough guy for me – and the Steelers – to pass up, especially considering how weak this edge class is. Just know he doesn't come without his warts.
Projection: Mid-Late 1st
Games Watched: vs Valparaiso, at NC State, at Kentucky, Senior Bowl