As you should know by now, our attention has now shifted to the 2016 NFL Draft as it relates to the prospects. From now until the draft takes place, we hope to profile as many draft prospects as we possibly can for you. Most of these player profiles will be centered around prospects the Pittsburgh Steelers are likely to have interest in.
One of my favorite prospects so far and a real possibility to land in Pittsburgh. Boise State safety Darian Thompson.
#4 Darian Thompson/S Boise St: 6'1/7 215
The Good
– NFL size and certainly looks the part of an NFL safety with adequate hand size (9 1/4)
– Impact player in both run and pass game, well-rounded game
– Decisive, instinctive player and a plus alley defender against the run, fills the box well, and is an impact hitter but not at the expense of fundamentals, still breaking down, wrapping up, and exploding through
– Hard hitter who can separate player from ball and will be an intimidating force over the middle
– Change of direction ability makes him an asset in man coverage underneath, football IQ lets him read the QB and break on the ball, and shows film study on the field, understanding route combinations based off down/distance and splits to anticipate concepts
– Complex defense, quarters based, but with tons of pattern reading involved, getting him ready for NFL defenses
– Statically impact player with several big plays, rock solid junior and senior seasons, a highly decorated player
The Bad
– Arm length and wingspan are on the shorter side (30 3/8, 73 3/8)
– Probably does not have great straight-line speed, could struggle in man-to-man coverage vertically
– Occasionally can gamble and get beat over the top, part of the risks he take based on instinct and film study
Bio
– Three year starter and had started final six games redshirt freshman year
– 19 interceptions ranks third all-time in Bronco history, 12 over the last two years
– 2015: 8.5 TFL, 5 INT, 2 FF, 1 sack
– Two-time First-Team All Mountain West
– 2015 Jim Thorpe semifinalist to nation's top defensive back
– WR/DB in high school, 7 interceptions and 13 receiving touchdowns senior season
Tape Breakdown
I really like this kid. You can probably tell that already based on all the positive marks and the remarkably few negative ones. Maybe I didn't watch the best tape, or should've found some better competition games, but I had a lot of trouble seeing any consistent negatives. Safeties are tough to judge on tape, always falling out of frame, but the negatives I did see were not very consistent from game-to-game, and criticizing a player for one off play isn't a good way to evaluate.
So our main focus here will be on the positives. The many, many positives. Thompson can do it all. Plays the run as well as he does the pass. Love a safety that can serve as the alley defender, coming down into the B gap and supporting the run. Thompson's ability to react and throw his weight around as a tackler – while avoiding being reckless and losing his fundamentals – is huge for me.
Watch him on these two plays against Washington and Hawai'i doing similar. Coming down to against the run and making a tackle at or behind the LOS on third down, getting his defense off the field. That's the blue-collar, mix-it-up mentality every safety has to adopt. Can't expect to sit in a two high and cherry pick interceptions all day.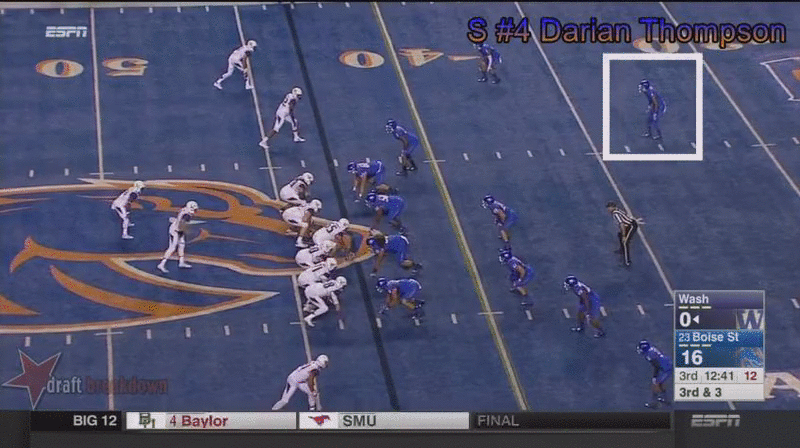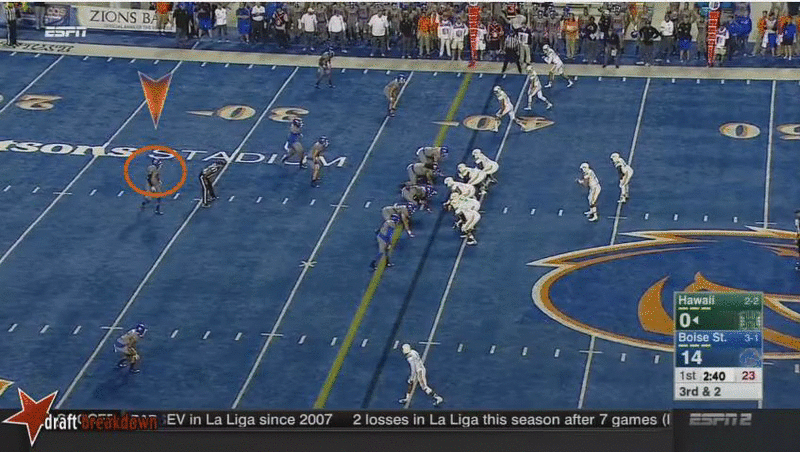 Or he'll hit you in the open field, destroying the receiver on this pivot route.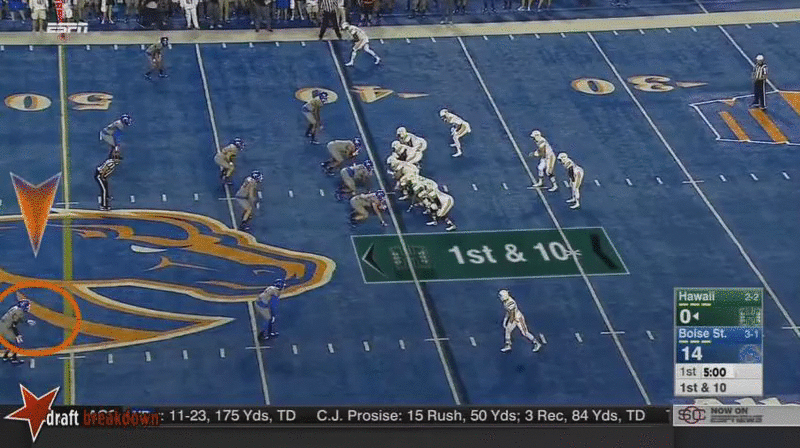 And then there's the 19 interceptions. Watch him sit back in Cover 4, read the QB, high point the football, plucking it over the receiver, and getting a decent return out of it. Guy that sees ball, gets ball.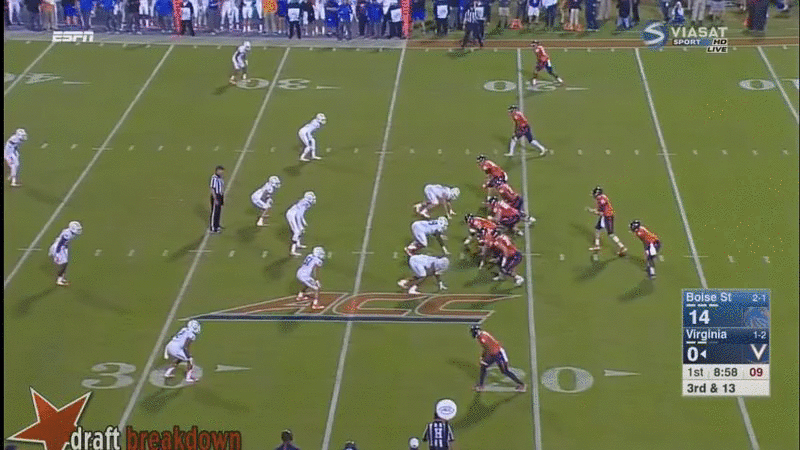 This play reminds me of Mike Mitchell, lowering his tackle point for a legal, impactful hit to separate player from ball, creating another interception.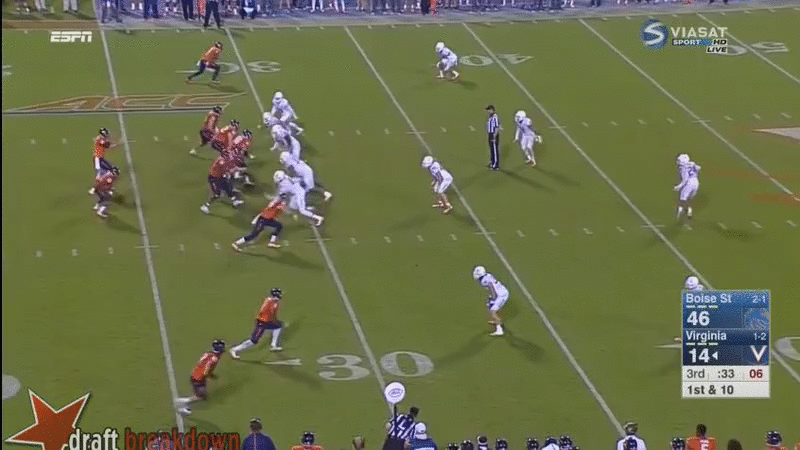 You can see some of the pattern reading in the Broncos' offense, matching receivers based on route combination. Here is what Thompson told me at the Senior Bowl about his defense.
"We were more of a quarters team. We did mix things up though. Played Cover 2, play Cover 3. But predominately a quarters team…most of the time it turned into man, if that makes sense. So it was more of a man quarters, not a true four deep."
That will give him a leg up coming into the NFL where defenses are incredibly complex and nuanced.
Grades and evaluations are partly based off of the class around them but I'd definitely peg Thompson as a first round player. Don't put him in a role to play man to man vertically a ton, or he could get exposed, but having him as the underneath/robber safety is a role he would thrive in. It makes me view him as more of a strong safety, though again, he has the skillset to play both, and a perfect replacement for Will Allen and/or Robert Golden, should neither return. He's someone I'm circling with that 25th pick in this year's draft.
Projection: Mid-Late 1st
Games Watched: vs Washington, at Virginia, vs Hawai'i, Senior Bowl