As you should know by now, our attention has now shifted to the 2016 NFL Draft as it relates to the prospects. From now until the draft takes place, we hope to profile as many draft prospects as we possibly can for you. Most of these player profiles will be centered around prospects the Pittsburgh Steelers are likely to have interest in.
Another tight end profile, our second in as many days. Breaking down Iowa's Henry Krieger-Coble.
#80 Henry Krieger-Coble/TE Iowa: 6'3 248
The Good
– Well-rounded and well-versed game who does everything at least average and used in a variety of assignments in Iowa's pro-style offense
– Best quality is ability to stem his route and get separation at the top of it, advanced use of head fakes and jab steps, plus has quickness/explosion on his cut to create space
– Shows intensity and buys into need for run blocking, tough kid who fights until the whistle and shows nasty/tenacity as a blocker
– Explosive out of his three point stance in routes and as a run blocker, latter lets him complete difficult assignments, routinely reached on the backside
– Shows football IQ and ability to understand zone blocking rules, processes quickly
– Sets hips well as a run blocker and works hard to get himself in the most optimum position possible
– Experience in pass protection and has been asked to take on defensive ends, not perfect but shows a solid base, keeps his feet moving
– Will make tough catches in traffic and shows a soft pair of hands
– Versatile, time on the line and displaced, work out of two and three point stances
– Athletic family bloodlines
The Bad
– On shorter side and slightly undersized overall, small-ish hands and short arms (9 1/4, 31 5/8 respectively)
– Not an incredible athlete and straight-line speed won't blow anyone away, game is best on short/intermediate concepts
– Better blocker when he has an angle than he is as a drive blocker, prone to falling off blocks, overall strength is not spectacular, will have to continue to get stronger and play with better technique
– Some minor issues with keeping feet moving laterally in the run game, part of issue in sticking to blocks
– Route tree was not that complicated even in pro-style offense
– Only one year of starting experience and production, limited numbers in 2015
– Minor injury concerns
Bio
– One year starter
– 2015: 35 receptions, 405 yards, 1 TD
– Prior to 2015: 7 catches, 58 yards, 3 TDs
– Suffered torn labrum told end of 2014 season, missed final three games, took about six months to recover, missed some of 2015 spring practice
– Several relatives who competed at college level, including teammate and cousin George Kittle
– Krieger-Coble was a three-star athlete in high school (football, baseball, basketball)
Tape Breakdown
Similar to Jesse James, Krieger-Coble played in a pro style offense that asked to wear many hats. He's reached/hinged the backside on runs and has been asked to stay in to pass protect. Not a lot of college tight ends are used on those high-level concepts, and given the Steelers' focus on the few that do, it will elevate HKC's status.
At the bottom of your screen, watch Krieger-Coble reach the backside end. Sets his hips to seal him. Don't see that too often from anyone at the college level.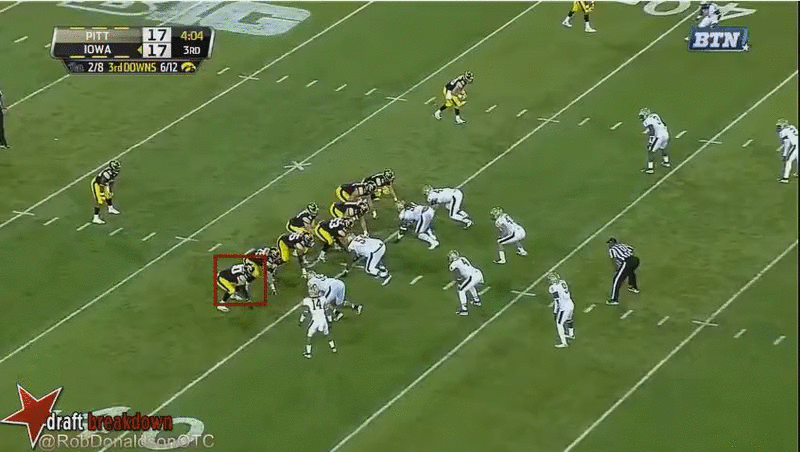 A few plays earlier, he's pass protecting against the end without any help from the tackle. Gets a little support from his running back late but overall, does an admirable job.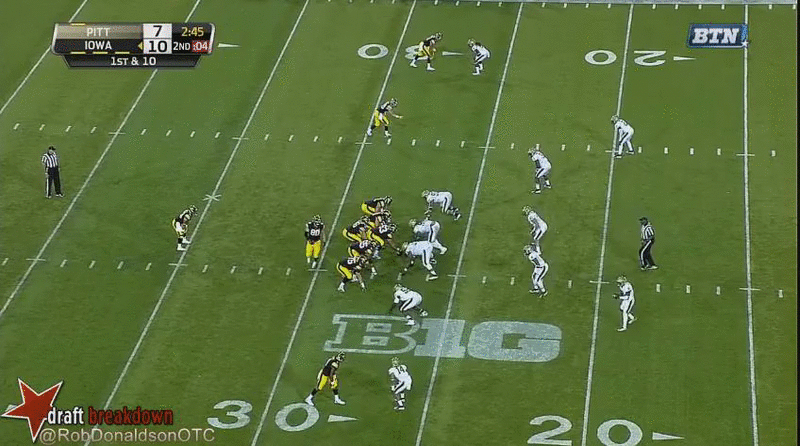 Watch him crack/chip the Michigan State left end, destroying him and finishing the block by falling on top of him.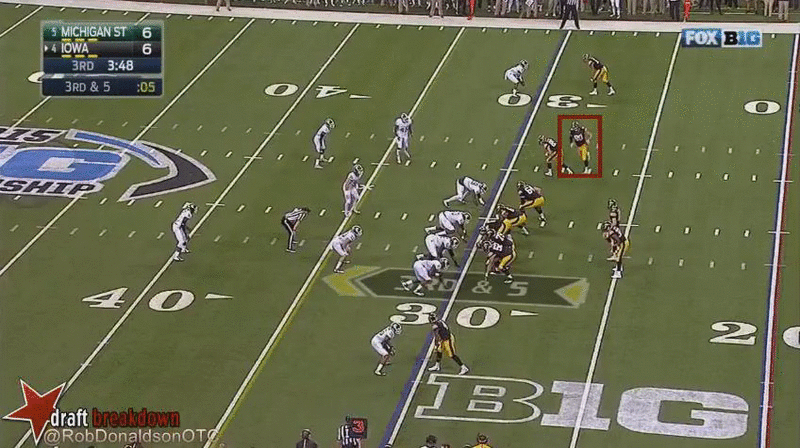 Whew. If that doesn't say Steelers, I don't know what does.
Let's look at him as a receiver. He isn't a straight-line, vertical threat but explosive out of his stance and at the top of his route, more than capable of gaining separation.
Watch the head fake coupled with the break off his left foot to beat the linebacker on this dig route. Stuff like this gets me excited about HKC.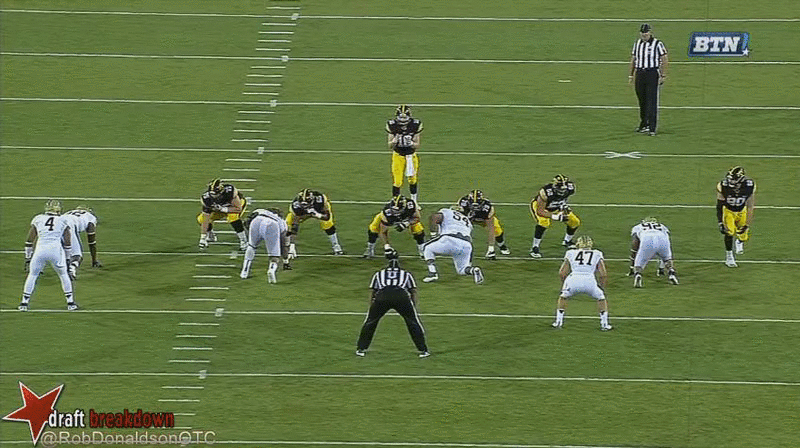 He shows a soft pair of hands and ability to adjust to poorly thrown throws, making a fingertip catch on this throw clearly thrown behind.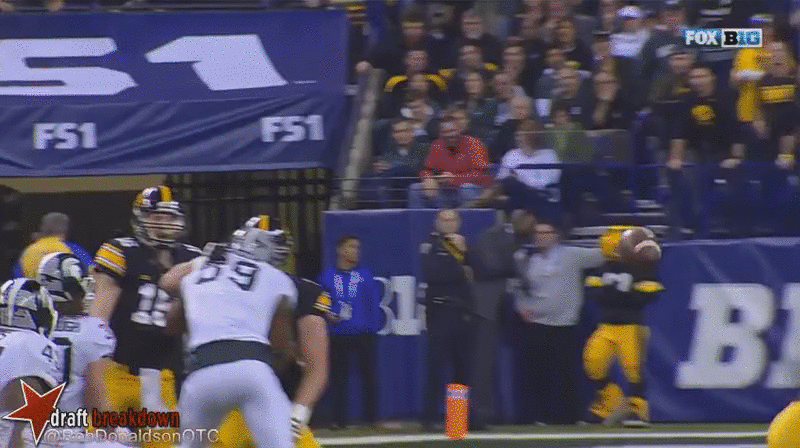 As I wrote in the report, he is better when working with an angle – even when he has to cross the defender's face and set his hips – than he is drive blocking head up. In the GIF below, he falls off this drive block against Joe Schobert. Top of the screen, the on-ball tight end.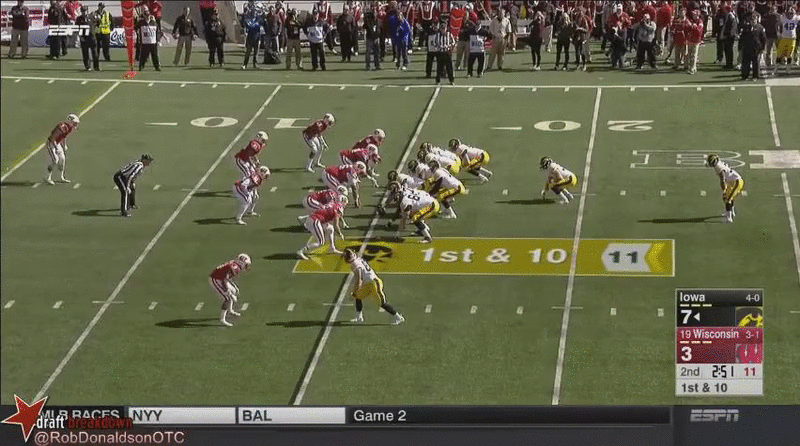 I am a little more measured on my tight end evaluations after admittedly being a little too high on Maxx Williams who of course, still could turn out to be a very good player. Krieger-Coble reminds me of him in some ways though Williams was a better threat vertically.
Despite yearning and pleading for the new-age, move tight end, it's pretty clear that isn't in the cards for the Steelers. They're looking for someone in that Jesse James mold, competent blockers who can do more than just catch the football. HKC is cut from a similar cloth, and I admire his ability to separate and finish in the run game, two things I greatly value.
Tight end is not a need for the Steelers and I do subsrcibe to the theory that if they're going to invest, it'll be early, not late. Not much use in burning a 7th round pick who probably won't crack the group of James, Heath Miller, and Matt Spaeth. Krieger-Coble is not going to be a 7th rounder but even in a weak tight end class, isn't going within the first two rounds and the third isn't a slam dunk either. It could put the Steelers' philosophy into conflict but if you can look past that, you have yourself a solid player.
Projection: Late 3rd-Early 4th
Games Watched: vs Pittsburgh, at Wisconsin, vs Michigan St, Senior Bowl