As you should know by now, our attention has now shifted to the 2016 NFL Draft as it relates to the prospects. From now until the draft takes place, we hope to profile as many draft prospects as we possibly can for you. Most of these player profiles will be centered around prospects the Pittsburgh Steelers are likely to have interest in.
One of many small school defensive backs in this draft. Looking at William & Mary's DeAndre Houston-Carson in today's profile.
#36 DeAndre Houston-Carson/SS William & Mary: 6'0/7 197
The Good
– Physical, downhill player with reputation as a big hitter who packs a punch as an alley defender or patrolling underneath in coverage
– Willing and able to wrap up but also plays with an edge who can lower his shoulder and deliver a blow
– Seeks, embraces contact and will stick his nose into the fray against the run
– Transitions well with quick feet and processes info quickly, reads/reacts well
– Tremendous special teams value, a stud on the third unit and played on nearly every unit, separates himself from others in that regard
– Experience at corner and safety
– Raw player who was still getting used to safety in 2015, tape isn't indicative of where his ceiling could be
– Personable individual with likeable personality that will endear itself to teams
– Tons of starting experience
The Bad
– Small hands (8 5/8) and short arms/wingspan (29 7/8, 74 1/2 inches respectively)
– Unrefined prospect still learning his position
– Takes poor angles to the ball in coverage, wastes steps/time
– Can be aggressive to a fault, needs to be a more consistent tackler and show technique he has flashed
– Better downhill than he is in coverage, may be a little stiff-hipped and change of direction is not spectacular
– Obvious small school concerns coming from FCS level, big jump to the NFL
Bio
– 45 career starts, four year starter
– 2015: 109 tackles, 4.5 TFL, 4 INTs, consensus All-American
– Moved from corner to safety for senior season
– 9 career blocks on special teams, including two in 2015, blocked a punt in three consecutive games in 2014
– 10 career interceptions
– Missed four games at end of 2014 season with a wrist injury
– Running back in high school, rushed for over 1000 yards his senior season
Tape Breakdown
Houston-Carson is best playing one way: downhill. In a cross between Justin Bethel and Mike Mitchell, he loves to hit and leaves his mark. Cleans up the receiver running over the middle. Will have that presence, similar to Mitchell, that may convince some receivers to make business decisions.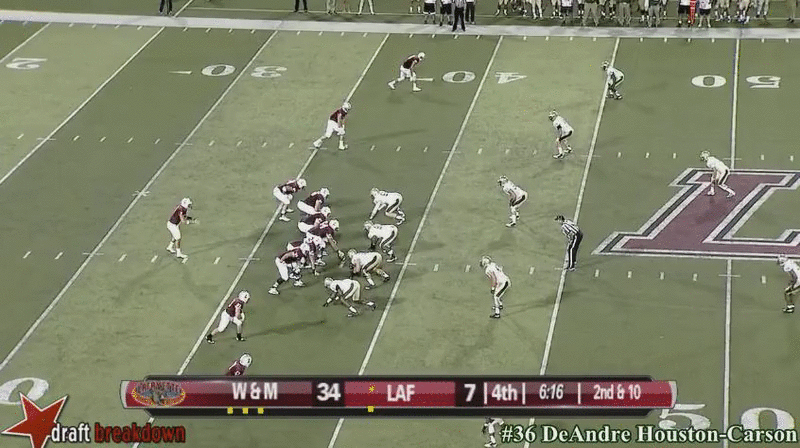 Just a guy who is always around the ball, as the whopping 109 tackles (8.4 per game). Fills the alley against the run and sticks his nose in every pile.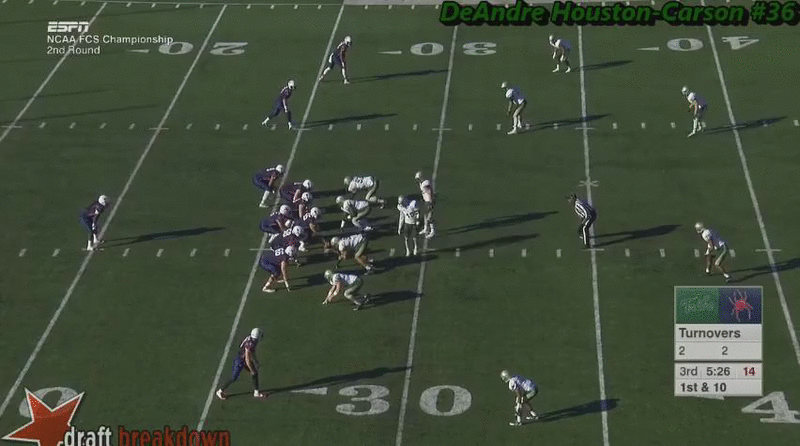 Who is also capable of tackling in the open field. Big stop here to prevent this screen from turning into a huge gain.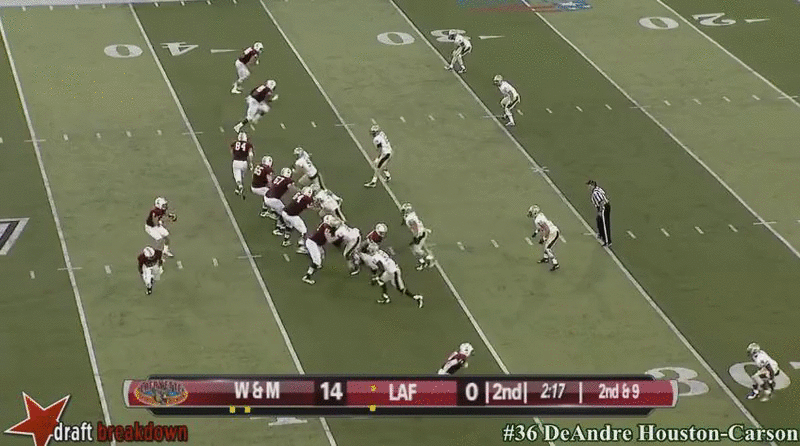 Not a great angle to the runner, trailing and having to chase him down from behind after a monster gain.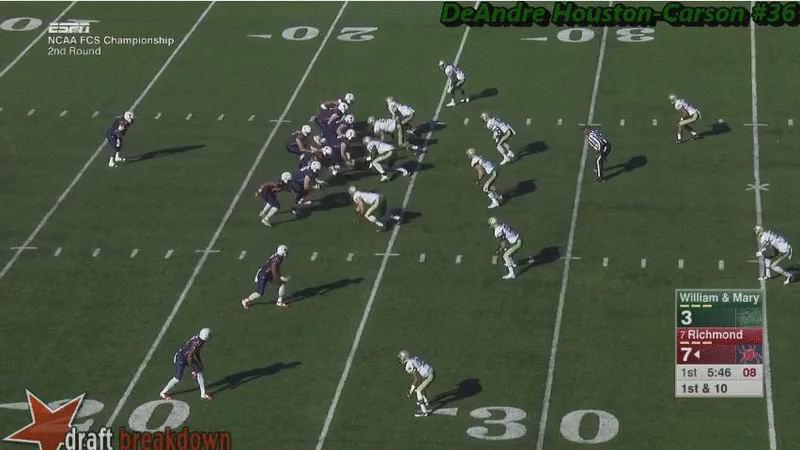 And in coverage, he fails to take a route that will take him to the ball, despite the receiver being pinned on the sideline, and can't impact the catch point.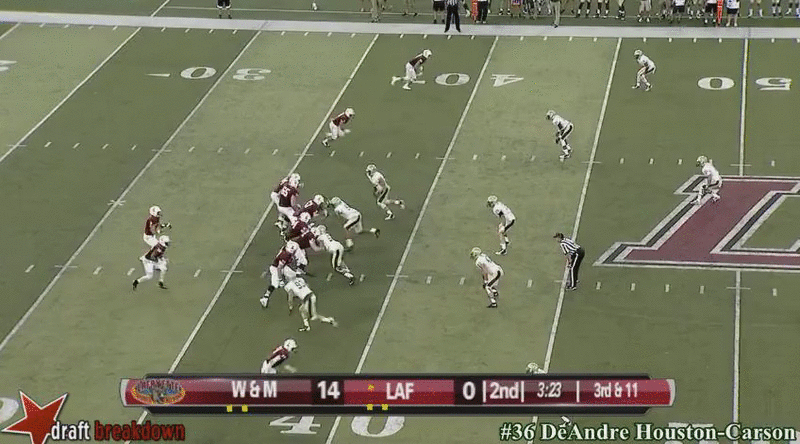 In that regard, he also reminds me of Mitchell, who struggled with angles to the ball, even before the Steelers signed him.
Like I wrote, his special teams value is tremendous, very similar to Bethel, who came out an FCS school (Presbyterian), too. He served as a gunner, on the punt block team, kick return unit, and field goal block. Made some big impact plays during his four years with the Tribe and I think no matter what happens in his career arc defensively, you'll get an excellent special teamer. The draft rarely offers comfort but I am comfortable in saying that.
He started his first three years at corner before moving to safety to fill a team need so you take his 2015 tape with that in mind. A guy trying to figure some of the nuance out as he goes along and with time, he's likely to improve.
If you missed it, I did a feature piece on Houston-Carson when I met him at the Senior Bowl. Fun guy to talk to with a vibrant personality, though don't let the fact he's a Cleveland Browns' fan scare you off. Encourage you to check it out if you have the time.
He's raw in experience at his position and competition level, and I don't really trust his coverage skills at this point, but if you're a team that has the willingness to coach him up, letting him thrive on special teams in the meantime, you have a talent to work with. He shouldn't be the elixir to the Steelers' safeties issues but if they're looking to double-dip, this is a name to monitor.
Projection: Early-Mid 6th
Games Watched: at Lafayette, at Villanova, at Richmond, Senior Bowl
https://www.youtube.com/watch?v=XXKenwHu7DY