As you should know by now, our attention has now shifted to the 2016 NFL Draft as it relates to the prospects. From now until the draft takes place, we hope to profile as many draft prospects as we possibly can for you. Most of these player profiles will be centered around prospects the Pittsburgh Steelers are likely to have interest in.
Our first quarterback profile of draft season on this site. Stanford's Kevin Hogan.
#8 Kevin Hogan/QB Stanford: 6'3/2 217
The Good
– NFL size and build with huge hands (10 1/8)
– Gunslinger who is already used to throwing into tight windows, risk taker to a fault, but isn't afraid to make difficult throws
– Underrated athlete who uses mobility to extend the play
– Shows arm and accuracy on deep ball, may not always be consistent, but is certainly capable of doing so
– Has an internal clock and gets the ball out quick, works back to gunslinger mentality, but also has good feel for where his checkdown is at
– Does show ability to put touch on appropriate throws, not everything is fastballs
– Capable of keeping his eye level up while on the move
– Had control over his offense, work under center and in the gun, and ran RPOs where he had control over the playcall
– Coaches very open and effusive in his praise and knowledge of the offense
The Bad
– Gunslinger, Favre-like mentality, and will have to be reeled in a bit at the next level to be risk-adverse and take calculated chances
– Some serious mechanical issues, terrible windup on his release, and can get overextended/overstride on his release
– Accuracy is prone to being inconsistent, misses too many gimmie throws
– More prone to forcing throws when under duress, needs to handle pressure better in decision-making and sliding away from pressure
Bio
– 46 career starts, three years as full-time starter plus five starts in 2012, redshirt freshman year
– 2015: 27 TDs, 67.8% completion rate, 8 INTs
– Two-time team captain (2014, 2015)
– Career: 75 TD, 29 INT, 65.9% completion
– Grandfather, two uncles, and cousin all played college football
Tape Breakdown
By and large, this isn't a great quarterback class and Hogan is not one of the first several players mentioned when looking at the top prospects of the group. That may be off-putting but he's a guy who is a little under the radar and has the tools to outperform his projection.
While it is dangerous to fall in love with just someone's arm, Hogan can fire into tight windows with the best of them. Beyond that, there's a mentality I admire. He's a risk-taker, and that comes with its natural consequences, but he has no qualms about making a tough throw in a small window. That's important because that's what you're doing the majority of the time in the NFL. Taking a college quarterback who rarely does that and ask him to do it all the time is a risk in itself.
3rd and 4 against USC. Under pressure, Hogan rifles the ball between three defenders, down and away from anyone else, to move the sticks.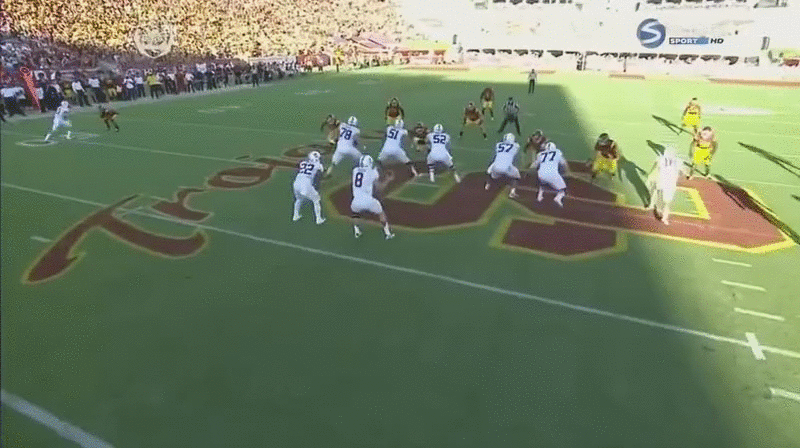 There is debate about his deep ball power and accuracy but I think it's pretty strong. Watched him throw on the money three times against Notre Dame. Here's two examples.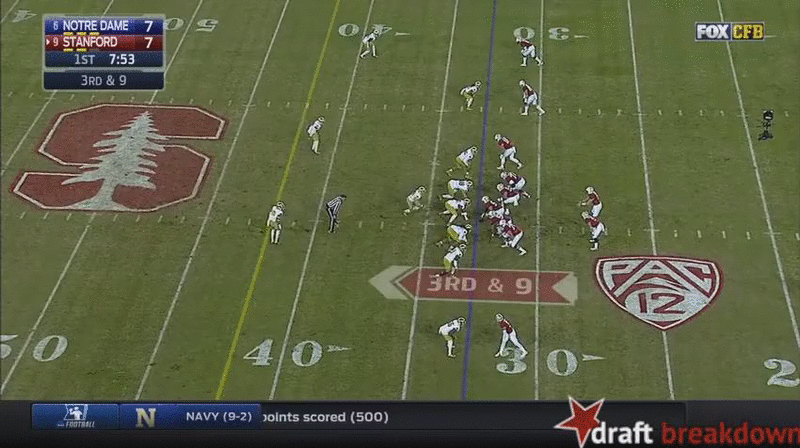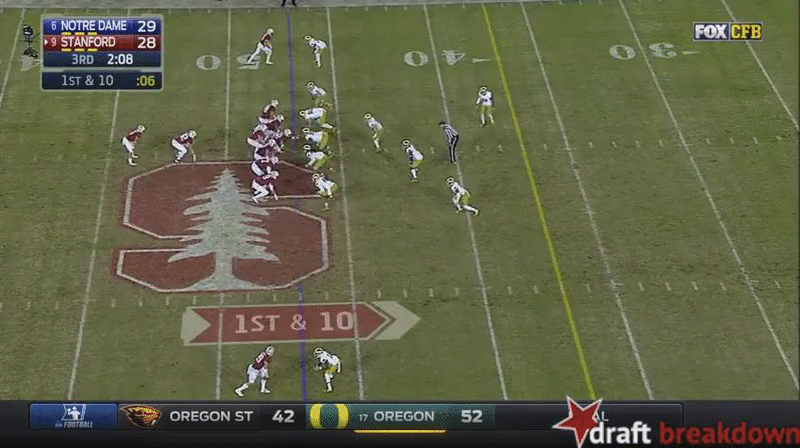 His size and mobility allow him to create when the play's structure breaks down. He's able to break away from the blitzing Trojan, keep his eye level up as he escapes the pocket, and find the open receiver for a big gain.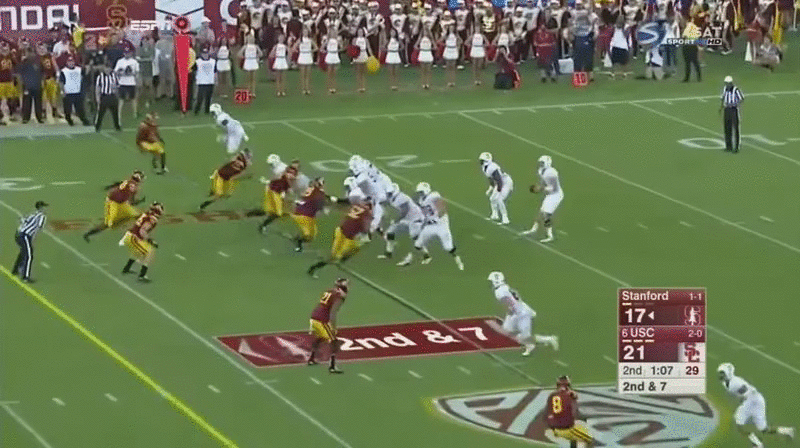 Here's another example of Hogan's bravery but this borderlines on recklessness. Staring his target down between four defenders, totally missing an open #2 down the seam or checkdown options, both for sure first downs. Instead, the pass falls incomplete.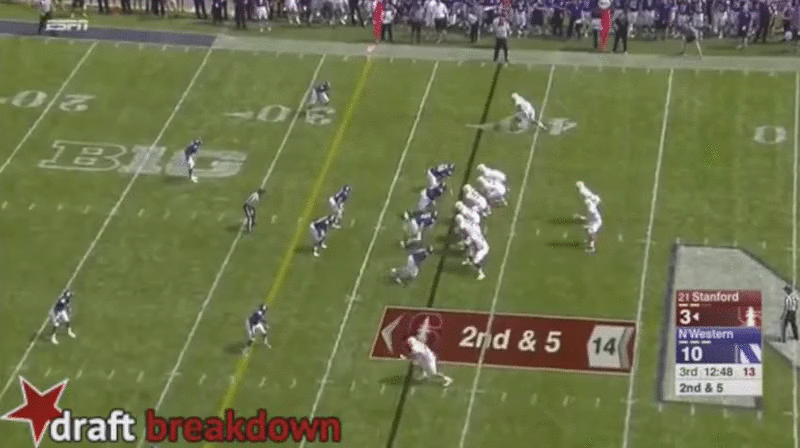 His release in general is just terrible. The windup takes forever, the ball drops down and away from his body. I mean, just look at this stillshot.
Is any coach going to want to try to rebuild that? Or you leave him be and deal with the 15 fumbles per season you're going to get from pass rushers getting their paws on that thing.
His base can get too wide when he tries to zip the ball downfield, hurting his base and accuracy. Look at his platform on this throw down the seam.
And the pass winds up sailing way over the receiver's head. Good way to throw incompletions and get your receiver murdered.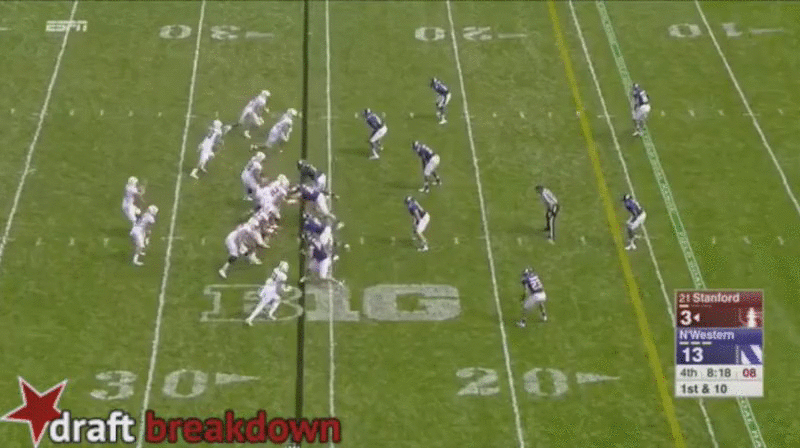 Initially, I felt pretty good about Hogan, but the more I watch, think, and type, the less confidence I have. There's still something there, his attitude is a great place to start, but man, mechanically, he's all over the place. It will take a lot of convincing and work from a quarterback's coach to get on-board and you can either make small differences and still deal with problems or try to rebuild him and take that chance that he'll never be able to break his habits.
If you know me, you know my philosophy is to either take a quarterback very high or not take one at all. That grooming a quarterback is overrated and more fruitless than any other position in the game. But not everyone shares that philosophy and Hogan is likely to get drafted. I just don't know if he can overcome the major deficiencies in his makeup.
Projection: 7th Round
Games Watched: at Northwestern, at USC, vs Notre Dame, Senior Bowl