As you should know by now, our attention has now shifted to the 2016 NFL Draft as it relates to the prospects. From now until the draft takes place, we hope to profile as many draft prospects as we possibly can for you. Most of these player profiles will be centered around prospects the Pittsburgh Steelers are likely to have interest in.
Back to the secondary with a profile of an increasingly popular cornerback. Houston's William Jackson III.
#3 William Jackson III/CB Houston: 6'2 195
The Good
– NFL size and appears to have length teams are trending towards and coveting
– Shows ability to transition out of his pedal, a powerful "T" step that lets him explode out and close on the football underneath
– Plays the pocket well and uses length and strong hands to break the ball up at catch points
– Aggressive, attacking player who is willing and able to come up and support the run, isn't a liability on crack/replace responsibilities to be the force or alley defender
– Big hitter with an attitude
– Plus ball skills and the ability to find and track the ball while maintaining speed
– Productive on the big stage
– Strong senior season, tons of production
The Bad
– Despite willingness to play the run, can be too reckless of a tackler who doesn't wrap up, and misses more often than you'd like
– Predictably tight hipped like a lot of tall corners, pops up when flipping and turning
– Stiff in change of direction and could struggle in some man to man coverage underneath
– Aggressive to a fault and will take chances, vulnerable to getting burned
– Appeared to get most of his work as the boundary corner, not field
– Has to clean up technique at the line of scrimmage, maintain his leverage and do a better job funneling and re-routing receivers
Bio
– Two-year full-time starter, 28 total
– 2015: 23 pass deflections, 5 INTs
– Career: 40 pass deflections, 8 INTs
– Spent three years with the Cougar, transferred from JUCO for the start of the 2013 season
– 2015 Peach Bowl MVP, two interceptions in win over Florida State
– Dealing with knee injury suffered in bowl game, missed Senior Bowl because of it
Tape Breakdown
Jackson has been getting a ton of buzz in amateur circles with some even anointing him as their top corner in this year's talented class. There's a lot to like. He's big, long, physical, and has ball skills. At the base level, he has all the traits you're looking for in a cornerback.
Like any corner coming into this scheme, they have to embrace the run and be willing tacklers. I would've liked to see him finish the tackler a little better here, take him to the ground, but he comes up to support the run on the edge as the safety gets cracked by the receiver.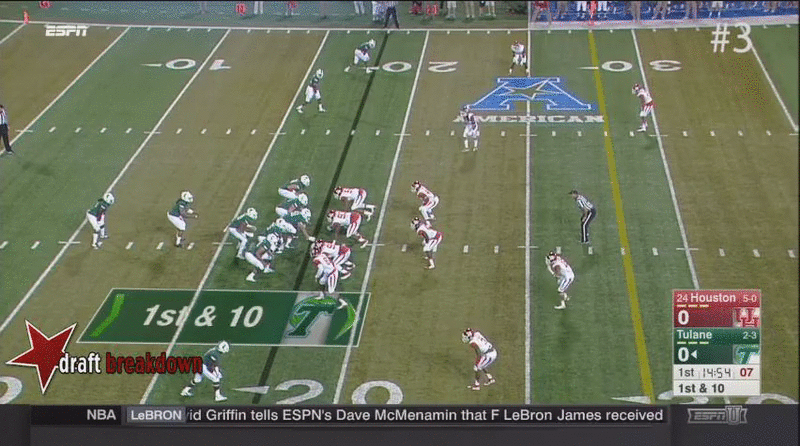 He'll do similar in coverage, coming up to put a lick on the receiver right after the catch.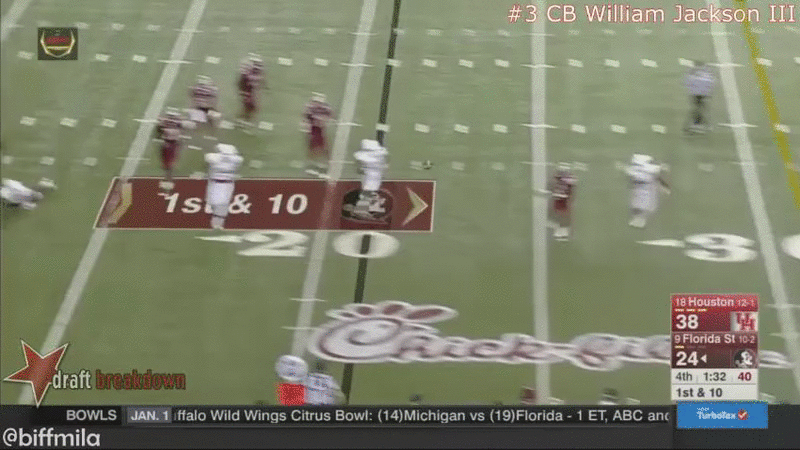 He made huge plays in the bowl game against Florida State, picking off two passes in the Cougars' victory.  This play does show his faults, looking in the backfield and allowing a ton of separation, but it also highlights his ability to track the ball while maintaining speed, high-pointing the ball, and picking it off.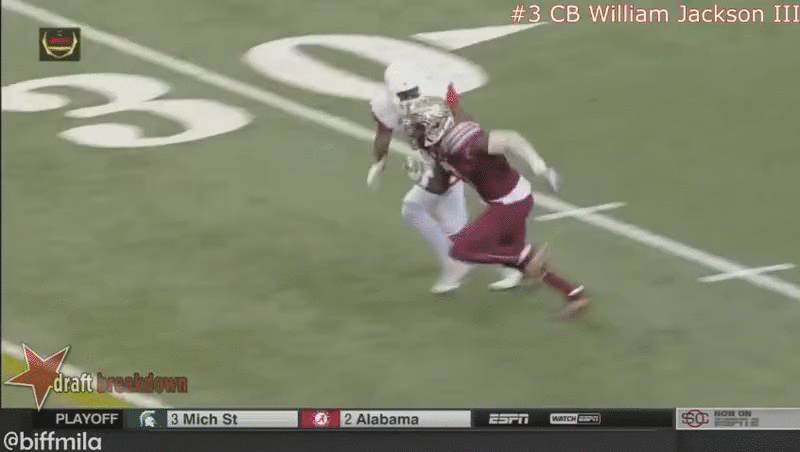 Like a lot of tall cornerbacks, one big concern with Jackson is stiff and could struggle in man coverage. Here the Cougars are in 2 Man with their cornerbacks playing trail technique underneath. Man coverage, take away anything short and intermediate. Jackson, at the top of the screen, is late reacting to the receiver's dig route, and doesn't take it away and the pass is completed.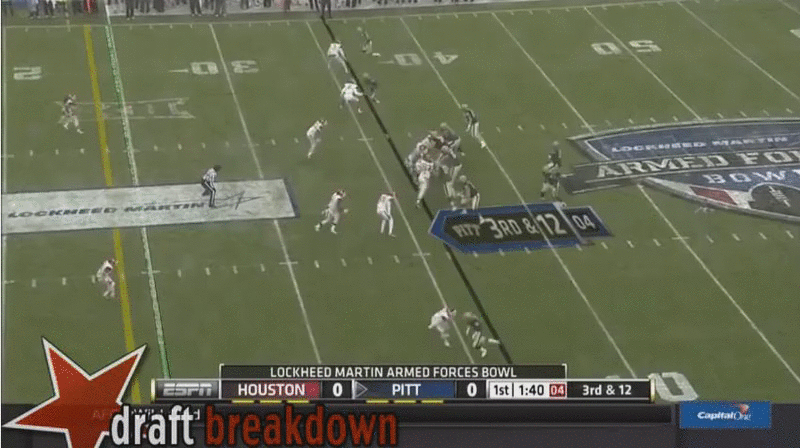 We again see Jackson's stiffness showing up on tape, getting juked out of his jock by this Florida State receiver.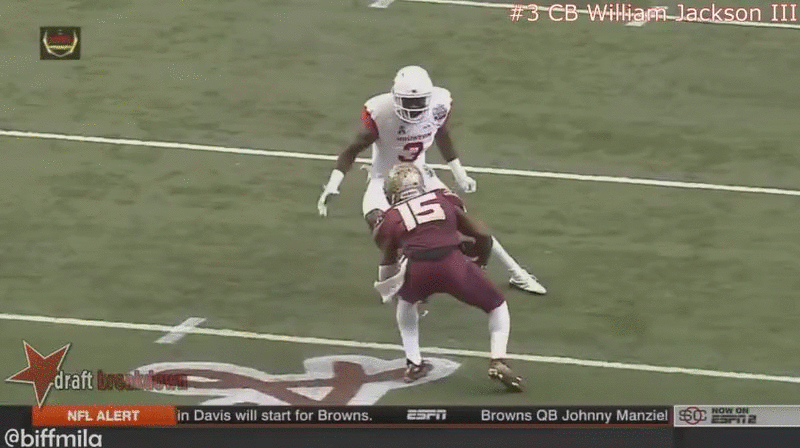 On 3rd and 2, Jackson is guessing for something quick and short. Bites on the double-move and gives up a big play over the top.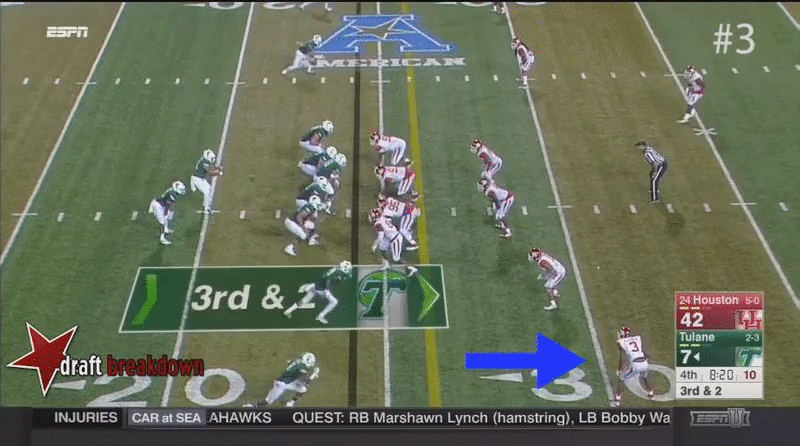 Mentally, he can be fixed. He can be more attentive to film, take fewer, or at least, more calculated chances. That's not a dealbreaker. But his stiffness could be. You might intuitively view him as a man corner: playmaker, long, physical, but that stiffness is really going to hurt him. There are plenty of corners that have had tools but that inability to change directions – something you're doing on almost every play – is difficult to ignore. Not everyone is going to turn into Richard Sherman. Some go the way of Stanley Jean-Baptise.
A zone, Cover 3 scheme is probably more beneficial to his skillset. The ability to play downhill, play the pocket, and be physical will highlight his strengths and mask the lateral change of direction problems he shows on tape. That would make him a fit for someone like Pittsburgh but if they aren't committed to taking a corner within the first two rounds, there's no chance of grabbing Jackson.
Projection: Mid 2nd Round
Games Watched: vs Pittsburgh (2014 bowl), at Tulane, vs Florida St (Bowl)