As you should know by now, our attention has now shifted to the 2016 NFL Draft as it relates to the prospects. From now until the draft takes place, we hope to profile as many draft prospects as we possibly can for you. Most of these player profiles will be centered around prospects the Pittsburgh Steelers are likely to have interest in.
A corner/safety hybrid. Maryland's Sean Davis.
#21 – Sean Davis/CB/S Maryland: 6011, 201 (Senior Bowl measurements)
The Good
– Fluid backpedal, covers a lot of ground with low hips
– Smooth hips
– Excellent click and close
– Instinctual and focused playing downhill
– Recognizes and plays to routes
– Experience at SS, FS, CB, punt gunner
– Not afraid to get nose dirty
– Has played zone, off-man, despite almost no experience in press
The Bad
– Takes one step too many on playactions/backpedals, can get caught out of place as a result
– Weak taking on blocks
– Drops head and vision when tackling
– Gives receivers too much of a cushion, trusting his downhill play
– Vision poor in open field
– Starts his backpedal too early, needs to let receiver declare route and react
Other
– Has had more than 88 tackles in the last 3 seasons (SR: 88, JR: 115, SOPH: 103)
– 5 FF his senior season
– Played in 50 career games, 40 starts
– Trilingual in English, French and Chinese
– Accepted Maryland over North Carolina, Boston College and Connecticut
– Only started playing football junior year of high school
Tape Breakdown
Really nice backpedal from Davis. Low-hips, fluid, and then plants his back foot in the ground to come up and play the receiver running the out. For comparison, look at the boundary corner (Will Likely, who elected to return to school instead of declaring) at the bottom of the screen. Likely's backpedal is ungainly, his hips are too high, and he is unable to go straight back. Davis covers a lot more ground and is able to break on the ball easier.
I always value tackling and physicality when I scout cornerbacks. Why is that? Quite simply, it's a physical league, and corners are often outmatched or outweighed by receivers. Guys like Davis (who isn't small by any means) who play aggressively and physically are always higher on my board.
Here, he is playing boundary LCB. As the force player, he has to stay outside and re-direct everything back inside. Once he recognizes the FB hit the B gap, he knows the direction of the run and closes. That's almost a safety-level of play from a corner, appropriate considering Davis' background of position versatility.
In this Cover 2 zone defense, Davis draws Michigan TE Jake Butt in coverage. Note his smooth, quick hip flip at the 30-yard line and burst to keep with Butt on the corner route. He positions the route well and stays downfield of Butt to allow the safety to play the other side. However, he gets manhandled and absolutely walled by Butt in the open field and can't fight through the block. Low effort?
Again, here's that nice downhill attack from Davis. However, he drops his head and doesn't see what he's hitting. While it went well here, that's a major flag that comes up again on tape.
Davis has a few absolute head-scratchers of plays. Here, Davis is the playside boundary corner, aligned about 7 yards off the ball at the snap. He slips the block well, but ducks his head and completely whiffs on the tackle in space, allowing the score. This isn't what you want from an outside corner.
This one is another good example. Although he carries the receiver's hard 9 well from Cover 4, he has absolutely no open-field vision of TE Butt. He ends up trying to cut the OL, which makes no sense. There is no reason to submarine the OL in open field when the TE has already started looking back inside, much less if there is no one behind you to take advantage of an OL down. Davis ends up on the ground with a TE loose in the secondary.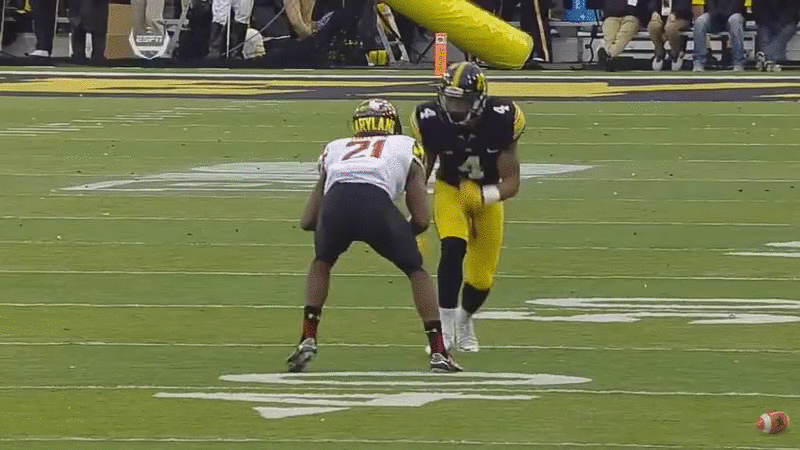 Finally, here's a look at Davis in man coverage. As I mentioned above, Davis has a tendency of giving up too much cushion in man. Here, he flips his hips but just overruns the route by about 5-6 yards. After losing his balance, he's lucky that such an uneasy tackle attempt grabs hold of a shoelace, because he could have been in far larger trouble.
Summary
Davis is the kind of guy you want playing downhill in a phone booth. Playing downhill, his instincts are on display and his tackling is good. He's asked to react, not necessarily read. When he has to scan the field and track what's going on, he looks lost almost immediately.
That's disappointing, considering Davis has great hips and backpedal. Theoretically, those would allow him to play more free in space, but his head just limits him too much. When he has to play in the open field, he either ducks his head on tackles or doesn't play to the ball. Unfortunately, it probably also excludes him from seeing consistent game time at the free safety position in the NFL.
Although Davis switched from safety to cornerback in the college ranks, I think he might well be better flipping back. He honestly could find some success in a strong safety/robber role that requires him to diagnose his field of vision, not the field at large. NFL coaches will need to simplify the game for him at first and ease his transition by making his reads more simple. Putting him in a position to do that will help him develop. I think he could transition from that back to cornerback, but I'd rather see it in a zone-heavy scheme. Should have an immediate special teams impact with his gunner experience.
Projection: Fifth Round
Games Watched: at Iowa, at West Virginia, Michigan